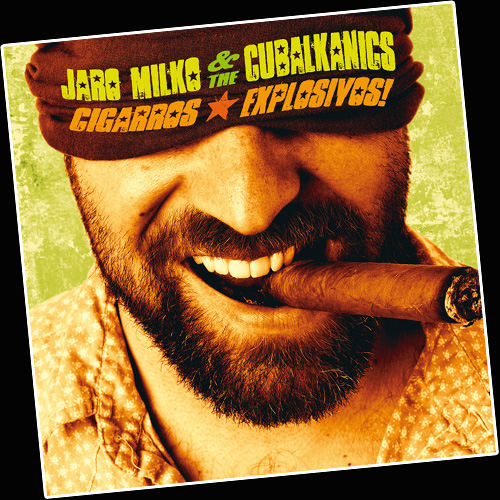 Despite the recent referendum in favour of the introduction of immigration quotas, Switzerland is more than ever a hustle and bustle of cultures and traditions. The national football team has become famous as an embodiment of multi-culturalism, but this stimulating situation in which cultures join forces and work as a team, instead of clashing with one another, is distinctly mirrored in the arts.
Music is no exception and the career of the eccentric ensemble Jaro Milko & The Cubalkanics offers further proof of this. Formed in the city of Basel, on the conjunction of Switzerland, France and Germany, the five-piece-band is an unstoppable tide channelling gypsy, Latin, surf, psych and jazz waves into an upbeat and irresistible flow.
With debut album Cigarros Explosivos, released on German label Asphalt Tango, the quintet show that they are taking things seriously. The album is more than the nth project of talented band leader Jaro Milko, Swiss by birth but of Czech descent: it is the outcome of a 'five-year plan' which fuses together Latin American sounds, such as cumbia, son, chicha and trova, with the gypsy soul of Europe.
Cigarros Explosivos opens with a bang: "Cumbia Griega" is a well-defined specimen of what to expect over the next 47 minutes. The song is a rhythmic and magnetic mix of cumbia and chicha, with psychedelic references and a stirring bassline: an unmistakable tribute to Peruvian legends Los Mirlos.
"El Topo" and "Music Rum and Cha-Cha-Cha" keep the revs up thanks to their relentless percussions, before a more relaxed and introspective atmosphere is apparent in 'All the Past' and "Cumbia No. 5".
The songs provide a vivid reflection of Milko's deep affinity with Latin music, and Cuban in particular. As he is fond of telling, everything began during a trip to the Caribbean island years ago. Having previously focused on the eastern European Balkan and gypsy scenes, Milko's eyes were opened by a visit to the Casa de la Trova in Santiago. He fell deeply in love with Cuban music, which became a fundamental aspect of his subsequent work.
Cumbia was another style to enchant the Swiss musician. This can be seen not only in the album's song titles, but also in the fast tempos and rich, tropical arrangements that echo the traditional Colombian style.
However, to attribute Cigarros Explosivos solely to the talent of Milko would be highly unfair on the skills of his supporting actors. Firstly, there is the brilliant trombonist Luke Briggen, who gives his trombone the musical appearance of a bass. The peculiar 'south of the border' 60s sound of Eric Gilson's organ adds further depth to the Cubalkanics' sound.
You would expect a an album like Cigarros Explosivos to originate from Peru, Colombia or Cuba, not from a band to have emerged in the foothills of the Swiss Alps, or to be played by musicians with European passports. It is another reminder of Latin music's global outreach and influence, and it is remarkable to observe how what unconditional love for music can achieve.
Cigarros Explosivos is available from Amazon (UK / US) and iTunes
[soundcloud url="https://api.soundcloud.com/tracks/69152436″ params="color=ff5500&auto_play=false&hide_related=false&show_artwork=true&show_comments=true&show_user=true&show_reposts=false" width="100%" height="166″ iframe="true" /]

Follow Sounds and Colours: Facebook / Twitter / Instagram / Mixcloud / Soundcloud / Bandcamp

Subscribe to the Sounds and Colours Newsletter for regular updates, news and competitions bringing the best of Latin American culture direct to your Inbox.
Share: