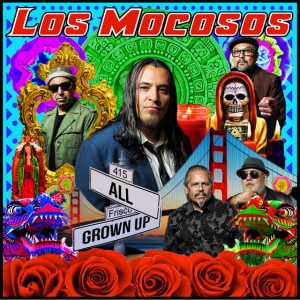 Review
Los Mocosos – All Grown Up
I almost lost Los Mocosos back in 2003. An American friend sent me their 2001 album, Shades of Brown, thinking I would love the blend of Latin rock, funk, soul and other genres. I did. I thought the friends and artisans building our house would love it too, but they were too busy to notice. Somehow the album got lost in the field for a few days. The CD lived to spin another day, but the cover was irreparably wrinkled. They were younger then, a sextet plus guests. They're "all grown up" now, a quartet of ageing 'Frisco Hip-spanics plus a youthful and dynamic new vocalist in Juan Ele Perez. But the sound is still as vibrant and compelling as ever: a cross between War, Sly Stone, "Jingo"-era Santana and Los Lobos in their hard-rocking prime. On the single, "United We Stand", there's even a generous pinch of fellow Bay Area stalwarts, Tower of Power. Long-time "snot-nosed brats", trombonist Victor Castro and saxophonist "Shorty" Ramos together seem to generate that much oomph.
After a lengthy hiatus, they are back with a revitalised swagger. Even a cursory listen to the new album tells you a lot about their musical and social origins. "Born in the Mission [District]" they proclaim proudly on their website and half the ten songs on the album are sung in English and half in Spanish, reflecting their community's melting pot. Indeed, there's a strong sense of neighbourhood identity here that's similar in its way to that of those famous east coast "Noo Joisey" boys, Bruce Springsteen and Southside Johnny. Whether they sing about community solidarity (in numbers like "It's All Good", their paean to the Mission, and "Brothers & Sisters", dedicated to the Mexicans who risk everything to cross over the border in search of a better life for their children), or whether they sing about aspects of everyday life (as, say, in the charming and catchy "Memories of Love" or the exuberant "Ready for the Weekend"), the album is full of well-crafted songs, all around the classic three- to four-minute mark. A little ska sneaks into the mix on the brassy "Viva Los Mocosos" and the trombone-friendly "Libre") and there are hints of cumbia, dancehall and even surf rock on the album's other single, "Mirala". But whatever the genre, Los Mocosos play it loud; they're brown and they're proud.
As "Shorty" Ramos tells it, "We made sure we didn't leave out any of the sauce of the Mission District, all that soul and Latin funk." As good as their second album was, this is arguably better. Just as raw and just as infectious, it's also more mature and more assured. These grown-up guys sho'nuff know what they're doing. This is a saucy album, all right, brimming with good songs, great vocals and rock-solid musicianship. I'll keep a closer watch on this particular disc.
All Grown Up is available on digital platforms

Follow Sounds and Colours: Facebook / Twitter / Instagram / Mixcloud / Soundcloud / Bandcamp

Subscribe to the Sounds and Colours Newsletter for regular updates, news and competitions bringing the best of Latin American culture direct to your Inbox.
Share: