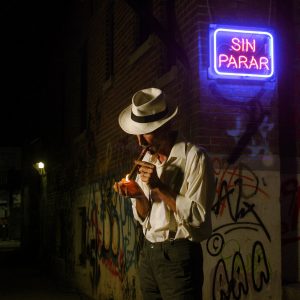 "The dressing rooms are getting nicer. As in now we have some." The laconic words of lead singer Josué Cruz suggest that this 10-piece outfit from Jacksonville, Florida are on an upward trajectory. Recently, they've opened for the likes of Santana and Trombone Shorty – for whom decent dressing rooms are de rigueur. Their mission statement of keeping descarga salsa alive and kicking would certainly seem to strike a chord with U.S. audiences.
Released at the end of January, Sin Parar is LPT's debut and – for all the emphasis on jamming and improvisation – there's not a note out of place. This is tight, slick salsa dura with fine vocals and musicianship that's constantly on the mark. LPT have been around since 2015 and the years of apprenticeship have clearly had the desired effect. The nine songs (recorded direct to analog tape) conjure a palpable sense of communion between the four-man horn section, the three-piece percussion and the bass, keyboards and lead voice. It's a warm, infectious concoction that's easy on the ears and hard on the hips. The band's vocalist and apparent spokesman talks of wanting to "harken back to the giants of the genre that made you shake your rear end and still say something to make you think."
These days, there's more than enough raw material to make you think. The opening track, "Guerra Guerra", for example is all about war, war and more war. Spanish speakers will understand the references throughout Sin Parar to life, death, love and assorted social topics, but – to quote Josué Cruz again – this is music that "can make everyone in a room start moving, even if they may not know what the song is about, lyrically." "Llegar Targe", "Mala Mentira" and especially the simmering "Don Manuel" show just how high LPT score on the slower numbers, but one suspects that it's the more up-tempo numbers like the title track, "Guerra Guerra" and "Los Bravos" that represent their bread-and-butter. I would highlight in particular the superb "Afinao" that sets up the kind of hypnotic groove recalling War and the Santana of, say, "Oye Como Va" before breaking into a thrilling descarga in which the piano, bass and percussion knit tightly together before the brash re-entry of the horns. It's great stuff; LPT's USP perhaps.
This is a remarkably assured debut album, which puts the band on a level with other units taking a modern approach to a retro sound: Bio Ritmo, for example, Grupo Fantasma and Ola Fresca. As for that moniker, no one appears to know what the letters 'LPT' stand for. They would seem to suggest a touch of class.
Sin Parar is out now and available from Bandcamp and other streaming platforms

Follow Sounds and Colours: Facebook / Twitter / Instagram / Mixcloud / Soundcloud / Bandcamp

Subscribe to the Sounds and Colours Newsletter for regular updates, news and competitions bringing the best of Latin American culture direct to your Inbox.
Share: