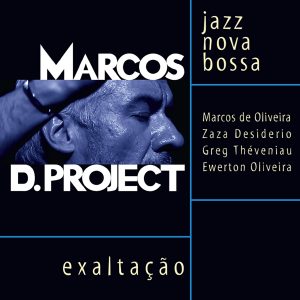 Review
Marcos D. Project – Exaltação
Marcos D. Project: it's not the most prepossessing name; it sounds a bit like a short-lived pick-up band to highlight a leader's questionable talents. And I know one shouldn't, but there's always the slight suspicion that Brazilian music made in France, as this is, might not be quite the real thing. However, there's nothing questionable or phoney about this tight little four-piece. It's clearly Marcos de Oliveira's band: he sings and plays acoustic guitar and the flute he studied at the conservatory in his native Porto Alegre, Brazil. Although he also composed all nine numbers on the album, his three cohorts are far from bit-players. Zaza Desidério is a tasteful, understated drummer, while Greg Theveniau plays a beefy bass without ever being overbearing. Both have been with de Oliveira since 2012, when the quartet was a sextet. Pianist Ewerton Oliveira joined after the sextet was disbanded in 2016. So they know each other well and at times they play with an empathetic compatibility that recalls that tightest of tight trios, Azymuth.
Based in Lyon since touring in France with the band Samambaïa, De Oliveira labels the music he has composed as 'Jazz Nova Bossa'. It reflects two of his own musical influences – along with MPB and specifically the music of those legendary Brazilian stylists, Hermeto Pascoal and Egberto Gismonti. It's undoubtedly jazzy, and infused with the kind of wistful melodic melancholia that one tends to associate with bossa nova. If anything, the melancholic undercurrent is reinforced by de Oliveira's own slightly weary-sounding vocal timbre and the expatriate's sense of saudade for the motherland. But that's not to suggest that this is a doleful affair. Far from it. Lyrically, for example, the album presents 'a strong message of hope' for 'a better tomorrow' and, apart from the two lovely ballads, "Julia" and "Arco-Iris", the predominantly mid-tempo numbers leave little time for wallowing in sadness and regret. Book-ended by the opening "Samba de Exaltação", a showcase for what the group are about, and the finale, "Havia", a nice airy and uplifting way in which to round things off, the other tracks all have something to recommend them. "Pau-Brasil" is a lovely tune, for example, affectingly sung. The wordless quasi scat-singing on "Chuva No Telhado", "Maracana" and "Samba Nova" inevitably recalls the likes of Joyce Moreno, Eliane Elias and Flora Purim. De Oliveira's flute features on the first of the bunch, a pure unembellished style that made me think of the late Chris Wood of Traffic, while the electric piano of the second lends it a distinctly Azymuth-ian feel. The staccato rhythm of "Como Se As Coisas Falassem" creates an intriguing sense of drama akin to tango.
In short, there are no false notes on this album, only familiar ones. But if you find nothing startlingly original here, there are nine expertly crafted numbers to appreciate and fine playing throughout – with a commendation for an especially tasteful rhythm section. I'm sticking with this Franco-Brazilian quartet; there's plenty of room for growth.

Follow Sounds and Colours: Facebook / Twitter / Instagram / Mixcloud / Soundcloud / Bandcamp

Subscribe to the Sounds and Colours Newsletter for regular updates, news and competitions bringing the best of Latin American culture direct to your Inbox.
Share: