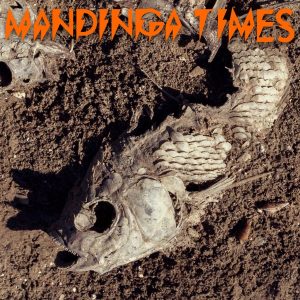 Review
Rita Indiana – Mandinga Times
An exorcism of manic merengue magic, Rita Indiana has called upon her unique narrative within music and her own way of making literature within it to release Mandinga Times, her first full-length album since 2010's El Juidero.
I briefly spoke to Indiana about the album and she told me that it was a coincidence to release the album during a pandemic, yet she feels that it has a sort of prophetic foreseeing. The process for her was a confinement within a confinement, cocooning with producer Eduardo Cabra for the recording, only to then be confined by COVID-19 once it was ready for release. The result is a claustrophobic album, that begins with the sirens of opener "Como Un Dragón".
Indiana proposes herself as a prophet (the Mandinga of the title), exposing the colonial ghost and its repercussions in Latin America and the Caribbean. These are songs that dilute borders, language and gender, bringing with them ideas of humanity that she has amassed in the 10 years since her last record. She portrays that humanity with a powerful tempo, and drum rituals that insinuate her own brand of synth-electro-bachata-punk rock, creating a rhythm that life and death can dance to.
The album is rich in styles that go from boleros to hymn-like intonations, but she is always telling us a story. She expects people to enjoy her album by listening to other kinds of narratives, not the ones that are seen in movies, TV series or any kind of digital platform. She realises that society is getting used to consuming content, so she hopes that her music will break that stagnant state that humanity is in; to dance at home, to drink and to listen to her new stories so that people can free themselves from all the sorrow that 2020 might have brought, but with a little criticism. Collaborators on the album include Rubén Albarrán, MIMA, Sakari Janitti and Kiko El Crazy.
Yet, while the album looks at worldwide precarity, there is also personal exploration, as found on the song "Miedo". The fear of the title is not the feat of loving someone so much that you may lose yourself, but mostly, loving someone during times that no one knows how long the love or that someone may last.
As well as the audio spectacle, the performance found within her music videos is beautiful to watch, and the perfect accompaniment. Her latest video for "El Flaco de la Mancha", released during the Feminist Festival HER in the Canary Islands, studies the character of Mandinga even more. Noelia Quintero directs both Rita's music videos and Papi, the movie adapted from La Montra's book. These video pieces are a theatrical exploration that searches for Mandinga as a demon, an angel, the colonial past, and the patriarchy. Although seemingly playful, the character Mandinga is transforming. Rita says she is not quite sure of what this non-binary being really is, or who, but that might come into place as the story continues.
In the end, Mandinga Times is a call for personal reflection into transforming the world we live in. An example, the song "Pa Ayotzinapa"is a call for justice, for tracking collective memory and keeping it alive.
And as for reconnecting with the world, Indiana has mentioned the possibility of touring next year, but she keeps insisting on waiting to see what changes occur as a result of the virus. She has some expectations, without a doubt, but she is still waiting to see where the apocalypse might take her next.
Mandinga Times is available on digital platforms

Follow Sounds and Colours: Facebook / Twitter / Instagram / Mixcloud / Soundcloud / Bandcamp

Subscribe to the Sounds and Colours Newsletter for regular updates, news and competitions bringing the best of Latin American culture direct to your Inbox.
Share: