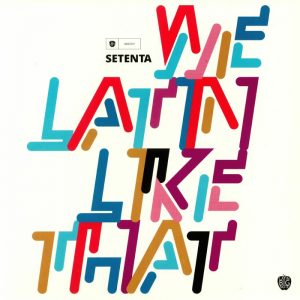 Review
Setenta – We Latin Like That
Setenta have been around for more than a dozen years and during the course of several singles, four albums and countless live performances they have proved time and time again that they are Europe's hottest Latin soul outfit. Born in the awesome urban polyglot melting pot that is Paris, France, the multi-ethnic septet has managed to combine salsa, boogaloo, Latin funk, santería, creole music of the French Antilles, Afro-Puerto-Rican bomba, afrobeat, r&b, soul jazz, 80s new wave, and just plain sunny pop music without sounding derivative, dilettantish or trite. What has kept Setenta interesting over the years is how they combine innovative original compositions and killer spot-on cover versions in a seamless whole that makes each album a rewarding experience. Their constantly-evolving yet consistently-independent sound features hard-hitting funky Afro-Latin polyrhythms and contrasting smooth soulful multi-lingual vocals, all kept together with vintage guitars and keyboards shot through with a jazzy sensibility that makes the whole thing swing infectiously. Their fourth long play is aptly named We Latin Like That and expresses the diversity and transnationalism that defines global urban Latin tastes and experiences, lending a certain easy-going sophistication and authority to the proceedings that justifies their claim to fame as "one of the coolest Latin combos cooking today" (Dusty Groove).
The message of the band has always been one of love, peace and fun transported on a tropical wave of buoyantly-joyous positive energy that seems to emanate from the players' expert musicianship and compositional and arrangement skills. One gets the feeling that the band's lock-step timing and assured musical precision is somehow born of a process of intuitive interaction and improvised collaboration between the members that then gets refined and honed through live performance and studio mastery, because through all the smoothness on this recording (as evinced by the album's two romantic tracks "Time To Love" and "Confused"), there is also a certain muscular, tough (yet loose) feeling that keeps the proceedings from bogging down under the shiny veneer of pop sensibility, diversity of styles and intense attention to craft. For every perfect chorus or gossamer synth wash, there is a super hard conga beat, African chant or booty-shaking cowbell to keep it real.
Some of the best cuts here have not left my turntable (both at home and in the clubs); "Guajiro Bacan (Latin Soul Soldier)", "Afro Blue Obatalá", "Catch Me", "Neg Cimarron", and "Boys And Girls" are all on heavy rotation for the foreseeable future. Lead vocalist Osman Jr. manages to send chills down the spine with his faithful rendition of Camilo Azuquita's seminal 70's Latin funk jam "Guajiro Bacan (Latin Soul Soldier)" which he turns into a manifesto of sorts, while on the other end of the spectrum "Boys And Girls" comes on like the best of George Clinton's Parliament/Funkadelic oeuvre. In between, "Afro Blue Obatala" does what Setenta does best: taking the Yoruba chants of Cuba's santería and putting them to heavy funk like some long-lost Mongo Santamaría track. "Catch Me" is perhaps the most interesting mix of seemingly opposite vibes, because it combines 80s New Wave dance sensibilities with some stone Latin beats, reminding this listener of some of the underground club jams spawned in New York City when I was growing up. Unlike previous albums that overtly channeled the groovy 1960s 'bugalú' sound, this record is more about Latin funk and jazzy soul, and "Catch Me" brings to mind the early '70s 'Salsoul' vibe pioneered by the band's mentor and friend, Joe Bataan, while the bomba-infused French Caribbean "Neg Cimarron" would fit in with the cream of the crop on a fantasy 1960s-80s Guadeloupe/Martinique tumbélé mixtape. Yet in all these instances, though there are obvious influences at play, the band's sound is highly varied, original and authentic just the same, so it's like being with your favorite vintage record collection but not knowing exactly what band is on the turntable because the production is contemporary and the album keeps morphing across genres as the platter spins. "Como Rinkín" is a case in point, starting off like the sexiest 1960s Cuban son montuno but then changing to breezy, synth-heavy 70s jazz-fusion on the chorus. These are not contradictions leading the listener to be "Confused", as the song title says; rather, as a hybrid Latinx-American myself, I can testify that this record proves that the band's inclusive "all this and more" sound means simply this: "we Latin like that"!

Follow Sounds and Colours: Facebook / Twitter / Instagram / Mixcloud / Soundcloud / Bandcamp

Subscribe to the Sounds and Colours Newsletter for regular updates, news and competitions bringing the best of Latin American culture direct to your Inbox.
Share: