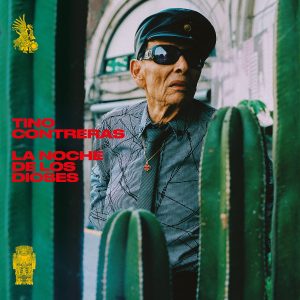 Review
Tino Contreras – La Noche de los Dioses
Mexican jazz doesn't pop up on the jukebox of life that often. So, when it does, it's gratifying that it's this good. That eminent DJ, collector and impresario, Gilles Peterson, has unearthed something rather special for his Brownswood label. The release derives from his meeting with the nonagenarian drummer in Mexico City last year and follows the reissue in January of Contreras' Musica Infinita from 1978 on the DJ's subsidiary Arc Records.
Contreras was born in Chihuahua in – and I had to double-check this – 1924. He may not have the muscle now of a Billy Cobham, put he plays the drums a little like the Panamanian master in so far as he uses the full range of the kit without ever showing off. He allows himself a little rhythmically unsettling drum feature on the second, possibly stand-out, track, "Máscaras Blues", but otherwise he keeps metronomic time throughout, swinging mainly in 3/4 time and steering the band through seven numbers that flow steadily like a river. It's a fine band, too. The main melodic work is carried out by saxophonist Luis Calatayud, who plays predominantly the tenor, with a tone somewhere on the spectrum between George Coleman and Gato Barbieri. The occasional ecstatic whoops and cries from the wings even suggest that the Argentinean horn-maestro was there in spirit. On keyboards, Jaime Reyes plays piano a little in the style of Don Pullen: lyrically and almost classically, but often threatening to step over into the territory of free jazz. Guitarist Emmanuel Laboriel, nephew of that heavyweight electric bassist, Abe Laboriel, really comes into his own on the penultimate "Al Amanecer". Bass is courtesy of Contreras' son Valentino, while Eduardo Flores plays bongos and Carlos Icaza provides synthesized harmonics and "pre-Hispanic percussion".
Along with Luis Calatayud's interjections on conch shell and ocarina flutes, it's Icaza's subliminal contributions that provide the colour, texture and sense of mystery to lift the seven numbers out of the mainstream. Seemingly eschewing the customary scheme of statement of melody, solo improvisations and re-statement of melody, everything feels subordinate to the overall flow of the album – and of life itself. With echoes of familiar themes (such as the snatches of Oliver Nelson's standard "Stolen Moments" on "Naboró") throughout, Gilles Peterson finds that "the record represents [Contreras'] entire career in one. It captures the nightclubs of Mexico, the blues, the decadence…" Nurtured by a musical family, it was a career that began in the 1950s and embraced musical encounters with the likes of Dave Brubeck, "Cannonball" Adderley and Duke Ellington. Peterson goes on to pinpoint "a sassy subterranean cosmic sound", which is certainly in keeping with the album's spiritual theme: "the night of the gods", a rumination on life and humanity, and a hope for the future. This remarkable jazz survivor has come up with a sound that's individual and uncommon enough to make La Noche de los Dioses an album to esteem.
La Noche de los Dioses is out now on Brownswood Recordings

Follow Sounds and Colours: Facebook / Twitter / Instagram / Mixcloud / Soundcloud / Bandcamp

Subscribe to the Sounds and Colours Newsletter for regular updates, news and competitions bringing the best of Latin American culture direct to your Inbox.
Share: