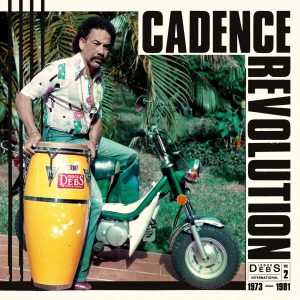 Review
Various Artists – Cadence Revolution: Disques Debs International Vol. 2
One of the most pleasant musical surprises of 2018 was the first volume of a projected series of three, exploring the legacy of Guadeloupe's Disques Debs label. Knowing little of the pre-zouk music scene in the Francophone Caribbean, the Strut label's inspired compilation was a revelation. While Volume 1 focused on the first decade of Henri Debs' influential productions, Volume 2 turns the spotlight onto the '70s. Also compiled by Hugo Mendez of Sofrito and Emile Omar of Radio Nova, one of the hippest radio stations in France, the good news is that it's just as fascinating and rewarding as its predecessor.
Like a rather more parochial Studio One or Treasure Isle, Debs' studio and label operated (initially in the back of his shop and under the radar of the western world) out of the island's capital, Pointe-a-Pitre. As Debs' empire grew, it came to dominate the music scene in the Antilles, then began to reach out across the Caribbean and into Europe via France. Interestingly, Francky Vincent – future star of Zouk Machine – can be heard on a couple of numbers. The mighty zouk would leave its footprints on dance floors around the world in the next decade, but here the pervading style is that of cadence – if, that is, there is any kind of instantly recognisable style. It's the multitude of musical influences at work that makes this collection so intriguing. The name cadence derives from the Haitian style cadence rampa, popular on the island from around the late '50s. It's no happenstance that the Haitian element is the most discernible outside ingredient in the mix with Antillean biguine and quadrille rhythms – and no coincidence that Strut brought out in 2014 a splendid Mendez-curated survey of Haitian sounds, Haiti Direct.
Taking the two in tandem, it's easy to spot the Haitian influence in, say, Les Vikings' "Ambiance (Guhe Huiamo)" – one of the first numbers to become a hit on the French mainland – and Smoke's splendid "Lina Femm' Foll". It's there in the basic instrumentation of the "mini jazz group" (as they were known from the mid '60s): the bass, drums, electric guitar and a small horn section. It's there, too, in the rhythm, pitched somewhere between cumbia and merengue. The Dominican influence, too, is readily identifiable, particularly in Les Rapaces' high-energy "Music Passe Partout", with its lovely guitar solo by Lucien Tantin. The Congolese group Le Ry-Co Jazz were, apparently, based on the island for a few years and exerted an influence of their own. That beautiful singing-ringing Central African guitar sound pops up throughout, on tracks like Gaudafrica Combo's "Moin Ce Roi Roi". Given the era, it's also not surprising to hear elements of Puerto Rican and Nuyorican salsa in, say, label stalwart Edouard Benoît's "Mauve Chauffe" or Typical Combo's cover of the Lebron Brothers' "Piensalo Bien". Jamaican reggae has its say in the form of Midnight Groovers' sultry, swinging "Stranger", featuring an electrified sax solo à la Eddie Harris. Galaxy even bring a little Kudu-label-style jazz-funk to the table on "Disco Funk".
The indigenous gwa ko moderne genre, with its more traditional percussion sounds, lights up the final side of the vinyl format: Guy Conquette & Son Groupe's wacky "Ping Pong" – with an incongruously jazzy electric piano propelling an otherwise minimalist format of voice and percussion – would become a hit on the Caribbean coast of Colombia and earn a cover version by the Disco Fuentes house band, Wganda Kenya.
It all adds up to a wealth of styles and sounds, and the individual tracks for this double LP (or single CD) have been chosen with impeccable judgement by Messrs Mendez and Omar, each one a winner in its own way. With comprehensive liner notes, including full personnel details, this beautifully presented set leaves me eager for the final volume of discovery. Volume 2 is every bit as good as Volume 1 and essential listening. It's right up there, too, with Haiti Direct. And that, dear reader, is quite some recommendation.
Cadence Revolution: Disques Debs International Vol. 2 is released by Strut and available from various outlets
Video from Strut introducing Henri Debs, and his legacy:

Follow Sounds and Colours: Facebook / Twitter / Instagram / Mixcloud / Soundcloud / Bandcamp

Subscribe to the Sounds and Colours Newsletter for regular updates, news and competitions bringing the best of Latin American culture direct to your Inbox.
Share: