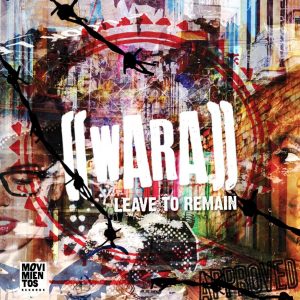 With their debut album Leave to Remain, the London-based nine-piece band Wara offer a striking, socially conscious record which expertly fuses Cuban sounds such as timba and salsa with contemporary urban genres such as reggae, soul and jazz, offering a refreshing insight into the trials and tribulations that Latin Americans face when they leave their lives behind to settle in the UK.
The album kicks into gear with "Somewhereland" and "Leave to Remain", two songs which are a perfect showcase of Wara's wide-ranging musical talent: Juanita Euka's vocal offensive on the UK Home Office's outmoded and heavy-handed approach to migrants is perfectly complemented by Taurean Antoine-Chagar's brilliant sax and Leandro Mancini's impressive drumming, while Greg Sanders-Gallego's expert riffs offer the tunes a richer, more layered sound as the songs progress.
Meanwhile, "Pide a Yemayá" fuses songo drumbeats with subtle riffs to make for a thoroughly enjoyable tune which favours melodic vocals over musical complexity. The tight sounds offer the perfect backdrop to the band's multilingual lyrics, with Nana Aldrin Quaye's wonderful backing vocals accompanying Euka and keyboardist Eliane Correa as they sing in a melodic chorus at the song's conclusion.
The band explores other musical avenues on the following song, "No Se Vende", a compelling track which fuses salsa with touches of timba and even a sublime swing passage which kicks in halfway through. In the tune's final third, we are treated to an impressive sax solo from Antoine-Chagar, with his vibrant tunes taking centre stage alongside Mancini's slick jazz drumming and Ernesto Marichales's tight percussion in the only album effort to be sung entirely in Spanish.
There is also space on Wara's debut for a soulful rendition of their 2011 single "Flesh and Bone", rapper MC Murmur's (Josh Solnick) compelling lyrics contrasting wonderfully with choral backing vocals and understated acoustic riffs. Echoing the content of "Leave to Remain" and "Somewhereland", "Flesh and Bone" masterfully re-imagines the band's very own song, turning an upbeat, danceable tune into a melancholic and soulful acoustic effort which once again interchanges English and Spanish lyrics to great effect.
"Run for Cover"'s reggae vibe then replaces the Latin licks of the band's earlier tunes to condemn the police brutality seen during the London student protests of 2011, with the tune's slower tempo initially allowing laid-back drums and bobbing riffs to pump delicately alongside Euka's measured, melancholic vocals. However, the song's ska-infused chorus later hauls up the tempo, evoking the actions of protestors fleeing the force of police truncheons as the sax winds expertly around George Cole's brilliant bass groove. With this reggae-ska cocktail topped off by another MC Murmur cameo, who mockingly plays the role of a Met Police officer in a well-paced rap which captures the bitterness of the time well, the album's penultimate track is also one of its strongest songs.
As the album draws to a close, Wara offer a playful critique of dance-floor divas in "Caprichoso", an upbeat end to the record which fuses Cuban jazz and salsa with a touch of cha-cha-cha. With the bulk of the album's efforts dealing with deep topics such as migration and police violence, "Caprichoso" brings a welcome balance to the album and is the ideal choice to round it off, allowing Wara to sign off in a playful manner which has you tapping your feet until the LP's very last second.
Wara has previously said that its sound is like "Havana meets London via the rest of the world, not five or ten or fifty years ago, but right at this moment" and, considering the wide array of genres which are expertly blended in Leave to Remain, it would be hard to disagree with them.
Rather than rehashing tried and tested Latin vibes and staying firmly within their comfort zone, everything about Wara's debut effort feels fresh and relevant. The album rightly offers a starring role to each of the talented members of the nine-piece group, maintaining a holistic sound in spite of the frequent genre and tempo shifts of each song.
Simultaneously, it becomes increasingly clear that Leave to Remain is not just the album title for Wara's debut but also its key unifying concept, the principle which binds together each and every song on their record and allows them to comment on the "heartbreak, nostalgia, broken families, moments of truth, hope and disappointment in migration".
Quite simply, Wara's Leave to Remain is a work of Latin-London genius, an album whose impeccable fusion between experimental form and insightful content makes it a compelling, unique and socially important release.
Leave To Remain is available from Amazon and iTunes
[soundcloud url="http://api.soundcloud.com/tracks/86055685″ params="" width=" 100%" height="166″ iframe="true" /]

Follow Sounds and Colours: Facebook / Twitter / Instagram / Mixcloud / Soundcloud / Bandcamp

Subscribe to the Sounds and Colours Newsletter for regular updates, news and competitions bringing the best of Latin American culture direct to your Inbox.
Share: