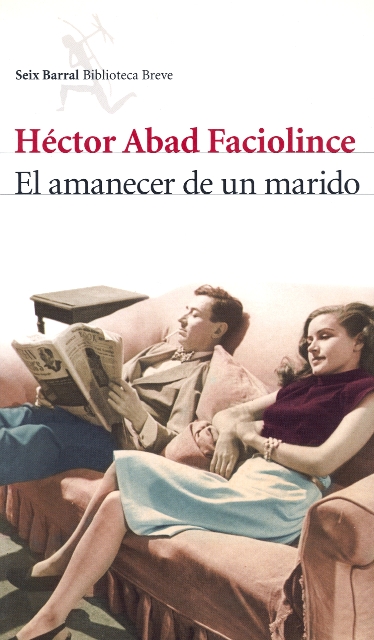 Hector Abad Facioline – El Amanecer de un Marido (The Dawn of a Husband)
27 September, 2017
"(…) life would drag forward, enveloped in its own inertia" (p. 205, my translation).
A woman who dates somebody looking exactly like her dead boyfriend. A journalist who dwells on what course of action to take after discovering his wife cheats on him. An Italian prostitute who fishes for clients in churches. An elderly man who discovers his new young wife hates him. A silenced rape during a narco-party.
These soundbites represent only five of the sixteen stories from Hector Abad Facioline's compilation which takes its title from the fourth tale. While there is no clear string weaving all of the stories into a coherent whole, the overarching theme is clearly relationships, more specifically, marriage and infidelity. A second theme that emerges is the violence unleashed by drug-trafficking in Colombia, explored thoroughly in stories 11, 12 and 16. There are also some lone wolves which do not fit clearly into any of these two categories, like the first story, "Album", where the narrator misses an appointment with his mum and this prompts her death.
Faciolince (Medellín, 1958) is a Colombian writer and journalist whose renowned novel El Olvido que Seremos (2006) earned him instant praise by ordinary readers, critics and writers alike; for example, by the Nobel-prize Laurette, Mario Vargas Llosa.
In El Amanecer de un Marido there are nine first-person male narrators, six omniscient ones and only one female narrator. This comes as no surprise given that the title makes reference to the awakening of a husband, not a wife. In the omniscient ones, most protagonists are also male – though a salient exception to this is the twelfth story, "La Señorita Antioquia". Some stories offer nuanced narrative viewpoints though. The fifth one, "Memorial de Agravios", is narrated by a man, yet his voice quickly gives away to the suicide letter written by his wife. On the seventh, "Mantis Religiosa", the narrator first tells us the real ending of the story and then fantasizes about a second one, posing the question: is a fantasy within a fiction less real than the fiction itself?
In the third story, "En Medio del Camino de la Vida", the female narrator stares at her husband while he sleeps and meditates on how things got so bad: "He looks at me less every day and gets distracted when I speak to him. It wasn't like this before." The fourth story could easily be seen as a continuation of the previous one, albeit told from a third person point of view. The husband pretends to sleep though he is sneakily looking at his wife going into the shower: "(…) he wasn't attracted to her, he didn't feel the need to see her naked, he was already used to her body and had lost interest in looking at her". This is a common trope amongst many of the stories: the comfort of marriage leading to something akin to tediousness, the husband loses sexual interest in his wife and cheats on her. In the fifth story the husband comes home to find a dead wife and a long suicide letter that tells him how his infidelity killed her.
It is not only men who cheat in this book though. In the sixth story, "Alguien oculta algo", a renowned journalist, Jorge Peres, discovers the night before flying to Caracas to a conference that his wife is being unfaithful. He breaks midway through his speech and starts meditating on the meaning of life – "Is it worth living at all?" – in a scene comparable to that of the motivational speaker in the puppet animation film, Anomalisa (2016). Peres decides that the best course of action is to forget – on balance, he still has cheated more than her – but is unable to do so when he sees her after the trip. Irrational anger triumphs over rational calculations on who cheated more and who less. His rage contrasts to that of the protagonist in the fifteenth story, "Volver", who readily accepts that his wife is cheating on him while he is in Turín. After all, he would do the same if he could.
What are we to make of this bleak take into marriages? Can we draw any lessons or principles from the different stories? Something that stands out is the focus on carnal desire. The many relationships are breaking down because there is no desire from one of the parties, often the male one. Rarely there are any mentions to love. Is love only a disguise for lust? Or is a breakdown in lust a symptom of the imminent collapse of love? Another possible take is reading it as a statement on the obsolete institution of marriage when it comes to human nature.
While it might be tempting to try and deduce a general principle or message from the book, the distinctiveness of the individual stories makes this a perilous task. The stories' principal source of value lies somewhere else: it is in how the author is able to take a picture of a couple which actually hides a film in a mere few pages. It is in the private reflections of ordinary people at their times of innermost solitude. It is on the minute details which act as warning signs of a failing relationship. It is in the utter realism of many stories, the tediousness of marriage, the sheer pain of not feeling desired and the inherently human difficulty of simply moving on.
The verdict: I would give this book to any newly-wed couple I know and write on the front page: "Do not make their mistakes."
You can find El Amanecer de un Marido available to buy online in Spanish here at Casa de Libros, and here at Amazon UK.

Follow Sounds and Colours: Facebook / Twitter / Instagram / Mixcloud / Soundcloud / Bandcamp

Subscribe to the Sounds and Colours Newsletter for regular updates, news and competitions bringing the best of Latin American culture direct to your Inbox.
Share: