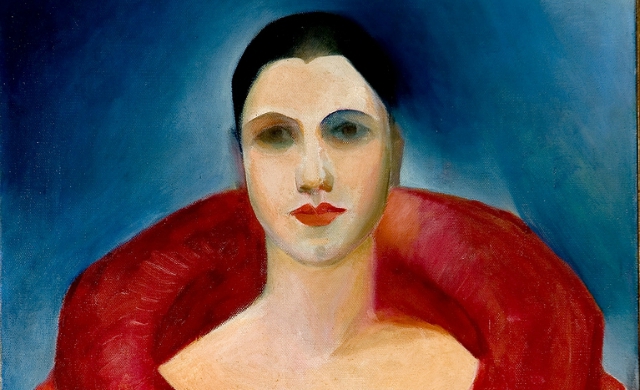 Tarsila do Amaral: Inventing Modern Art in Brazil at MoMA
|

05 April, 2018

The current exhibition at New York's Museum of Modern Art (MoMA), Tarsila do Amaral: Inventing Modern Art in Brazil, celebrates exactly what the title implies: the invention of a modern Brazilian art through the confluence of European styles and regional Brazilian tradition in the paintings of Tarsila do Amaral. Through June 3, the exhibition hosts a spectacular array of Tarsila's influential and seminal work that rarely finds due recognition this side of the hemisphere.

Tarsila's work in the 1920s took on a metaphorical cannibalistic attitude that consumed foreign European styles while adapting to the flavors and tastes of her own brasilidade heritage and native topography. She aligned herself with the Antropofagia (translated as "cannibalistic") Movement that had been formed by poet Oswald de Andrade to express the cultural syncretic nature of modern Brazil.

After a successful exhibition of her work at the seminal 1922 Semana de Arte Moderne (Modern Art Week) in Sao Paulo, Tarsila and Oswald, who had become her travelling companion, left for Paris where she studied under André Lhote, Albert Gleizes, and most importantly the Cubist painter Fernand Léger. In Paris the Brazilian couple absorbed and 'consumed' the influence of Cubism and Primitivism inherent in the Parisian avant-garde. Tarsila perceived these Parisian styles as a stepping-stone, or necessary food, to resolve something new once she was back in her home country; she considered her time in Paris as simply "military service in Cubism."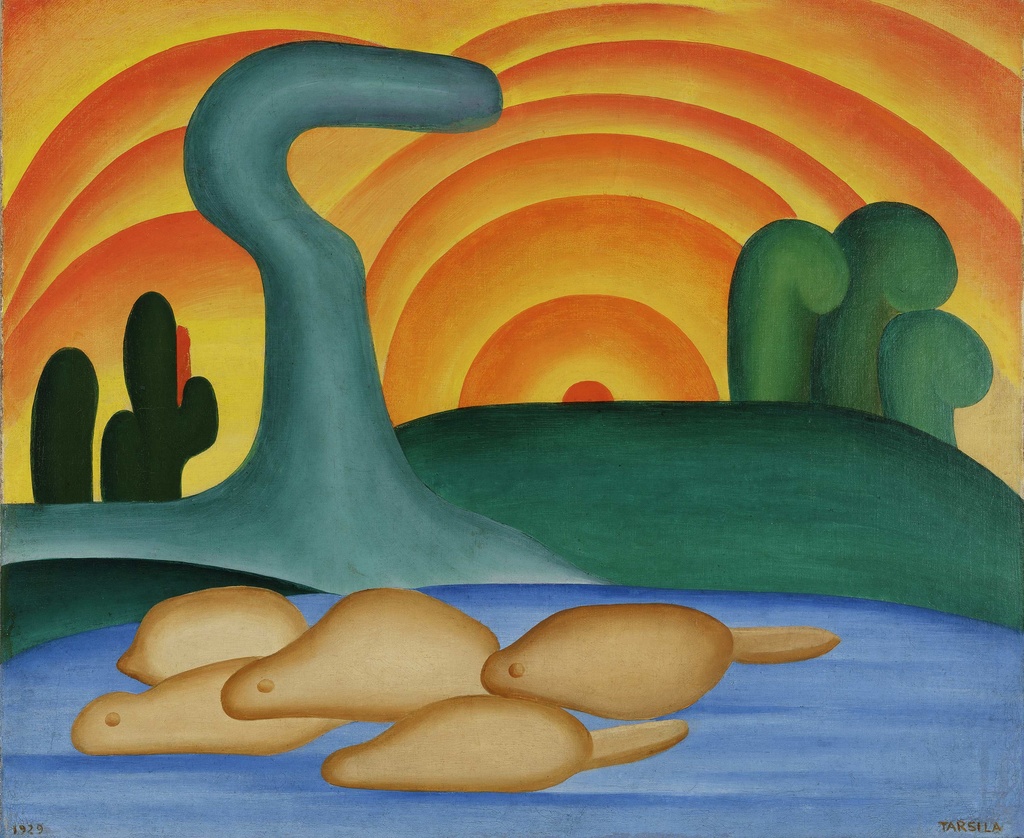 Sol Poente, 1929
"I feel more and more Brazilian: I want to be the painter of my homeland," she wrote passionately home to her parents still working the rural coffee plantation where she grew up. When she finally returned in 1923, she disembarked the plane in Rio de Janeiro with the firm proclamation: "I am profoundly Brazilian and I will study the taste and art of our people in the countryside, where I hope to learn from those who have not been corrupted by the academics."
Over the next few years Tarsila and Oswald traveled together throughout the historic towns and countryside of the Brazilian state of Minas Gerais. "Tarsila declared that she found her brasilidade through that pilgrimage to the region," notes the architect and writer Styliane Philippou. "In Minas Gerais I found the colors I had loved as a child," Tarsila later recalled, declaring that she had discovered the real Brazil in the simplicity of the people, their festivals, the church paintings, and the houses and buildings of those towns.
As her work departed more and more from the Cubist style of her mentor Léger, she began to incorporate vibrant colors and rounded, free-flowing forms as an ideal expression of her newfound Brazilian culture. The landscape São Paulo (1924) captured images of gas pumps, electricity poles, trams, and iron bridges in vibrant colors and sinuous lines as a representation of her emerging industrial country in the modern era. Morro da Favela, painted the same year, was a more replete image of her Brazilian ideal after traveling through Minas Gerais, where the indigenous community of the favela represented cultural authenticity. The work, rituals, and lifestyles of the indigenous favela residents blossom freely without interference and contamination from the invading European cultures in the cosmopolitan centers. "The countryside is shown as ideal territory for the figuration of an imagery composed of the most genuine national culture," notes the scholar Teixeira de Barros in her analysis of this painting.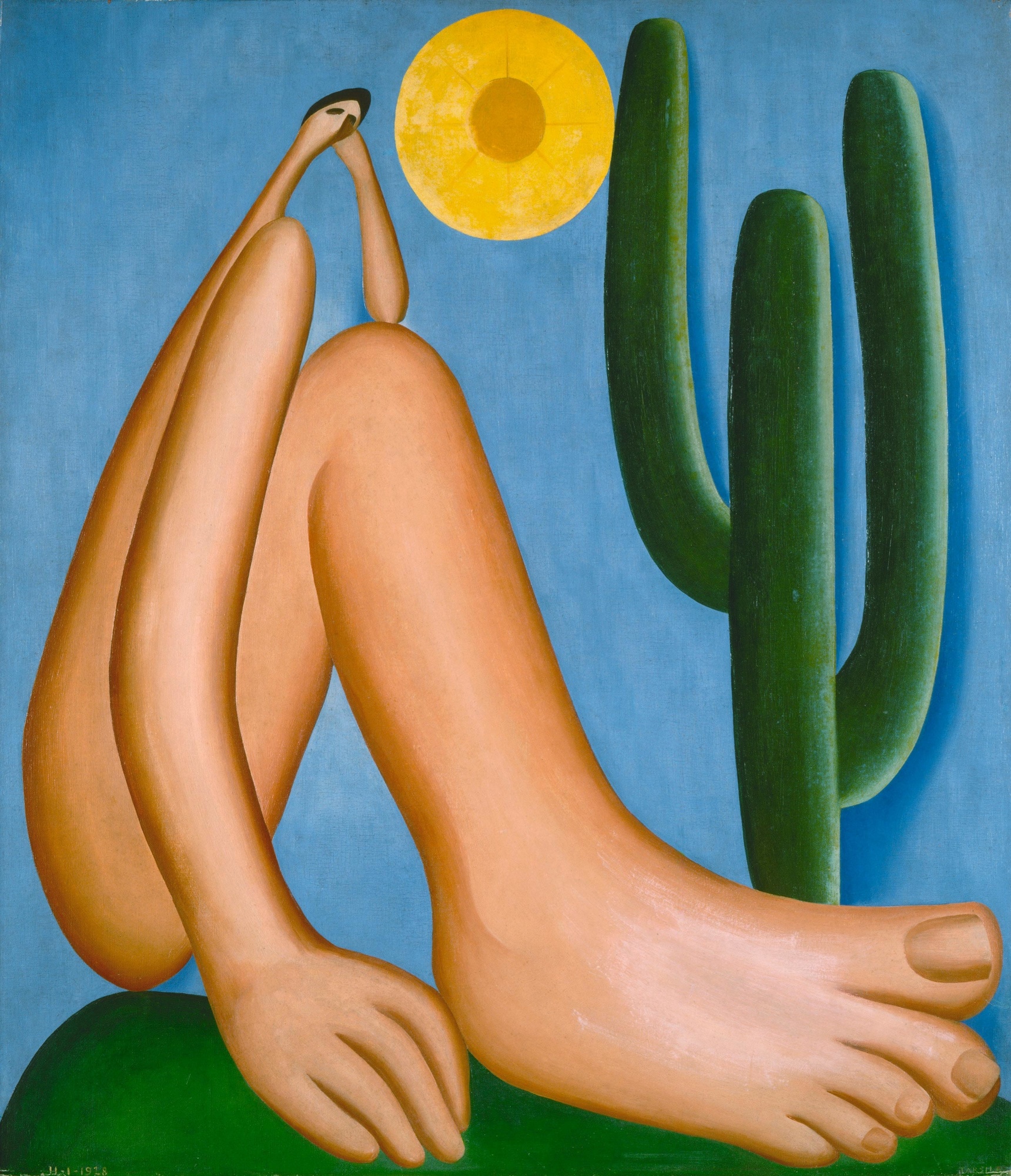 Tarsila's most well known work, and the most expensive Brazilian painting to date, is undoubtedly her Abaporu (1928, pictured above). When presented as a birthday gift to Oswald, the monstrous figure in the painting sitting next to a cactus with a little head, thin arms, and large, abnormal feet startled the poet. "What an extraordinary thing," he proclaimed. He named the painting using a combination of native Tupi-Guarani words: Abaporu – meaning "man who eats human flesh." The strange body has been interpreted as a symbolic creature: a small head that rejects the intelligentsia of academicism while large feet keep the figure rooted in the soil of the native land.
Abaporu and later Antropofagia (1929) became the signature images to the Antropofagia Movement. Her visual motifs and Andrade's poetic manifesto suggested that modern Brazilian culture symbolically consumed and digested the artistic and cultural traits from both avant-garde Europe and Brazilian tradition. The result was Tarsila's distinct hybrid style that would guide the direction of painting, architecture and design in Brazil for the rest of the twentieth century.
Tarsila do Amaral: Inventing Modern Art in Brazil is at the The Museum of Modern Art, New York until June 3.
Watch Caetano Veloso talk about the legacy of Tarsila do Amaral below:


Follow Sounds and Colours: Facebook / Twitter / Instagram / Mixcloud / Soundcloud / Bandcamp

Subscribe to the Sounds and Colours Newsletter for regular updates, news and competitions bringing the best of Latin American culture direct to your Inbox.
Share: