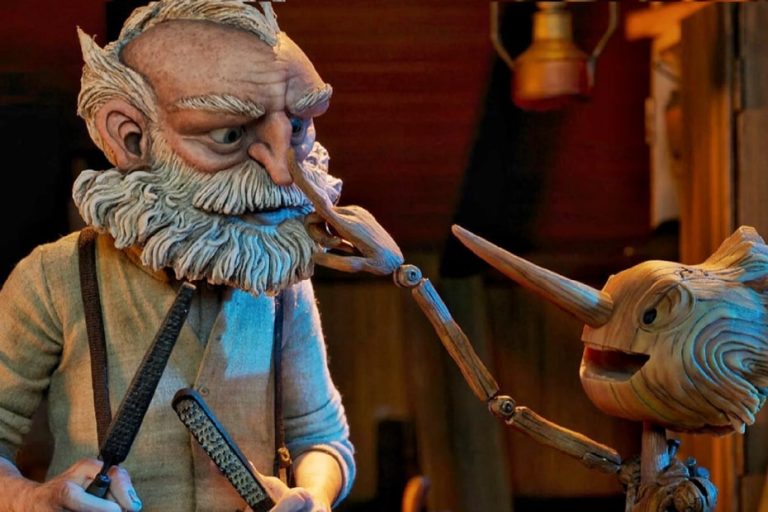 A still from Pinocchio
Del Toro's 'Pinocchio': Escaping The Puppet Masters Strings Of Obedience 
24 November, 2022
Guillermo Del Toro's great foray into animation has finally arrived. After more than 15 years battling the film industry's disbelief in his ambitious take on Carlo Collodi's wooden marionette folk tale, the Mexican filmmaker has magically brought Pinocchio to life. The Oscar-winning's life-dream project was finally greenlit by Netflix in 2018 with production starting in 2020. Co-directed by Mark Gustafson and co-written by Patrick McHale, the making of the stop-motion animated film took over a thousand days of shooting – a process in which one single shot taking two and a half months to set up and another month to shoot. Definitely not for amateurs.  
Moved by the Italian dark tale since a young boy, Del Toro has spent his life connected with the vision the character of Pinocchio has about the world as a 'daunting place, full of lies, and fraught with danger.' His anger and frustration about people being controlled and conditioned to be obedient so they can be loved became his drive to tell a visual story about disobedience as a virtue. Del Toro's version of Pinocchio clearly emphasises how important it is for us to appreciate our loved ones for the brief time we are allowed to have them near us in the physical form, yet without having to change who we truly are in order to be loved. It's a narrative illustrated by contrasts and opposites, filed with traditional religious references and symbolisms, playing the good versus bad game. In a pivotal scene Pinocchio and his friends are saved by him telling lies. The narrative flips from the original novel and we are introduced to a very human wooden puppet (Gregory Mann). Despite being continuously ill-judged by his actions throughout the film, Pinocchio touches every single character's heart, specially that of his beloved and grieving woodcarver Geppetto (David Bradley) who grieves the loss of his 10-year-old son Carlo. The master of fantasy brilliantly explores the relations between fathers and sons through his inventive and mischievously well-crafted storytelling.
Differing from earlier versions of Pinocchio, Del Toro sets the film in Mussolini's Italy, against a Fascist backdrop, which adds a suffocating and unanticipated layer to the popular story. At some point in the story Pinocchio is turned into a soldier by Fascist Podestà (Ron Perlman), who is an extra character added to this version as well as the character of the monkey Sprezzatura (Cate Blanchett). The choice for the flipbook-style form of animation that involves photographing and then physically manipulating objects within a frame perfectly fits the analogy to puppetry performance, mirroring the themes of obedience and dictatorship, strongly presented in this whimsically dark adaptation. The animated medium takes some of the film's thematic weight, and the engaging narration of hilarious Sebastian J. Cricket (Ewan McGregor) creates a balance in the emotional waves of the storytelling. Note that Pinocchio is carved out of a tree trunk where Sebastian had just been settled to draft his novel. Metaphorically, the cricket is telling the story from the wooden boy's heart.
This richly invented adaptation blends the fears and desires of both childhood and adulthood together. The audience is taken into deep dark fantasy sequences from the human subconscious where hidden secrets can be revealed – a contrast with the dreadful reality of a world of war and unfairness in human actions. Clearly not an animated film made for children to watch alone but appreciated as a family.
The film will be released in selected cinemas on 25th November before making its wider launch on Netflix on 9th December.

Follow Sounds and Colours: Facebook / Twitter / Instagram / Mixcloud / Soundcloud / Bandcamp

Subscribe to the Sounds and Colours Newsletter for regular updates, news and competitions bringing the best of Latin American culture direct to your Inbox.
Share: