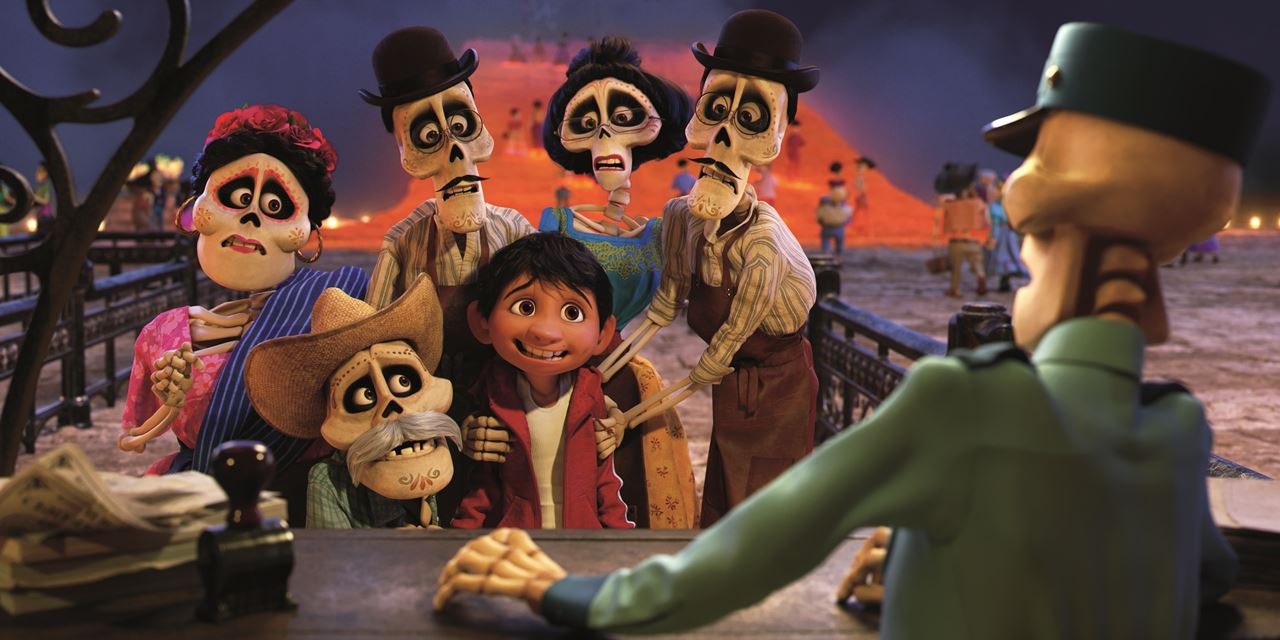 How Pixar's 'Coco' Embraced Mexican Culture to Become a Smash Hit
04 December, 2017
Pixar's latest animated film Coco is their latest offering to become an absolute sensation. Their long planned Day of the Dead inspired film features stunning visuals, colourful animation, vibrant music and a heartfelt story that honours the importance of family and traditions. Coco has received a fantastic reception from critics and audiences alike, particularly thanks to its ingenious storytelling and the great respect it shows in portraying Mexican Culture.
Coco tells the story of a 12-year-old boy named Miguel Rivera who dreams of being a musician despite his family's strict long-standing ban on music. When he finds himself accidentally transported to the Land of the Dead after strumming the guitar of his musical idol Ernesto de la Cruz, he seeks the help of his musician great-great-grandfather to help him return to his family in the world of the living, while learning the truth about his family's history along the way.
With a production cost somewhere between the $175–200 million range, Coco is the first film in history boasting a six-digit budget to feature an all-Latino cast, including Gael García Bernal, Benjamin Bratt, and Anthony Gonzalez as the voice of Miguel. The great success enjoyed by Coco marks a very important step in bringing diverse cultures into the world of Disney/Pixar, and representing them in an authentic and respectful manner.
Authentic Cultural Representation Makes the Difference
At a time where Hollywood has come under great scrutiny for their constant co-opting and whitewashing of other cultures, Coco is a breath of fresh air. Movies like Netflix's Death Note and Ghost in the Shell have come under great scrutiny for white washing – casting white actors to play roles that were written to be Japanese characters in the source material. Meanwhile, successful brands like vulkan vegas 50 free spins, Bodega and Ninja Casino have also been accused of co-opting other cultures by using stereotypes to market their products.
While Coco could have easily used a similar approach and relied on the same stereotypes of Mexican culture that have plagued Hollywood productions since the days of Speedy Gonzales and the ¡Three Amigos!, Pixar has instead decided to take a completely different approach in crafting the story for the film, one based on true collaboration and understanding of Mexican heritage, rather than a cartoonish appropriation.
A Rough Start
While ultimately Pixar managed to produce a beautiful film that embraces and celebrates Mexican culture without attempting to co-opt it, it did not always seem like this was the case.
About two years into the making of Coco, Disney (Pixar's parent company) made a huge misstep that thrust the film into a PR crisis. As part of its marketing, Disney applied to trademark "Día de los Muertos", the Mexican celebration of the dearly departed which serves as the films focal point. With 'Día de los Muertos' being a celebration that dates back to pre-Columbian times, Disney's attempt to trademark the name to themselves sparked a huge outcry from the Latino community, even resulting in a Muerto Mouse cartoon that perfectly encapsulated the debacle.
While Disney quickly backed off after the backlash, this incident led Pixar to the realization that they would require a lot more collaboration with the community they were looking to accurately represent.
This led them to promote co-writer Adrian Molina to co-director, as well as hire three key consultants as cultural advisors, former CEO of the Mexican Heritage Corp Marcela Davison Avilés, playwright Octavio Solis, and the cartoonist responsible for Muerto Mouse Lalo Alcaraz, to help guide them in making the film as culturally authentic as possible.
The team responsible for the movie also embarked on several research trips across Mexico, visiting cities of great cultural heritage such as Oaxaca and Guanajuato, where they lived with Mexican families and took part in many of the different rituals and celebrations alongside the locals.
A New Classic Is Born
Ultimately, Pixar's efforts to create a movie that truly understands and celebrates the culture it is trying to represent paid off greatly, with Coco becoming a critical and box office success.
While Coco has earned a highly positive rating on Rotten Tomatoes, the site accumulator features a collection of mostly white male critics. It is therefore more important to see what prominent Latin American critics are saying about it in order to gauge the films critical success with the audience it intends to speak to:
"The vibrantly colourful animated feature that draws on Día de Muertos celebrations could easily have gone askew, and Latino audiences are unforgiving. But with Coco, there is absolutely no cause for concern. With nods to the tres raizes (three roots) of Latino culture – indigenous, Spanish, and African – Pixar crafted a gorgeously drawn homage that rings true." – Vanessa Erazo

"Coco knows very well that the story it's telling… is rooted in the spirit of the celebration, on family and destiny, on one's originality and devotion. Coco is not (just) the flashy mariachi version of "Remember Me" but also its pared-down, family-sung rendition – a lullaby that will bring you to tears by the sheer power of its emotions and the beauty of its message." – Manuel Betancourt

"Coco is a joyous, and surprisingly reverent celebration of all things Mexicano. Nearly everything about it is breathtaking, from its eye-popping visual splendor to its warmly beating heart. The vibrant colours, rousing music, and moving story will leave viewers alternately delighted and emotional. The animated film not only honours, it exuberantly celebrates the traditions, music and spirituality of Mexico, moving seamlessly between English and Spanish." – Claudia Puig
Debuting on October 20th – shortly before Día de los Muertos" – during the Morelia International Film Festival in Mexico, Coco also received rave reviews from Mexican audiences, and even managed to break the box office record with more than $48 million in ticket sales. This already makes Coco the biggest film in Mexican box office history.
The audience response in Latin America has been absolutely overwhelming with a viewer even remarking: "Having watched the movie here in Mexico… I cried during the movie not only because of the beautiful story, but because it was the first time I felt represented (sic) on screen. It felt like watching my own home and family… it doesn't matter whether you're watching in Mexico or New York, Coco makes you feel like home".
With reviews like these from professional critics and audiences alike, it's no wonder that audiences everywhere are embracing Pixar's newest and most diverse offering yet. In the United States Coco managed a huge $71.2 million domestic debut, boosting it to become the unlikely winner of the Thanksgiving holiday weekend, above massive superhero blockbusters Justice League and Thor: Ragnarok. Coco has now grossed a total of $153.4 million worldwide.
After Coco's massive success, one can only hope that this will mark a turning point in how Hollywood approaches Latin American cultures in their movies from now on, seeing how an inclusive approach is significantly better for their art, reputation and box office than a reductive one.

Follow Sounds and Colours: Facebook / Twitter / Instagram / Mixcloud / Soundcloud / Bandcamp

Subscribe to the Sounds and Colours Newsletter for regular updates, news and competitions bringing the best of Latin American culture direct to your Inbox.
Share: