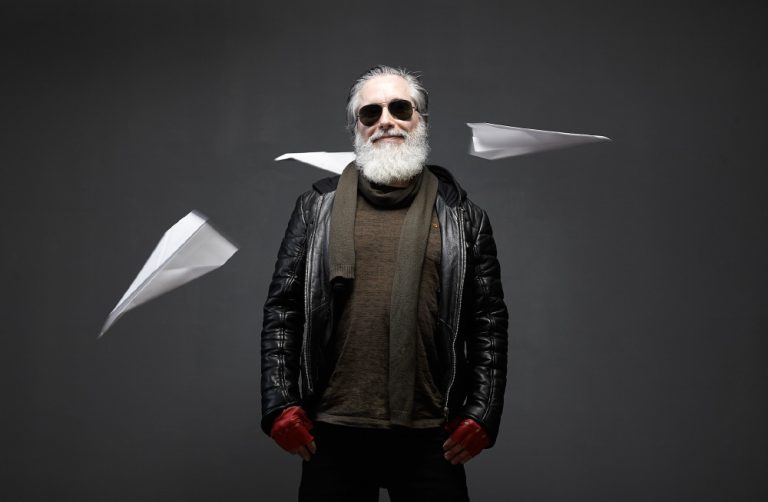 A Uruguayan in Brazil: An Interview with Dany López
16 May, 2022
I met Dany López around 11am on an Easter Saturday. Despite the sun, the Brazilian autumn brought an icy wind to the trendy neighbourhood of Vila Madalena, in São Paulo. Sitting in front of a French restaurant, we talked for more than two hours, strengthened by a few shots of coffee, about Limbo, the Uruguayan singer, producer and songwriter's latest album.
Unlike previous albums, 2015's Polk and 2021's Acuario, both sung in Spanish, and Kingdom of Me (2019), in English, this one has a certain originality because López wrote it entirely in Portuguese alongside the poets Tatiana Cruz, Carolina Simoni, Fabiana Iglesias and Leonardo (Leo) Nogueira, with the intention of it being interpreted mainly by Brazilian artists. The title, despite having a connection with the last two years lived by humanity, has nothing to do with the COVID-19 pandemic.
Fateful occasions, such as the end of a marriage of more than 20 years, served as inspiration for the album's lyrical themes. The separation is still visible on his face, a "wound" that has not healed; it became a catalyst for him to create these songs.
"With the pandemic, humanity lived in limbo, a suspended time. But my own life had been in limbo for a few years. I ended 24 years of a relationship, of emotional dependence. I was lost," he reveals. "A good part of that period, I lived in Brazil. So, it has everything to do with it. It is a book by Pythagoras from those years. Everything is part of an organic whole of what my life was like during that period".
Considering himself an optimistic person, his psychotherapist told him that he is actually a nihilist. Some of his pessimism is present in his lyrics and his music, and the way that he interprets both of these. A poetic framework creates a dense atmosphere, which takes the listener through different environments, many of which are grey but others that have more colourful textures. Contrary to a common trait in Brazilian Popular Music (MPB), which is to have a counterpoint between sad lyrics and happy music, on Limbo there is a consistency between what is being said and the musical environment.
Realistic, Dany confesses with a smile on his face that the kind of music he makes might not be understood right away. It is important to listen several times, because it is a universe that needs a key to be accessed. "I think these are songs that you need to submerge yourself in," he says. "I really like artists who work like this, because once you enter their world, you don't want to leave".
Like dispersed atoms that come together to form the same molecule, the 11 tracks on the album combine. One is connected to the other through sounds that seek references in different sources. There is an interesting fusion of electronic elements, samples of classic rock records, distorted guitar, milonga, Afro-Latin drums, folk and even samba. "I wasn't thinking about what to do, a defined style. I made it with the purest state of freedom," he says.
In fact, there is a certain transgression for not fitting on any shelf, but it also shows that Brazil is not restricted to the hot rhythms or the country's natural beauty. "I have some songs have obvious political and social sentiments, from my point of view. 'Os Dois' is one of them, because it speaks of the impossibility that one often has to look into the eyes of those on the other side of the situation, of those who are offering things on the street, who have nothing to eat, who are consuming crack, who are stealing out of necessity."
This is confirmed during our time in front of the restaurant. Of the five times we were interrupted, three were by people (mainly children) offering products or asking for money to eat. The other two were by promoters, who advertised new real estate developments at prices that were not in line with the reality of the majority of the Brazilian population. "We have a hard time living on a day-to-day basis, never mind trying to live ethically, beyond good and evil. There is a difficulty looking at each other with open eyes", he concludes.
Connection With Brazilians
After leaving the restaurant, we went up the slopes of the neighbourhood towards the place where Dany was staying. Coincidence or not, there was a studio there. The old control room had become a room, as had the other parts of the studio. Happy discovering this place, the singer says that every time he returns to São Paulo, he will stay here. It was where he found himself.
On the kitchen table, all his letters are smeared with pen markings. After we talked, and enjoyed an apple and cinnamon tea, he borrowed a guitar from Zeca Baleiro to prepare for a showcase he would do later. Before that, he revealed that his connection with Brazilian artists goes back to when he was a boy and bought vinyl records by Gilberto Gil, Chico Buarque, Milton Nascimento and Caetano Veloso. The same passion was shared with his older brother, who preferred João Gilberto and Tom Jobim's bossa nova.
"My relationship with Brazil is 30 years old. I was a session (studio) musician for a long time, as a pianist. From a studio musician I became a producer. Because I played with a lot of people, I used to come to Brazil a lot. In the beginning it was to play in jazz festivals accompanying other singers. And every time I arrived, I made new friends."
It was in these comings and goings that he met Zeca Baleiro, introduced by Leo Nogueira; together they recorded "Caja Negra", which is part of the album Polk. During a show in Uruguay he had his first contact with Filipe Catto. He immediately identified with the artist's voice and performance. "I was very impressed with his voice and his theatrical presence", he says in amazement. "I made the song ['Abissal'] directly for him. I wrote it in his style. It's a song that's very much my own, but I knew he would be able to embody it quickly."
The same happened with Zeca, Diego Moraes, Osório, Taís Reganelli, Aline Stoffel, Lino, CHAUDA and Lila Trentini. Along with Lenzo Rizzo (Guinea-Bissau), Camila Ferrari (Uruguay) and Anaīs Sylla (France), they are all protagonists of this fourth album by López, who sings infrequently in just a few moments on the album.
"I trusted and handed over the duties, because I was doing it with people I admire. For example, I met Diego Moraes in São Paulo. This guy is kind of the Prince of Brazil, in voice and performance," he says. "So, I told Tati [Tatiana Cruz] that I wanted to make a specific song for Diego. She listened to his work, and sent the lyrics to ''Eletrocutado''. I wanted to do a kind of milonga, tango or bolero. And it couldn't have been more perfect."
Making these distinct connections, Dany López reveals the artistic plurality that exists in Latin America. This is rarely explored, despite the proximity of countries, languages ​​and realities. He says that Uruguay is a cold country with introspective music to listen to while reading and talking. In this way, one adds to the other, considering that Brazil is hotter and has a bigger culture of dancing. "They complement each other beautifully," he says.
Ambitions
Already sketching out his next album, Elefante no Jardim de Petúnias, which he has been working on for more than five years, Dany says he doesn't want to get too successful. A renowned music producer in his country, having produced more than 25 albums, including Mar Abierto, by Daniel Drexler, he says he likes the underground. This desire is not just to make art for art's sake, but to know what kind of audience he wants to reach.
That's also why he made two albums in languages other than his own. The predecessor, Kingdom Of Me, found itself literally in limbo, having been released at the beginning of the pandemic. But despite this "erasure", López says it is one of his favourites because he was able to better express his feelings by singing in a language different from his.
"It was as if it allowed me to look at myself differently. It allowed me not to be afraid to say things, because in my language, Spanish, I was already much more stuck," he confides. "And English allowed me to put everything out there, to get out of the simple, low-profile Uruguayan character a little bit. This album opened up the possibility for me to scream, talk about other things and expose myself".
The same thing Dany does in Limbo, but in a more poetic and subjective way. It is an exciting experiment, which does not follow rules, but has some ingredients that are indispensable for the "Uruguayan in Brazil", just as Sting called himself an "Englishman in New York".
"Sadness and the other emotions will be differentiated. For me, melancholy and passion are also important. When I fall in love I compose. It gives me euphoria, the will to live, as happened with this project. My two motives for making music are sadness, or pain, and the pure contemplation of life, that simple look at what is happening around me".
Limbo is out now on Loop Discos

Follow Sounds and Colours: Facebook / Twitter / Instagram / Mixcloud / Soundcloud / Bandcamp

Subscribe to the Sounds and Colours Newsletter for regular updates, news and competitions bringing the best of Latin American culture direct to your Inbox.
Share: