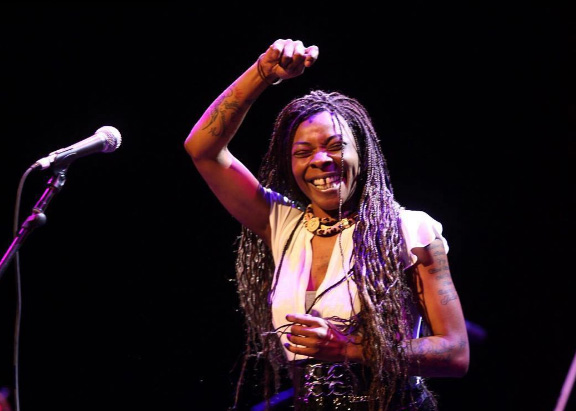 A Voice Between Worlds: Concha Buika at the Lisner Auditorium
29 April, 2016
"I want to live without fear!"
A petite sparkling figure appears in the centre of the theatre's stage proclaiming a new era.
She salutes the crowd with the most powerful, raw verses from her new album Vivir Sin Miedo; and immediately crosses a massive cultural bridge, fusing Jamaican dub, southern blues and homegrown Flamenco.
http://www.youtube.com/watch?v=PbeFzijT4_k
Concha Buika was born to Equatoguinean parents on the Spanish island of Mallorca, whose residents are masters of the art of Flamenco. It is the main ingredient in her music. Songs of love and unlove (desamor!), of loss. Of treason. Of abandonment. Buika invokes a high percentage of melancholia.
Concha Buika feels so close because she tells the story of many: life as a journey, life as a road movie, always on the move, always in transition.
"Distances set cities apart, cities break the habits" she recites while performing the Jimenez classic "Las Ciudades". This gives us a clue to her transformation, most specifically of her relocation to Miami after an international breakthrough with the Niña de Fuego album and her stunning appearance in the 2010 Almodovar movie La Piel Que Habito, which has changed her. For the better.
I come from many places, she explains, before delighting the audience with "Sí Volveré", an afrobeat and salsa fusion which unveils Afro-Cuban roots while paying homage to the Fela Kuti legacy in West Africa. Buika graciously shakes her hips in an elegant golden-sequinned robe, flirting with the classy setting of the Lisner Auditorium, a choice of venue that evokes the golden years of US-American Soul.
An infatuated fan shouts "I love you!"
"What a liar!", Buika responds. "What a liar! But I love it. What a liar, yet I love it!" She blasts into the most unexpected flamenco/blues/improv. Her bond with the crowd is unique. "What can I do for you now?", she sings. "Mi Niña Lola" they shout, "Mi Niña Lola" we get. The brave among us, namely a few graceful female members of the audience, have so far worked their way up to the front. They are no longer sitting but slowly moving their hips to Buika´s melodic songs, sensually dancing with her, maintaining eye contact.
There is something inherently enchanting about her persona, the plenitude of her presence in the room. As the singer has stated before: it is our nature to love each other. In the end we are humankind, we are brothers and sisters and we are all in love with each other.
After the concert a few lucky ones manage to find Buika outside, casually catching some air and smoking a cigarette with her crew. "I love that you loved it". "Your love makes my music come to life". She bids farewell with a deep, warm hug. "Hasta siempre". And I believe it.
Not only is it no understatement that Concha Buika is one of the most powerful voices in contemporary world music, with enormous potential for iconic status, but also is one of the most humble and timeless treasures we have.
Buika was performing at the Lisner Auditorium in Washington D.C. on Sunday April 24th, 2016.

Follow Sounds and Colours: Facebook / Twitter / Instagram / Mixcloud / Soundcloud / Bandcamp

Subscribe to the Sounds and Colours Newsletter for regular updates, news and competitions bringing the best of Latin American culture direct to your Inbox.
Share: