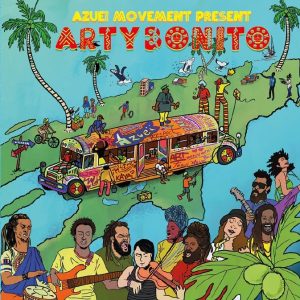 Review
Azueï – Artybonito
Now here's a rather interesting – and important – musical, cultural and even socio-political release. It comes from an island of two troubled republics that have rarely seen eye to eye. Azueï is not just a musical collective but a veritable movement of Haitian and Dominican artists born near and around the river Artibonit, which rises in the Dominican Republic then flows westwards through the centre of Haiti to the Caribbean.
The movement was founded at a time of political upheaval in 2015. While the two governments were at each other's throats and amid threats to expel Haitian migrants who had settled across the border, writers, painters, sculptors, film-makers, musicians and other artists from the two nations came together for workshops and performances on the shores of Lake Azueï, to transform the hate-filled nationalistic political discourse via culture and the arts.
Freedom from discrimination was the starting point of a creative process that has produced Artybonito, a musical exploration of the two nations' indigenous traditions and rhythms. On the second track, an upbeat reggae number, "No-Discrimination", the band sings in English and Spanish of "one religion" and "love for everyone" as the antidote to the racism of "nation against nation". "Kiskeyann Feeling" is a joyful anthem to their island "in the Caribbean sea", where "the people are so nice" and "the sun shines so bright" that "you never wanna leave".
These sweet, disarmingly ingenuous sentiments and spritely rhythms encapsulate the spirit of the recording. Of the dozen members of the bi-national band, seven or more singers share the vocal duties, backed by bass, guitar, piano and percussion. So the emphasis throughout is on didactic songs sung with engaging sincerity.
Inevitably, with so many different creative voices involved, the results can be a little uneven. During its voyage around the two parts of the island of Hispaniola, Artybonito brings in elements of roots music, reggae, merengue, compas, salsa, soca, hip-hop and more components of a rich and discursive musical heritage. The numbers were apparently composed initially in a "gaga rara" style without guidelines or scores. The explorative first drafts were then refined into a dozen songs, of which the wonderful percussive and vocal work-out, "Guagua Tap Tap", leaves a lasting impression of the collective energy involved.
The opening "Alegba" adds horns to the mix to create a glorious invocation to the Yoruba deity, while the jaunty "Azueï" sings of "one heart, one soul, one destiny" in a way that seems to borrow from Bob Marley at his most messianic. If elsewhere the music doesn't always cohere, the message is consistent throughout and there are more than enough highlights here to make this a valuable component to any Antillean-music lover's collection.
Find out more about AZUEÏ on Facebook

Follow Sounds and Colours: Facebook / Twitter / Instagram / Mixcloud / Soundcloud / Bandcamp

Subscribe to the Sounds and Colours Newsletter for regular updates, news and competitions bringing the best of Latin American culture direct to your Inbox.
Share: