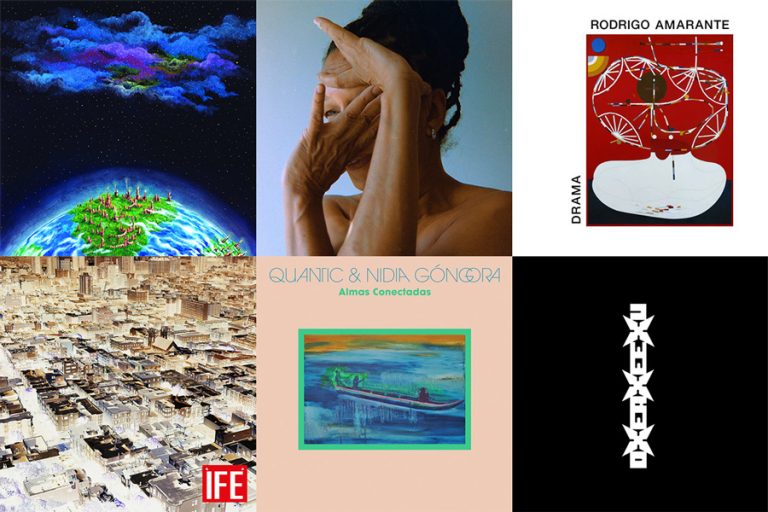 Best Albums of 2021
22 December, 2021
The remit for choosing the music we review and feature in Sounds and Colours is that it is music made by Latin Americans, and occasionally inspired by Latin America. And every year this distinction gets a bit blurrier as artists move between different identities and geographies, languages shift between songs, and their music incorporates even more influences, rock and pop finding its way on to dance floors, and electronic rhythms making the opposite move, while local and national rhythms and instrumentation continue to work as bellwethers of selfhood, whether they have been an integral part of one's upbringing or not. As such, our list contains a British producer at #1, albeit in collaboration with one of Colombia's most distinctive voices, an American who had adopted Puerto Rico before heading to New Orleans, a Cuban playing US funk as good as anyone in North America, Brazilians living in France and the States, an Argentine percussionist in love with Peruvian brass bands, electronic music producers who invariably all live in Berlin, as well as so much music that could only have come out of Latin America, Susana Baca, BaianaSystem, Bejuco and Juçara Marçal all making Afro-Latin music that is continental, if not global, in its scope. We hope it makes for a fine selection of music for you to get stuck into, and a reminder of why Latin America is so much more than panpipes, tango and salsa! Russ Slater
---
20. Dom La Nena – Tempo
Six Degrees Records (Brazil)
She is young, soft spoken; her vocals are zephyrous, her lyrics without guile, her arrangements demure, and she plays the cello without bombast. At the same time, Dom La Nena is an immensely affecting and gently powerful musician, and poet, really, with a purview unmistakably her own. Tempo, her latest album, demonstrates how in a few short years of recording, she has honed her musicianship into a mature art form. Tempo underscores La Nena's intense relationship with the natural world, especially to flowers and birds. The album is like a backyard garden meticulously tended, where the air is fragrantly clean, and the sun splendid, though not always bright. You'll find no cages in Tempo's garden, as La Nena's birds are free flying. Carolina Amoruso
---
19. Cimafunk – El Alimento
Terapia Productions (Cuba)
One of the most-hyped artists of the last few years due to his electrifying live shows, Cuba's Cimafunk pulled out all the stops for his second full-length, enlisting an enviable group of collaborators to showcase his Afro-Cuban take on funk. There are notes of Kendrick Lamar's grooviest numbers on his team-up with Lupe Fiasco, "Rómpelo"; a definite Destiny's Child imprint on "Caramelo"'s spunky rhythm; Ohio Players stomp on "Esto Es Cuba"; and, obviously, a healthy dose of P-Funk on the George Clinton-augmented opener "Funk Aspirin". Clearly he knows his US funk, but the trick is how he blends this with his Cuban and Afro-Latin heritage, tracks like "Te Quema La Bemba" and "Sal de lo Malo" finding a space where the clave and funky urban can live side-by-side. Then there are the lyrics, his manifesto of love for Cuba and its people; few artists offered this much joy in 2021. Russ Slater
---
18. Susana Baca – Palabras Urgentes
Real World Records (Peru)
Now 77 years old, it seems crazy that Baca is still able to produce some of her best work, but that is exactly what has happened with Palabras Urgentes. Just take a listen to "Color de Rosa", a track which featured on her acclaimed 2001 album, Lamento Negro. The arrangement here is similar, but in the instrumentation and Baca's performance there is so much more dynamism, more energy, more colour. It's an accusation that could also be thrown at her version of Manuelcha Prado's "Negra del Alma", surely the most rousing song she has ever recorded with an Andean brass band pre-chorus, marimba and donkey jawbone all to the fore. Tributes to female guerilla fighters and songs that map her Afro-Latin heritage are all part of a mix that sees Baca at her most passionate and energised, with a musical team fronted by Snarky Puppy's Michael League proving more than up for the task. Russ Slater
---
17. Martin Bruhn – Picaflor
Shika Shika (Argentina)
Picaflor by Argentinian percussionist Martin Bruhn, a fresh venture into the fertile grasslands of the Peruvian Mantaro Valley, home of the proud Wanka people and the musical equivalent to Jamaica as a holy birthplace to many contemporary Andean riddims, particularly the widely celebrated genres of huayno and chicha. Picaflor does not limit itself to a PG-13 rendition of Peruvian music. Rather it innovates as much as it pays respect: "This album represents the constant search for my own carnival and this time I am happy to invite the rest of the world to join this great fiesta", writes Martin in the LP's accompanying liner notes. Diego Hernandez
---
16. La Lá – Mito
Self-released/Altafonte (Peru)
There is a maturity on show on Giovanna Núñez's third album as La Lá, both lyrically with the Lima resident taking inspiration from myths, both folkloric and personal, and musically, as there is much invention on display despite the focus on guitar and voice throughout. Album opener "Amistad" is a visceral delight recalling Laura Marling's most sprightly moments; led by Afro-Peruvian percussion a cornucopia of instruments come in and out of the picture, adding different textures and changing the pace at will; it oozes levity. On "Cara" she turns to bossa jazz, while "Morir Soñando" has a bit of candombe beat about it, each song offering different cadences without ever straying far from the source. On "Paracas Cavernas" and "Milagros" there are even the type of catchy pop-folk melodies that should see her sharing stages with the likes of Julieta Venegas and Natalia Lafourcade. Russ Slater
---
15. Bejuco – Batea
Discos Pacificos (Colombia)
Hailing from Tumaco in the South Pacific region of Colombia, Bejuco have embedded traditional music from their hometown with more global sounds, in particular, afrobeat. The album opens with "Curao", a musical reference to the home-brewed alcoholic drink, viche curao, and thus, the ancestral importance of the Pacific region to Bejuco and their music. The opening of "Curao" is perhaps the most significant in introducing us to exactly what Bejuco are all about. The muted electric guitar riff, the first nod to Kuti's influence, is seamlessly entwined with solo marimba. The bass line takes inspiration from the traditional bordon, an ostinato-style riff usually played in the lower register of the marimba. The opening 20 seconds of this album ensures us that this was no accidental fusion, but a clearly planned and thought-out musical project to join the two forces of afrobeat and currulao. Jenna Mackle
---
14. Briela Ojeda – TEMPLO KOMODO
Sello In-Correcto (Colombia)
Recorded in an old puppet theatre, Libelula Dorada, in Bogotá, Templo Komodo is a surprising product of the quarantine period of 2020; the album takes inspiration from the still, calm, and isolated environment in which Briela found herself in her hometown of Pasto. The feminine energy gifted from her family, the natural imagery of the Galeras volcano, and taking the time to heal spirituality while the whole world slowed down, allowed Briela to create a musical parallel to the reflective and introspective nature of 2020. "Luna Munay", a collaboration with Colombian artist, Lalo Cortés, musically sets the scene for the entire concept of Templo Komodo. With its sparse musical accompaniment and complex, haunting vocals that are tangled in polyphony, "Luna Munay" resembles that of a sacred song, a backdrop to a spiritual ritual. Jenna Mackle
---
13. Dr Drumah – Nu-Konduktor
Self-released (Brazil)
On Nu-Konduktor, Jorge Dubman aka Dr Drumah employs his production skills, honed on projects for the likes of Marcelo D2, to create a genuine producer's album rather than an assemblage of disparate parts. In this case, he worked with friends and various musical partners, using mainly analogue instruments, to oversee and nurture their own contributions to the overall sound – as indeed a conductor might. "Temaluna" pointedly suggests a lunar theme as it orbits the planets Azymuth and Lonnie Liston Smith. "Cosmic Echo", with its wicked guitar-loop and heavy bass line, also sets you adrift somewhere in the cosmos. The two-part "Midnight Spy" features an ominous bass hook and sounds that conjure up a shadowy nocturnal urban landscape. But the music can be visceral as well as cerebral: "Estágio Final" and "Hey Deejays!!", for example, are devilishly funky slices of updated '70s jazz-funk. Mark Sampson
---
12. Santa Fe Klan – Santa Cumbia
473 Music (Mexico)
What you might expect from a musical genre is forgotten when you listen to Santa Fe Klan. On his new album Santa Cumbia the artist from Guanajuato presents a mixture of cumbia sonidera with urban, lilting with Latin hip hop overtones, which undoubtedly represents a before and after of an era. The freedom to experiment and find a voice that leaves those who want to pigeonhole you in limbo, is what has led to his meteoric rise and the recruitment of Camilo Lara and Toy Selectah as his producers. On opening track "Vuelve" he manages to innovate with the sound, essence and his representation of the urban street culture of Mexico. Marcelo Lara
---
11. Susobrino – Pocualeíto
Kebrada (Bolivia/Belgium)
Susobrino aka Bart Van Obbergen Pérez was born in his mother's Bolivia before moving to his father's Belgium at two month's old, which is where he has remained since. And it's his journey into discovering his Bolivian roots, as well as his restless musical mind, that underpins this new EP, released on Dengue Dengue Dengue's Kebrada imprint and featuring DDD on one of the tracks. Opener "El Aguante" is faultless, a marching beat, with guitar and vocal hook that keeps the song building while flutes and whoops reference the Andes. There are touches of baile funk and cumbia rebajada on "Jii / Tío Carbón" and a full-blown excursion into charango-led folk music on "El Camino Refleja" on an EP fit to brimming with ideas. Russ Slater
---
10. chicarica – arde lento
Quemasucabeza (Chile)
Chile has become a haven for electro-pop in recent years, Javiera Mena, Gepe, Alex Anwandter and Pedropiedra just being a few examples. By definition, chicarica are continuing the tradition, albeit whilst offering something completely different. Detached vocals, ominous, menacing bass lines, sparse synth stabs, rattling percussion, this is a sonic universe less about the glee of making fluorescent, catchy indie-pop using electronics, and more about bold precise melodies that fluctuate between the soothing and the unsettling; when there is a moment of catharsis it arrives when the songs break out into club music, the glitchy double speed ending to one of the album's highlights "ay tentación" being the perfect example. Just imagine Washed Out playing in an underground Santiago club during a pandemic, and you're getting close. Russ Slater
---
9. Antonio Neves – A Pegada Agora É Essa
Far Out Recordings (Brazil)
It's the assortment of wonderful, playful rhythms that makes this album such a delight, such a stand-out from standard jazz fare. The title track and first single, for instance, are a restless kaleidoscope of rhythms and sounds, full of cuica whoops and vocal exhortations, driven along by a staccato guitar riff and incessant percussion. A Pegada Agora é Essa (The Sway Now) is a striking, richly varied album of modern urban jazz. It's both technically expert and rhythmically exuberant. Like New Orleans jazz, it seems more suited to the outdoors than a subterranean club, coming on as it does like a gaudy float in a carnival parade. A fabulous creation! Mark Sampson
---
8. Helado Negro – Far In
4AD (US/Ecuador)
Roberto Carlos Lange changed his approach considerably from the largely-acoustic and solo DIY aesthetics of 2019's This Is How You Smile to this year's Far In, in which he recruited a band and various friends to assist. The result sees him continue the intimate, slowly-revealing melodies that were such a big part of Far In – just take a listen to "There Must Be A Song Like You" – but with a fuller sound putting bass and drums forefront and centre, although Lange's voice, thankfully, is still the main act. Additionally, this new approach has seen him make some of his most danceable, effusive music to date, "Gemini and Leo" kicking straight into a get-out-your-seat groove, with barely any let-up, whereas "Aureole" sees him turn what begins as a Stereolab-esque curio into a throbbing, shimmering, surely Berlin-set rave-up. In my eyes, he can do no wrong right now, but then I've been saying that since 2010. Russ Slater
---
7. QOQEQA – AxuxA
Kebrada (Peru)
The album starts with the dramatic and obscure "Ama", a dystopian introduction that leads to "Kilo", which resembles the kind of contemporary dance music that recreates the dembow beat in a darker terrain, a recognizable aesthetic for those familiar with deconstructed club music. Things start to get more interesting with "QOQEQA", which sounds closer to electronic mambo from Dominican Republic, but twisted and futuristic, definitively something that I've never heard before; from here it's easy to get lost in the Amazonian jungle in a post-apocalyptic near future. Songs like "Omega" are hard to dance to, but they take you on an hypnotic and ceremonial trance; then there are percussive-heavy tracks like "Puntea" that will be perfect DJ tools for global selectors around the world. A beautifully-crafted debut album by one of the most interesting and promising electronic music producers from Peru right now, capable of elaborate movement-inciting rhythms but also mind-altering melodies and ambience that will set the tone for future South American dance-floors. David Bugueño
---
6. Meridian Brothers and Conjunto Media Luna – Paz En La Tierra
Les Disques Bongo Joe (Colombia)
Paz En La Tierra is a new collaboration from the mighty Meridian Brothers and Ivan Medellin, the most reputable cumbia accordionist in the Bogotá scene right now. This joint venture unites the roots and influences that are tenderly nourished within both parties' separate musical ventures, while at the same time, creating a new shape of its own. With the Caribbean coastal vibes of cumbia, vallenato, and more, Paz En La Tierra is a new edition to the experimental interpretations of these folkloric Colombian rhythms. Medellin's virtuosic and instantly recognizable accordion style takes centre stage. This, coupled with a futurist and almost playful dystopian style, gives Paz En La Tierra its distinct place within the folkloric-fusion scene. Jenna Mackle
---
5. BaianaSystem – OXEAXEEXU
Máquina de Louco (Brazil)
When the pandemic began, BaianaSystem hunkered down and got to work, releasing three EPs that would eventually become this full-length. In a way it sees them continue the Afro-Brazil bass frivolities of their previous, and equally sublime O Futuro Não Demora. Opening track, "Reza Forte", with BNegão guesting, is simply classic BaianaSystem, with their characteristic guitarra baiana duelling with carnival and rap aesthetics, and "Chapéu do Panamá" streamlines the sound, the treble of those processed tecnobrega-esque guitars and synths perfectly balanced against the bass and Russo Passapusso's effortless delivery. Yet, there is so much more on this album, they get into guajira on "Corneteiro Luís", "Brasiliana" is almost Manu Chao with its spoken vocals and off-beat rhythms, while some of the instrumental tracks are glorious, "Pachamama" a presumably-nature inspired groove with hints of downtempo, dub and folk. These cats have done it again. Russ Slater
---
4. ÌFÉ – 0000​+​0000
Mais Um (US/Puerto Rico)
ÌFÉ main man Otura Mun decided to close his 20+ year stay in Puerto Rico for New Orleans when the pandemic hit, a move which resulted in an album that evolved from his debut while never getting too far away from his distinctive yet tricky-to-categorise sound. Is this dancehall? Caribbean gospel? Afrobeats? Electro pop? In truth it's a little of all of these things, "FIREFLIES" carrying traces of Afro folk music in its rhythm while working into catchier crossover territory (at least until the fiery, percussive finale), "VOODOO ECONOMICS (WolfMan)" is neo-r'n'b with a sweet vocal hook, "PRAYER FOR SHANGÓ" a smooth call-and-response reggaeton ballad with Ifá ceremonial traditions on full show, while album stand-out "Fake Blood" sees him address gun violence in the light of George Floyd's murder. There's a heavy heart on show here – Hurricane Maria and the decline of nature also loom large – but it's this extra emotional heft, adding power to what was already a finely-tuned musical formula, that make this second album so special. Russ Slater
---
3. Rodrigo Amarante – Drama
Polyvinyl Records (Brazil)
Drama is packed with memorable melodic songs. It's an apt title, since together, these 11 bittersweet numbers could serve as the soundtrack for something as exquisitely melancholic as, say, Hector Babenco's Kiss Of The Spider Woman. As a fitting prelude, the opening title track's strings, and disembodied sounds of audience appreciation, underline such theatrical associations. The melodies that follow are so catchy and deceptively simple that you could categorise Amarante's songs as pop music of the highest class. But they are more than this: it's enough to listen to the second track, the single "Maré". On the face of it, an upbeat singalong song for pop-pickers everywhere, it's actually based on the Spanish proverb that the tide will fetch what the ebb brings. "Things that arrive in your hand by destiny," Amarante explains, "they are just as easily swept away." Mark Sampson
---
2. Juçara Marçal – Delta Estácio Blues
Mais Um / QTV (Brazil)
The album, produced with fellow Metá-Metá founder Kiko Dinucci, was inspired by Danny Brown's Atrocity Exhibition and uses hip-hop's method of building up a song from a beat, but here the beat could be created from a bass drum, guitar or percussion and then exploded into something new. Birthed through the pandemic, with a claustrophobic and catastrophic government in charge, and catalysed by contemporary hip-hop, Delta Estácio Blues sees its inspirations and source materials reach back through a cultural history defined by the African diaspora, the crossroads of Robert Johnson meeting the historic sambas of Rio's Estácio de Sá. Andy Cummings
---
1. Quantic & Nidia Góngora – Almas Conectadas
Tru Thoughts (UK/Colombia)
It is fair to say that Quantic and Nidia Gongora completely ripped up the formula when it came to making their second full-length album together. Whereas their debut, Curao, skitted between bass-heavy electro and Góngora's beloved Colombian Pacific Coast folk traditions, this one has the feel of a long-lost Latin soul production, with sumptuous strings, warm vocals and a smorgasbord of rhythms: a hazy cumbia for all the drinkers out there ("Balada Borracha"), a laidback soulful salsa ("El Chiclan"), a call-and-response psychedelic blues ("Adorar La Sangre"), and otherworldly delights where percussion and strings provide lush backdrops for Góngora's raspy voice ("Macumba da Marea"), that almost come across as a Latin American Portishead. Quantic is always searching for new sounds, new ways of producing and arranging, but whereas in the past it could be said that there was a certain formula no matter the rhythm, this one feels like an evolutionary step, with songs heading in unexpected directions, defying categorisation, while Góngora is on top form, adding passion and soul into every crevice, always ready for whatever groove is thrown at her. Russ Slater
---
Albums chosen by Adailton Moura, Amanda Chartier Chamorro, Ana Claudia Bendezú, Ana Clara Ribeiro, Andy Cummings, Brian Kiwanuka, Carolina Amoruso, David Bugueño, Gabriel Francis, Gabriel Rizzo, Gregorio Hernández de Alba, Jeanette Hernandez, Jenna Mackle, Jimmy Centeno, Joe Osborne, Juan Data, Marcel Márquez, Marcelo Lara, Marco Pisciotti, Mark Sampson, Oleno Netto, Raul Alonzo Jr., Rebecca Wilson, Russ Slater, Santiago Florez, Valdomiro Valle and Zoila Antonio Benito.
---
Like what you hear? Here's 30 more albums for you, to complete our Top 50 Best Albums of 2021:
Bomba Estereo – Deja (Sony)
Cadú Tenorio – Signal Eustacy VI (Sinewave / Ultra Gash)
Chico Sonido – Mundo Unity (Discos Rolas)
Chile Wave – Chile Trax Vol 1 (Magia Blanca)
Daniel, Me Estás Matando – Grandes Éxitos del Bolero Glam (Inmadurez Records)
DJ Tudo Pancada Motor – Transformação e Cura (Self-Released)
Dom La Nena – Tempo (Six Degrees Records)
Dos Santos – City of Mirrors (International Anthem)
El Búho – Natura Sonora (Shika Shika)
El Dragón Criollo – Pase Lo Que Pasa (El Palmas Music)
El Remolón – Asimétrico (Fertil Discos)
Garzomorphosis – Mega Omega (Anti-Rudo Records)
Índio da Cuíca – Malandro 5 Estrelas (QTV)
Ismael Ayende – Ismael Ayende (Self-released)
Kurmi – Historias Para Cuando Sea Abuela (Zilla Records)
La Parka – Grandes Éxitos (Self-released)
Lagartijeando – La Tercera Vision (Wonderwheel Recordings)
Linn da Quebrada – Trava Línguas (Self-released)
Los Pirañas Infame – Golpazo en Keroxen (Keroxen)
Mabe Fratti – Será que ahora podremos entendernos (Tin Angel Records)
Marisa Monte – Portas (Sony)
MNTH – MNTH (Mais Um Discos)
Mon Laferte – SEIS (Universal)
Mon Laferte – 1940 Carmen (Universal)
MONTAÑERA – Salvadora (Self-released)
Natalia Lafourcade – Un Canto por México, Vol. II (Sony Music)
Nicolás Duarte – Películas Infames de Directores Famosos (Self-released)
Os Amantes – Os Amantes (Amplicriativa)
Princesa Alba – besitos, cuídate (Quemasucabeza)
Sofia Rei – Umbral (Cascabelera)

Follow Sounds and Colours: Facebook / Twitter / Instagram / Mixcloud / Soundcloud / Bandcamp

Subscribe to the Sounds and Colours Newsletter for regular updates, news and competitions bringing the best of Latin American culture direct to your Inbox.
Share: