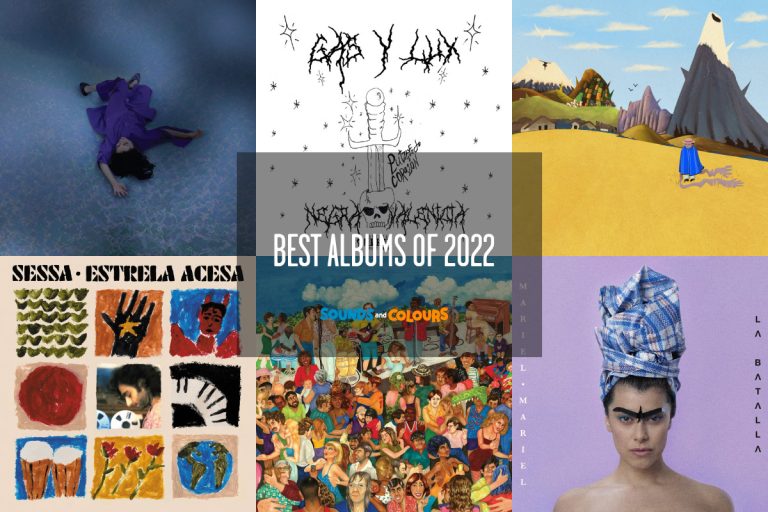 Best Albums of 2022
23 December, 2022
We thought we'd throw the cat amongst the pigeons this year and instead of having our typical countdown to the best album, feature our favourite 20 albums in no particular order. After all, if all our writers have a different favourite it's very likely that you'll have a different favourite too. So, without further ado, here's what we consider to be the best albums of 2022, featuring the best underground music being made in Latin America and the Caribbean and many examples of how international labels are getting ever more diverse in the music they're releasing from the region. We are sure you'll find something to love in this lot.
---
Lucrecia Dalt – ¡Ay!
RVNG Intl.
Absorbing and mysterious, Colombian producer Lucrecia Dalt's ¡Ay! —the name a dramatic Latin exclamation that evokes an indulgent sigh to release emotions— plays with rhythms from this part of the world. It is more melodic, more within grasp than her previous albums, with crystal-clear and often warm percussion and simple, slick instrumentation, yet otherworldly as always with creeping atmospheric dissonance and soothing, entrancing sci-fi-lyrics. It's a treat to sway with and explore Dalt's curious yet familiar liquid Colombian soundscapes and listen to her voice whispering worlds right into your ear. Rebecca Wilson
---
Sessa – Estrela Acesa
Mexican Summer
A star is born. The Paulistano singer-songwriter's first album was one of Bandcamp's albums of the year for 2019. With sparkling moments, it served as a prototype or try-out for his splendid follow-up in June 2022: a brief and delicate affair constructed around minimal instrumentation and almost subliminal strings. This time, it's the real deal: the dozen poetic miniatures form a paean to love and beauty and all things soft and sensuous. The title translates as "burning star". Sessa's star shimmers rather than burns, with pastel tones of Caetano Veloso, José Mauro, Toquinho and Vinicius de Moraes. Yes, potentially he and it are as good as that. Mark Sampson
---
Daniel Villareal – Panama '77
International Anthem
Born in the country and year that supply this richly varied album with its title, Daniel Villareal is a celebrated drummer working within the Chicago jazz and Latinx scenes. The superb percussion, subtle, funky and inventive, is integral to the overall sound without ever being over-bearing or showy. Featuring among other fine musicians, that darling of the minimalist electric guitar, Jeff Parker, the dozen tracks range from the passing homage to Villareal's Central American origins to spare improvisations, faint echoes of the Velvet Underground and retro Blue Note jazz-funk of the '70s. Villareal sees his life and music as "a collaboration of improvisation and intention all in the spirit of community and joy." His album is a joyful, exhilarating triumph. Mark Sampson
---
Russo Passapusso and Antonio Carlos & Jocafi – Alto da Maravilha
Máquina de Louco
Antonio Carlos & Jocafi have long been one of the most potent secrets of Brazilian music, their early 70s albums loved by collectors and DJs alike for their rip-roaring grooves full of acrobatic vocals and boundless energy, and on this new record, made together with BaianaSystem's Russo Passapusso, they bring everything that was great about that period back to life. "Pitanga" has all their vocal tics and layers of rhythm, "Alabá" gets into a deep Afro-funk and "Vapor de Cachoeira" even has an air of 80s boogie about it, which they completely nail. On the final five tracks they even slow down a little bit, beginning with the Gilberto Gil-guesting "Mirê Mirê" which has that Afro-pop sensibility that Gil streamlined in the late 70s and early 80s, while also carrying gorgeous harmonies a la Os Tincoãs. Antonio Carlos & Jocafi are back with a vengeance. Russ Slater
---

PUNKU – PUNKU
Six Degrees Records
We got the first inkling of what Peruvians Grimaldo del Solar and Sylvia Falcón would sound like together when the latter guested on the former's band's last studio album, Novalima's Chu'say, Falcón adding vocals to the title track. That song appears again here, albeit in remixed form and it ends up being the odd one out, its heavy dub bass line and rap cameo from Quechuan Liberato Kani feeling like a harsh reminder of urban civilisation on an album that feels weightless, ephemeral even, and always close to nature, with Falcón's beautiful soprano vocals the main attraction. A student of Andean folk music who has paid many tributes to Yma Sumac, Falcón's vocals manage to both be authoritative and fleeting, crafting mellifluous melodies that shimmer briefly and brightly before changing shape and heading down a new path. Throughout, she is ably supported by Grimaldo del Solar, whose production is deft and filled with detail, creating what I see as being one of the finest folktronica soundscapes of the year, one in which we feel this connection to people and the surroundings, as with a great folk recording, despite this being an electronic production with the accentuated bass and use of synths that come with that. Their energetic take on "El Condor Pasa" as "Kuntur Hina", the haunting "Takiy" and joyful "Arpa" (featuring that unmistakeable sound of Andean harp) are just some of the great tracks, but this one is not short of them. Russ Slater
---
Kansado – Guaguansoul
Acrylic Label
This New York-based Dominican musician who fuses the rhythms of the Caribbean with those of electronic dance music has been very busy this year. March saw the release of Futuro Tumbao II three years after his debut. It did what the title suggested while giving a retro nod to greats like Tito Puente and Poncho Sanchez. Six months later came Guaguansoul, another self-explanatory title suggesting a fusion of Latin soul with sinuous Cuban dance music. It's even more confident and compelling than its predecessor, an irresistible confection of everything from disco and acid jazz to funk, neo-soul and hip-hop. It makes you wish for more time on the dance floor for Christmas. Mark Sampson
---
Mariel Mariel – La Batalla
La Matria
It took five years for Mariel Mariel to write and record her third album. After returning to Chile from Mexico she had a lot of material to cover. She was now a mother deeply immersed in the fight for women's rights and, in Chile especially, the fight for better rights for all. La Batalla (The Battle/Fight) thus represents her battle as a mother, woman and citizen. And it's an incredibly accomplished work, both lyrically and musically. "Sacar Los Tambores", created with La Incomparable Cecilia is a plea for all women to get out their drums and start the fight with a keyboard hook that reminded me of a few old UK garage favourites; "La Morena" is slinky future r&b with a catch-as-hell chorus and a message of feminine strength which is also written all over "De Los Límites", a duet with Lido Pimienta which pushes her sound into hybrid urban-pop territory and not too dissimilar to Bomba Estereo. The final track, the title track, leaves you in no doubt that Mariel Mariel means business, with synths, drums, vocals and percussion building up into overpouring emotion borne from the need to fight for the world you want. Russ Slater
---

Negra Valencia – Gas Y Lux
Self-released
Peruvian artist Valeria Valencia, also known as Negra Valencia, only needs her laptop and her talent to deliver complete and smooth albums. She made her solo debut with the EP Pan Con Mango (2014), and since then she made it clear that her sound would also reflect her creative restlessness. Over the years, that curiosity for music production has led her to cross the bridges between indie folk and bedroom pop, or between electronica and synth. In her recent release, Gas y Lux (2022), the Lima-born artist added another genre to the list: trap, which she uses to give intensity to her verses and choruses. Because, in addition to being a songwriter, Negra Valencia is a musical activist for the LGBTIQ+ cause – something that is present in many of the album's verses, as in the songs "Yau!", "La paja más triste" (where she talks about female masturbation) or "Keepler" (basically, a sexually explicit narration). All sung with acoustic guitars wrapped in reverb or with millimetric beats, making Gas y Lux one of the most eclectic and remarkable productions of the Peruvian scene in 2022. Fernando Alayo Orbegozo
---
Monstruos del Mañana – Espejos
Self-released
Truly a group effort, all the members of Mexico's Monstruous del Mañana bring different ideas to this album, with the one constant being a rhythmic thrust anchored by bass, drums and percussion. There are trips into spiritual folk-rock, "Yelelé" being led by female-led vocals and hand claps, while "Bwana Afya" is clearly in-debt to West African music with its bright guitar hooks and call-and response vocals, though the majority of the album could perhaps be categorised as psychedelic afro grooves with mantric vocals, cyclic guitar lines and moments of pure, exalted release as all the members zero in on the same point of exaltation. "Panóptico"'s constant builds are a prime example, or the increasing intensity of 'Sal' across the 12 minutes of this monolithic monster. The fact the album then ends on the beautiful vocal and acoustic guitar refrains of 'Antes' is a fine salve and the perfect indication of this lot's versatility. Russ Slater
---

Letieres Leite & Orkestra Rumpilezz – Moacir de Todos os Santos
Rocinante
Before he died last year, the renowned composer, arranger and multi-instrumentalist, Letieres Leite, produced this homage to one of the legends of Brazilian jazz, Moacir Santos. Letieres reinterprets seven of the nine "things" from Santos' Coisas, a ground-breaking fusion from 1965 of Brazilian rhythms and the kind of symphonic jazz one associates with Gil Evans. With no piano and no double bass, with the percussion up front and the wind instruments behind, Letieres' sumptuous arrangements offer ample space for soloists of the calibre of trombonist Rau de Souza and tenor saxophonist Marcelo Martin. The album is a fitting legacy for Letieres Leite himself, as well Moacir Santos.
---
Chancha Via Circuito – La Estrella
Wonderwheel Recordings
This felt like a subtle departure for Chancha. His early albums (Rodante and Rio Arriba) were dominated by the digital cumbia craze that he was at the heart of, and from there he slowly transitioned to the sonic terrains of 2018's Buenaventuranza, whereby Andean folk music was front and centre; it felt like a logical evolution. On La Estrella the revelation is that musically the Latin American references are out. Instead, it's through his use of guests that we get to identify where this music's soul lies. Las Añez add sweetness and rhythm to the weightless beats of "Ese Peso", Meridian Brothers' Eblis Álvarez adds his sarcastic tones and presumably some musical acumen to the compelling "El Pavo Real" which rarely sits still, its violins threatening a cathartic release that never quite comes. Lido Pimienta, Fémina and Federico Estevez also appear on an album that seems to mark a new era in Chancha's music, one in which he has fully embraced the beats of the future, putting his ancestral outlook in the rear, for the time being at least. Russ Slater
---
La Perla – Callejera
Mambo Negro Records
Let's linger awhile in Bogotá. This debut album by the all-female vocal trio from Colombia's capital is a highly charged, heterogeneous and percussive delight. The dozen songs run the gamut from chicha and cumbia sonidera to chalupa and guaguancó, a whole spectrum of sonorities linked by mesmerising harmonies and pounding drums. "We let ourselves be inspired by the diversity of sonorities from other countries," the three artists suggest. "We are very emphatic that what we do is create our own version of different rhythms." The Belgian-based female vocal trio, Las Lloranos, brought out a peach of an album in 2020, Soaked. In many ways, Callejera is a kind of Latin-American equivalent, richly varied and equally compelling. Mark Sampson
---
Mala Fama – Jichushka
Apocalipsis
In the Peruvian Andes, and I presume by extension Ecuador and parts of Chile and Bolivia, there are bands playing festival music led by flutes, violins or saxophones with rudimentary percussion. I am no expert in this music, but I know of songs from the great Puro Tayta Shanti album and recordings in Peru by Vincent Moon that reveal this. These recordings are underlined by joy with an almost overwhelming sonic palette as the rhythm pounds forth while the main instruments buzz like a swarm of bees. Ecuador's Mala Fama blew me away by capturing this excitement and sonic intensity in a completely new way, through using some of the same instruments but bolstering them with electronic beats and tricks. What's more he found ways of utilising field recordings of Ecuador's indigenous communities to create a myriad of emotions, from the lullaby-esque "Bemba" through the proto-disco revelry of "Danza de las Tinieblas" and on to "Compañerita" which seems to suggest the moment when our day unwinds into night, conversations spluttering out and the sound of the forest engulfing all else. Russ Slater
---
Bruno Berle – No Reino dos Afetos
Far Out Recordings
In his Brazilian round-up last month, Andy Cumming called this "a delightful dish of tropical soul and tuneful MPB." A Far Out Recordings' find from Maceió in Brazil's north-east, Bruno Berle produced an album that sits cosily with Sessa's Estrela Acesa and Tim Bernardes' Mil Coisas Invisíveis : but the former's polish is offset here by a lo-fi, homespun quality that lend his melodic vignettes, sung in a fragile high-pitched voice, not only a genuine charm, but also a slightly disconcerting simplicity – like watching the opening moments of The Blair Witch Project perhaps. The album may not deliver shocks, but it certainly leaves you keen to hear what this minstrel will come up with next in his quest "to find beauty".
---
Santa Madero – Ya Tengo Nostalgia Por Conversaciones Que Tuve Ayer
Self-released
From its low cost cover that could have come out of an early 2000s juvenile comedy Santa Madero's debut album shows a declaration of their principles, which come in contrast to the aesthetics they had shown us on their early singles, released between 2018-2019 (such as "Pero Frágil", their first hit). But then nothing is coincidence in the world of Santa Madero, their message is clear: the trio from Chaclacayo are enjoying themselves while taming their indie pop in the process. Gone are the days of "ethereal" singles that timidly invite you to dance ("Pero Frágil" once again) or those half-impulsive attempts to embrace pop ("Quemarte a la Mitad"). Without losing a referential tone, here we find sparks of hyperpop ("Algo Así Como Tú"), alternative pop ("Un Pequeño Desastre Planeado"), 60s pop ("No Puedo Creer Que Hayas Llegado Hasta Aquí") and even a master class on how to create a generational single ("Puaj!"). Music critics have grown old waiting for this album. On the other hand, Santa Madero have grown and, although the youthful freshness of this debut seeks to hide it, they have also matured. Valdomiro Valle
---
Meridian Brothers – Meridian Brothers & El Grupo Renacimiento
Ansonia Records
Those Colombian musical tricksters are at it again. A constant source of post-modernist japes, they brought out in August a delicious, delirious salsa pastiche supposedly in the company of legendary "B-class salsa" outfit, El Grupo Renacimiento. Meridian Brothers brought them to life in Bogotá's Isaac Newton studios, ably assisted by their collaborators, graphic artists Glenda Torrado and Mateo Rivano. Talking about the lead single, "Metamorfosis", Meridian main-man Eblis Álvarez suggests that it's a dystopian parable of "transhumanisation, where technology overtakes humanity." It sounds to me like a meeting of George Clinton and legendary literary recluse, Thomas Pynchon. If it all smacks of an elaborate hoax, have no fear: the music is authentic, marvellous and quite bonkers. Mark Sampson
---
Bandalos Chinos – El Big Blue
Virgin Music
There is no doubt about it: they are the Argentinian band of the moment. Since they broke into the lists of the best of Latin American indie with their superb album BACH (2018), Bandalos Chinos have forged a sonic formula consisting of recognizable synth melodies, funky rhythms and immediate lyrics. With their next work Paranoia Pop (2020), they took their proposal to larger audiences – and now, with El Big Blue they consolidate that fresh and sophisticated pop, again with Adán Jodorowsky as producer. However, according to vocalist Goyo Degano, this album differs from the previous in one important factor: the lyrics, which establish a very intimate atmosphere and make this project the most "personal and sincere" they have achieved to date. In fact, tracks like "Una Propuesta", "Cállame", "La Final" and "Qué Lindo es Acordarme de Vos" place melancholy and introspection as their narrative axis. The precise guitars, the pertinent synths and the exact percussion turn El Big Blue into an important window to look at what is happening in the indie scene on this side of the world. Fernando Alayo Orbegozo
---
Sonido Gallo Negro – Paganismo
Self-released
It's been 11 years since Gabriel López's Mexican big band, Sonido Gallo Negro, emerged with their own take on psychedelic cumbia, and they've become so dependable that now they can drop an album that is as good as Paganismo without causing too much fuss. If this was a debut album, people would be falling over themselves to get closer to the group. Right now, it stands as another mighty chapter in the evolution of this group, which have refined their sound over the years to the point where their characterisation as a psychedelic cumbia band influenced primarily by Peruvian cumbia doesn't quite cut it. On tracks like "Fantasmagoría" and "Cumbia De Las Plañideras" they offer up their take on sci-fi cumbia, with otherworldly synths and down-and-dirty grooves but there's always the feeling that this music could easily be played in a ballroom or concert hall, it manages to maintain some lineage with the golden age of Mexican music. This is clearer on twisty Latin grooves like "Mambo Del Fierro Viaje", but it applies across the whole album, the covers of Kraftwerk's "The Model" and The B-52's "Planet Claire" taking us off into some timeless land of endless rhythm, between the past and the future. Best of all though could be the two tracks featuring Molly Lewis' whistling, "Silbadora" and "Tarántula", tracks that could have come from a Joe Meeks' 60s compilation or a Mexico City club in 2022, just as easily. These lot keep getting better. Russ Slater
---
Iara Rennó – Oríki
Self-released
Ah, the national treasure that is Iara Rennó. Her new release is essential at this moment in time, a salutation to Orisha culture, a timeless influence on Brazilian music, the album Oríkì is also a highlight in her career with its refined Afro-Brazilian sound, the result of more than 13 years of research, creation and production. Effortlessly combining traditional percussion and beautifully arranged jazzy-pop instrumentation, there is a smorgasbord of talent contributing to Iara's vision: Rob Mazurek, Curumin, Thalma de Freitas, Anelis Assumpção, Criolo, Carlinhos Brown, Lucas Santtana, Tulipa Ruiz and Kiko Dinucci, amongst many others, so maybe you now get an idea of the quality of music on this album. It's highly rhythmic and percussion led, with horns, electronics, and guitars blending into a seamless building groove. We can hear Iara's excursions into the Candomblé terreiros in the woozy drumbeat of "Ewe O", her seductive voice stands out with just the percussion backing and counter harmonies on "Saluba" which honours the age old rivers that are the veins of Brazil. With this album Iara puts herself in the premier league of MPB talent and if someone asks me what is happening in Brazilian music at the moment, I'll play them this. Highly recommended. Andy Cummings
---
Jiony – Óleo Sobre Tela
VAA
Mexican producer Jiony announced himself as a major talent with Óleo Sobre Tela. To be honest, we knew it was coming as he'd been releasing each song that made up this album as a single, but it was still beautiful to hear them finally together as a set. Somewhere between dreampop and downtempo with nods to trip hop and jazz, Jiony's universe is a woozy, nostalgic one and succeeds in the melodies and chord progressions that never allow a song to become tiresome, always prodding your ears. There is a true musical ear on tracks like "Es Real Para No Existe" and "Quiero Ver" in the way they constantly reinvent themselves subtly, new instruments joining the fray as others slowly fade away, while the main melody gradually evolves. All in all, the result is a compellingly listenable feast for the ears. Russ Slater
---
Listen to a selection of our favourite tracks from our Best Albums of 2022 below:

Follow Sounds and Colours: Facebook / Twitter / Instagram / Mixcloud / Soundcloud / Bandcamp

Subscribe to the Sounds and Colours Newsletter for regular updates, news and competitions bringing the best of Latin American culture direct to your Inbox.
Share: