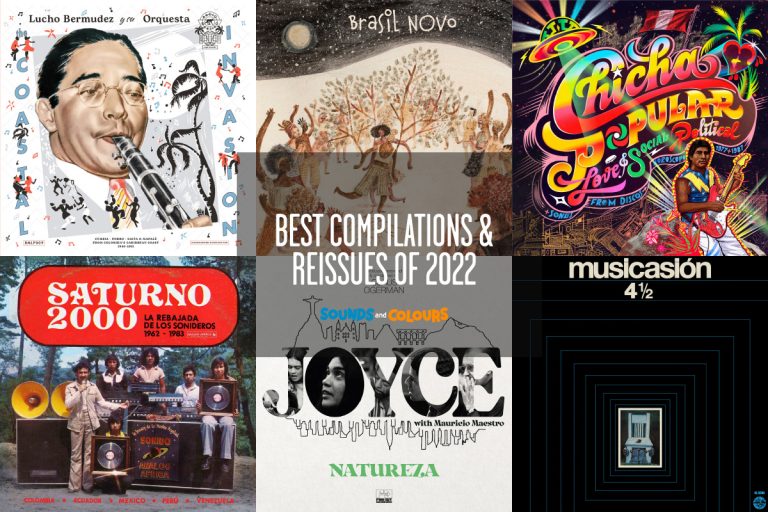 Best Compilations & Reissues of 2022
23 December, 2022
Complementing our Best Albums of 2022, here is a list of best compilations and reissues according to the votes of our writers. With labels like Vampisoul, Analog Africa, Altercat and others seemingly engaged in round-the-clock crate-digging across the Latin world, it's hardly surprising that many of the compilations feature music from the vaults. But not all. Old or new, though, this selection of just some of the reissues and compilations that came out in 2022 just goes to underline how much Latin American music there is still to be discovered.
---
Joyce Moreno – Natureza
The fact that this one came in rather late in the year is apt. A mere 45 years after it was recorded, in New York with a host of golden jazz musicians under the aegis of the legendary German producer and arranger Claus Ogerman, Natureza is not only Joyce Moreno's "lost album", but also arguably her masterpiece. Far Out Recordings have done lovers of Brazilian music – indeed, lovers of good music, period – a great service in bringing into the public domain a wonderful album that underlines how arbitrary it was that it was never before released, and how unjust it is that this great singer has never wholly been given her dues. Mark Sampson
---
Lucho Bermudez y su Orquesta – The Coastal Invasion: Cumbia, Porro, Gaíta and Mapalé from Colombia's Caribbean Coast (1946-1961)
The Belgian label Radio Martika struck gold on the Caribbean coast of Colombia with this one. Looking a little like a Latin Benny Goodman and playing with similar panache, Lucho Bermudez was a band leader who fused a jazzy American big-band sound to the regional Afro-Colombian indigenous music. Complete with fascinating detailed booklet, the compilation focuses on the recordings that Bermudez and his orquesta made during the years that they lived and worked in Medellín, making music with the kind of substance and infectious joie de vivre that one might associate with Bebo Valdés' Orquesta Sabor de Cuba in the late 1950s. Mark Sampson
---
Various Artists – Saturno 2000: La Rebajada de Los Sonideros 1962-1983
Meanwhile, back in Mexico… Whether by chance or design, some sonideros (or sound-system operators) discovered that by using the pitch control to slow down the beat of cumbia songs from Colombia, Venezuela and beyond dancers were more responsive to the music. Listening to the results on this splendid compilation courtesy of Analog Africa, and bearing in mind that Mexico's musical traditions tend to steer clear of the fast lane, it's not hard to understand why. Cumbia rebajada, as it was known, is one of those curious but compelling musical sub-genres in which this estimable record label specialises. Another winner! Mark Sampson
---
Various Artists – Viento Sur
Synths a go-go! Back in 2019, Vampisoul of Madrid released America Invertida, a compilation of leftfield Uruguayan music from the 1980s, when synthesizers ruled the roost and cross-pollinated traditional music forms. Viento Sur forms a pair by focusing on music from Argentina at a similar time. Compilers Bárbara Salazar and Alejandro Cohen (dublab) have unearthed some buried treasures, originally released by Melopea Discos and brimming with woodwind and percussion instruments, by a variety of folk-jazz fusion outfits such as those of Quique Sinesi and César Franov. Mark Sampson
---
Various Artists – Brasil Novo
Let's shift briefly to the present day. As the title suggests, the UK's Musica Macondo label shone their spotlight on contemporary Brazilian music on this eight-track compilation featuring artists from the cities of Recife, Rio De Janeiro and São Paulo. It's curated by London-based Tim Garcia and Paulistano DJ Tahira, an avid proponent of various Afro-Brazilian genres, including samba de coco deriving from Brazil's north-east and represented here by three of the eight artists. Their selections fully live up to Mr. Scruff's "varied, joyful & rootsy" assessment. Variety is the spice of the album's life, but all eight tracks are unified by an emphasis on percussion. Mark Sampson
---
Various Artists – Chicha Popular: Love & Social Political Songs from Discos Horoscopo 1977​-​1987
There is no shortage of labels reissuing Peruvian cumbia, though many of them have tended to focus on the earliest incarnations of the sound in the late 60s and early 70s when there was a clearer overlap with popular sounds from the US (i.e. surf music, boogaloo) and elsewhere in Latin America (i.e. charanga, rumba, merengue), and when Amazonian cumbia was at its wildest. Less has been reissued of the cumbia that filled Lima's barrios during the 70s and 80s when it was at its most popular, earning itself the status as the music of the working-class. Chicha Popular is the first compilation we know of that has circled in on this iteration, collecting together artists who became undoubted icons to a whole generation of Peruvians. Juaneco y su Combo are at their best, ripping through "Poco a Poco" with one of their trademark distorted guitar lines, and then providing soundtrack for many to cry into their beers on "Por Ella, La Botella". Los Shapis are raucous on their three tracks with buzzing guitars and vocals filled with passion. And that's the main difference with the cumbias featured here, these are all songs designed to be sung and danced to at fiestas each weekend in the barrios, to be enjoyed with arms in the air, dance floors beckoning and emotions aplenty. Russ Slater
---
Maria de Fátima – Bahia Com 'H'
Thanks be unto the fledgling Altercat Records of Berlin for this modest little gem from 1981. After singing jingles for Arthur Verocai's production company and backing the great Flora Purim, the Rio-born singer recorded her only solo album in Montevideo along with husband Hugo Fattoruso and a band of local musicians. Pitched somewhere on the cusp of bossa nova and tropicália, it's a tad uneven, perhaps, but there are splendid versions of Gilberto Gil's classic "Toda Menina Baiana" and Milton Nascimento's gorgeous "Três Pontas", and the album has a discreet charm that grants it discerning collectors' status. Mark Sampson
---
Various Artists – The Afrosound of Colombia Vol. 3
Since it acquired the keys to the Discos Fuentes vaults, Vampisoul has been generous in giving us access to the treasures within. Following its successful first two volumes in the series, the label brought out Volume 3 in August. Compiled by DJ Bongohead, the 26 selections focus this time more on the music's folkloric origins, reinforced by the customary informative booklet. With tracks by the likes of Michi Sarmiento, the Latin Brothers and Wganda Kenya (whose prized Africa 5,000 from 1975 came out at the end of the following month), this is another invaluable record of a golden era of Colombia's rich musical heritage. Mark Sampson
---
Various Artists – 14 MAGníficos Bailables
More recently, Vampisoul was granted another set of keys – this time to Peru's MAG Records. A month after the Colombian compilation came this wonderful collection of "killer tropical tracks" from a similar era. Among all the cumbia, salsa, boogaloo and other garish generic gems characterised by blaring brass, dynamic percussion and twangy electric guitar, a special mention goes to Freddy Roland y su Orquesta's version of "Arroz Con Coco" and Al Valdez y su Conjunto's slightly slowed down take on "Oye Como Va" (disguised as "Aprieta"). As for Melcochita y Karamanduka's descarga "Machu Picchu", it would give Eddie Palmieri a run for his money. Please sir, can I have some more? Mark Sampson
---
Various Artists – Musicasión 4½ – 50th Anniversary
Hurry, hurry, hurry! At the time of writing, only 17 copies remained of this limited-edition, vinyl-only reissue by Sonamos (in conjunction with Belgian label, Crammed Discs). It's a curio that collects performances from music/theatre events that took place in Montevideo at a time, prior to the military dictatorship, when the city was flowering with music and culture. The edition contains the remastered LP originally issued in 1971, a second LP with 16 unreleased tracks and an accompanying booklet. It's a labour of love by Juana Molina (and her associate producer, Mario Agustin Gonzalez), whose father Horacio was given a copy of the original album by the singer, songwriter and composer, Eduardo Mateo, mastermind of the whole multi-media concept with poet, actor and theatre director, Horacio Buscaglia. A special document of an era of Uruguayan music that was barely recorded at the time. Mark Sampson

Follow Sounds and Colours: Facebook / Twitter / Instagram / Mixcloud / Soundcloud / Bandcamp

Subscribe to the Sounds and Colours Newsletter for regular updates, news and competitions bringing the best of Latin American culture direct to your Inbox.
Share: