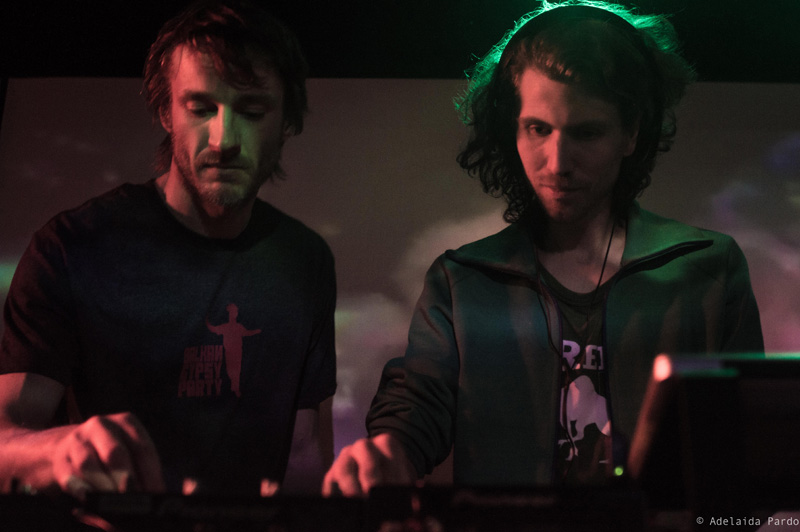 Adelaida Pardo
Diasporic Sounds From The Global Underground: An Interview With Rebel Up! Soundclash
21 October, 2014
On Friday October 10th, DJ SebCat and DJ Leblanc from Rebel Up! Soundclash were in Montreal to play at the Balkan Gypsy Party and to start their 11 days tour in Canada, first time for them in the country. A night in Sherbrooke, Quebec, and three more parties in Toronto, including one at the Uma Nota Festival, were also planed. DJ Touski, founder and resident DJ of the Balkan Beat nights that have taken place at Divan Orange once a month for the past four years, organized the party in Montreal. The evening started with him, followed by two sets by Kutsi Merki, a Montreal-based quintet that perform gypsy music with complex and irregular rhythmic. Rebel Up! first played between the two sets of the band with a rootsy Balkan playlist, and then came back at the end of the night with a more tropical mix of cumbia villera and cumbia sonidera for the enjoyment of the "real party animals" who stayed until the last song to dance with the two DJs who came down to the crowd.
Here are a few questions I asked to DJ Sebcat before the show:
Can you tell me more about the beginning of Rebel Up!
In 2007, I started organizing parties with friends in a small squat in Amsterdam. We were three DJs, one VJ and a girl who was doing the designs for the posters. Actually, they're still all part of Rebel Up!, even though they're not always there because they're sometimes too busy, but we're an open collective and every year, we have different people coming in. It's when I moved to Brussels that I met DJ Leblanc and we started organizing parties together. We also started doing remixes, just for fun, with really lo-fi and not super high quality sound, but that's how we want them since we're remixing the music from the "street", and then we put them online so people can download them and play them at their parties. Actually, Leblanc is really good at making remixes and producing, so he's doing most of them, while I'm focusing on selecting, mixing and DJing.
[soundcloud url="https://api.soundcloud.com/tracks/79141084″ params="color=ff5500&auto_play=false&hide_related=false&show_comments=true&show_user=true&show_reposts=false" width="100%" height="166″ iframe="true" /]
And what's the music you prefer to remix? How do you decide to remix one song more than another?
The music we like to play is more like the special sounds from all over the world, the sounds that people will not know, the infamous ones. For sure, it's more work because we have to do a lot of listening and selecting, but in the end, it's really nice because you surprise people. It also keeps us interested because we're always discovering and we like that people listen to it for the first time. We also choose to remix songs that we feel are missing something. For example, once I was in a bar with Leblanc and there was the "Bad Boys" song by Inner City playing, and I joked saying that we should make a cumbia version of it. In one night, Leblanc made one [listen to the track above]. It's actually really simple because that song has already a reggae-dancehall beat, which is really close to the beat of cumbia, so he just had to add a few lines of cumbia beats and a güira sound.
Listen to one of Rebel Up!'s cumbia mixes:

Actually, in all the mixes or remixes you have with Latin influences, it's always cumbia, either sonidera, villera or andina. You don't remix with champeta, salsa or other latin styles. Why are you more attracted to that sound?
Well I think that cumbia is easier to dance for people who are not used to Latin music. It's slower and more rootsy, and you don't need to know any steps, unlike salsa. At the very beginning of Rebel Up!, we started remixing cumbia, and now it's becoming more and more popular. When I was in Peru, people told me that 5 or 10 years ago, you could not play cumbia in a club, people just wanted house or techno. I think that there is so much with cumbia, in all different ways, and we love to make them rebajadas, slowing down the beat and putting down the pitch.
With the Rebel Up! Project, you also have a radio show, no?
Yes, the Rebel Up Night Show, and we already had 9 shows. It's nice because we don't only play the music we put on at our DJ nights, but also the music we like to listen to, like electronic, dance, punky, or any new global or world music. It's really nice to have both the radio show and the DJ nights because they're both really different: With the radio, it's cool because we can make people discover new things and tell them what it is, while in a party, you can't really tell them the name of the song or the artist. It's all about sharing the music.
You can listen to the Rebel Up! radio show HERE.
And you also have another really interesting project aside from Rebel Up! called Cassette Connection. What is this project about?
Me and some other DJs, including DJ K-Sets from Spain and Awesome Tape from Africa, from Los Angeles, started that project 3 years ago, and we did a little tour in Belgium and Holland, and this summer we played in a big festival in Spain. We actually played after La Yegros, which was a big honour. However, we just played three times with Cassette Connection because we're all from different places and it's hard to get together, so we mostly meet up for really big parties or festivals. We play cassettes from Middle East, from Africa, from Asia. We don't really have Latino cassettes though. But it's nice because it's all lo-fi and mono. It's really different to play with cassettes and it's way more work because you have to rewind and forward, and everything has to be well prepared and organized.
And finally, what are the regular parties you have back in Europe with Rebel Up!?
We still play in Amsterdam, once every 2 months, in the same squat where we started. We don't want to move the party in a bigger venue because our friends from the squat gave us the opportunity to start the project there seven years ago, and the vibe is very special at that place. And we also have our bi-monthly party in Brussels where we invite artists to play with us. Last time, we had Rafael Aragon from France and Capitol K from UK. It was super cool because Capitol K also plays live cumbia with his charango, and it brings something different to the show that mixing with just computer can't give you.
You can find out more about Rebel Up! at rebelup.org and listen to what they're upto at soundcloud.com/rebeluppa

Follow Sounds and Colours: Facebook / Twitter / Instagram / Mixcloud / Soundcloud / Bandcamp

Subscribe to the Sounds and Colours Newsletter for regular updates, news and competitions bringing the best of Latin American culture direct to your Inbox.
Share: