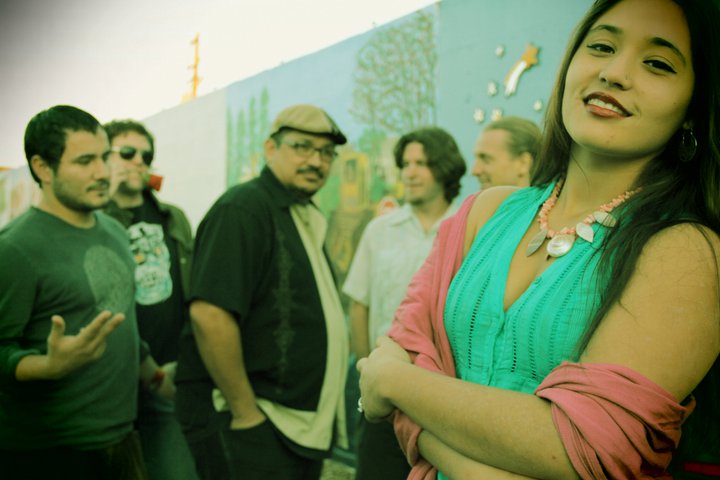 Mercedes Ugarte Photography
Candelaria: Cumbia-Dub Pa' Gozar
28 February, 2013
The first time I came across the word "Candelaria" was in reference to the hilly, antique barrio of Bogotá, a vibrant and colourful home to many bars, restaurants, museums and cultural centres that I visited during my time in Colombia. About 6,000 kilometres to the Northwest in Oakland, California resides another Candelaria; a musical band of entertainers whose sole mission is to unite two distinctly famous Caribbean rhythms: cumbia and dub.
Though the unification of these two rhythms isn't a new idea, the outcome of Candelaria's CumbiaDub reflects heavily on the traditional Colombian cumbia as well as borrowing from other regional styles like salsa, son, bachata and porro, and dropping in live dub effects, like echoing out the tenor sax, bass line or the fiery melodic vocals.
Each song takes on a unique flavour and stylish blend of musical boundaries. Take "Brazos del Mar" for example, a dub heavy, reggae riddim.
[soundcloud url="http://api.soundcloud.com/tracks/25914160″ params="" width=" 100%" height="166″ iframe="true" /]
The dub effects are looped in live on stage by Mixmaster Jesse Sheehan to draw on each track and send the crowd into a dancing frenzy. Accompanied by the lead singer Stephani Garcia Candelaria and her ability to drop low or lift up the high notes, the music sets the stage for an entertaining party. Or as the drummer Rafael Herrera likes to put it, "Bailable!"
Putting on a great show is one thing, but to understand so many styles of Latin and Carribean music takes many years of study and practice. Each member of the band has a deep-rooted love for traditional music as well as a need to innovate and create something new. Candelaria have a couple of covers in their repertoire, but none more rich and honorary than that of "Curura," by the famous Toto La Momposina.
[soundcloud url="http://api.soundcloud.com/tracks/48194799″ params="" width=" 100%" height="166″ iframe="true" /]
In a way Candelaria is taking music back a few years focusing on live performance and conventional instruments. "In a digital music age where every band has a laptop, Candelaria's music and recordings are performed live and affected in real time," says bassist Daniel Yockey. The group continues to record, master and distribute independently at their home/recording studio/hangout spot in Oakland.
Now Candelaria can be found playing gigs around the Bay Area in California, but the group is soon hoping to head south to Mexico and possibly beyond. For now they're content striking up a party for the local Latin music lovers, keeping the dance floor hot and the party moving.
You can read more about the band and check out tour dates on the Candelaria website.  You can also purchase their newest album on iTunes. Keep an eye out for a new album coming later this year!

Follow Sounds and Colours: Facebook / Twitter / Instagram / Mixcloud / Soundcloud / Bandcamp

Subscribe to the Sounds and Colours Newsletter for regular updates, news and competitions bringing the best of Latin American culture direct to your Inbox.
Share: