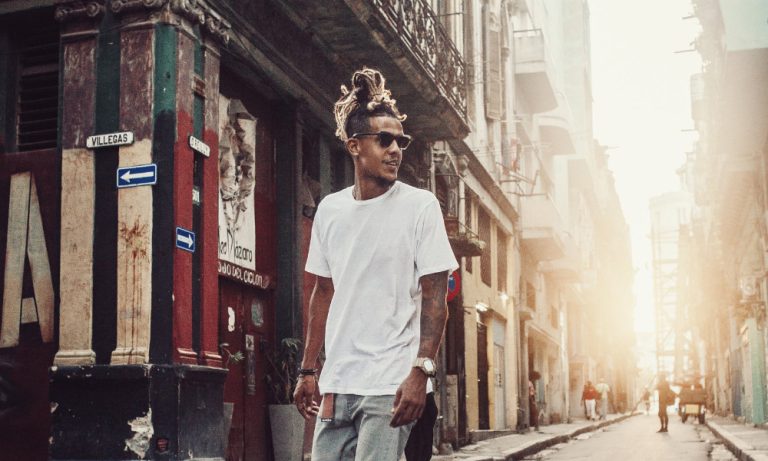 El Individuo Talks Cuban Rap and Reveals His 'Rap Cubano Fresquito' Playlist
09 June, 2022
We were very excited when Pablo Borchi got in touch with the idea of sending over a playlist of Cuban rap as chosen by one of the scene's most visible names, El Individuo. First known for his memorable appearances on the AfroRazones and Gilles Peterson's Havana Cultura: ¡Súbelo, Cuba! compilations, El Individuo cemented his reputation with the EPs 2020 Escribo and last year's No Me Mientan, which featured a blow-out hit, "Reacciona", his understated commentary on the state of the planet. Recently, the Havana-born rapper moved to New York, where a collaboration with Xenia Rubinos has already been released as proof of his labours, with plenty more still to come. Active in the Cuban hip-hop scene since the early 2010s, when he was part of the collective Con100cia, listen to El Individuo's Rap Cubano Fresquito playlist below, and read on for Pablo Borchi's interview with El Individuo discussing his Cuban rap heroes and how life in New York compares to Cuba.
---
Tell us what "Rap Cubano Fresquito" is about. What type of artists and music will we find in it?
Rap Cubano Fresquito is nothing more than an updated tour of what is happening in Cuba regarding rap. We live on an island that is a bit distant from the rest of the world in terms of communication, due to the fact that we just recently discovered the internet, and although we have internet in Cuba, it is quite limited. Which means that it is still difficult to receive information on how the world is moving outside of Cuba in terms of music. It is also difficult that the rest of the world can find out about what is happening with current Cuban rap. The artists that we are going to find in the list are all rappers from the island that are doing super interesting stuff, from my point of view, showing new tendencies, as well as a new way of seeing our own rap.
Which are the characteristics that define what you call "Rap Cubano Fresquito"?
Current, from all angles, whether it's sound, discourse, etc. That's why it's "fresquito"
It sounds like Cuba
Although sometimes it doesn't use conventional rap beats, this is music made by rappers
Who are the big mentors of this list? I.e. Who are the legends or main influences that most of the artists on the list have in common?
I would like to divide the list into two schools:
The first are those that initiated this movement in Cuba, with groups like Obsesión, Doble Filo, Explosión Suprema, Hermanos de Causa, Papo Record, El Insurrecto, Los Paisanos and Amenaza (the band that later became Orishas). It was a period in which you had many groups playing at the same time and all of them with a super peculiar sound.
A second school headed by Los Aldeanos, and through them there were several artists coming to the limelight such as Silvito el Libre, Maikel Extremo, El Enano, Papa Humbertico y and Randy Acosta (who initially started his career with Los Paisanos, from the earlier school).
Are there any specific tracks from the list that we should pay attention to?
I'd like to highlight tracks such as "Babalú", "Poncha Play", "No Me Mientan", because of the great musicality of those works.
Something that catches one's attention while listening to the list is that it features quite a lot of reggae vibes. Tell us a bit about reggae in Cuba and how it crosses over with local hip hop, both musically and in the day-to-day of the scene.
The thing with reggae in Cuba is that despite the fact that we live on an island in the middle of the Caribbean it is not a type of music that is heard a lot, contrary to what happens in other islands of the region. 
When looking at the scene, what happens is that artists that play reggae find a way to take it to the stage in a similar fashion as rappers do, with a DJ and an MC, and that has made it possible for a lot of these sounds to mix with the rap scene. That's why I see that reggae could actually be considered one of the different branches of Cuban rap.
How important are scenes from other countries for the development of the current hip hop scene in Cuba?
I have the idea that the development of hip hop mostly happens from the outside to the inside. I think Cuba can't avoid this despite the musical treasure it possesses. It's clear that Cuba's culture is an ajiaco (mix) of many things because of the large cultural variety that comes with our history, but music is always evolving and in this evermore-globalized world if we want to be on top of that evolution we need to know what is happening with the genre and its scene outside of our country. But this is my own personal point of view, knowing that there could be other ways to look and answer this question.
Where do artists from the Rap Cubano Fresquito list play in Cuba and how big are their profiles compared to artists from other scenes in the island?
Well, artists from this list don't have many places to perform. This is because in Cuba everything is centralized and controlled by the Estade (state), and although there are institutions that look out for the development of these artists and the overall scene, they don't work as they should do. I can mention myself as an example. I have a bigger audience outside than inside my own country and that is because I've been censored a lot, and like myself, many others as well. I think it's because this scene has a discourse that includes political statements that the Government doesn't like and it's highly limited because of the great centralization of cultural spaces. Now that I'm living abroad I've seen a lot more movement happening within the scene, stemming from the recent protests that we had in Cuba, which also were started by artists themselves.
We know that you moved to the US a couple of months ago. Tell us which artists you have been working with and if you've done any gigs or projects that you would like to share with us. 
I'm currently in the US working on many projects at once. First I was in NY where I had the chance to work with Nick Hook, who has several platinum discs under his arm, including some work for Run The Jewels. I actually had the chance to work on an upcoming project from them which should be out during the summer. I also collaborated with Xenia Rubinos, a Latin artist that is also based in this area. I've also been focusing on my solo project with several singles that I'm going to be releasing soon. I'm also getting some stuff ready with a German producer that is very well known in his scene, Ghanaian Stallion, to be released this summer. And I'm also doing some shows, although that is not my main focus at the moment, because I'm really focused on the release of all the material that I've been working on since I got here.
How do you compare being a hip-hopper in Cuba vs the US? What things are easier and more difficult in each place? Tell us a bit about the plans that you have for these upcoming months. Do you have any releases lined up? Can we expect them to sound along the lines of Rap Cubano Fresquito, or are there some surprises in store?
Well, the difference between doing rap in Cuba and the US is that in Cuba there are many limits, so even if you want to develop there's always a point in which you can't move forward. In the US it is different, here is where everything is concentrated, the industry, the contacts, etc. Though by being the place where everything is happening you can expect competition to be way harder, but at least you are in it. Whether you achieve your goals, that's on you.
This summer we will release a collaboration with Dr. Rata, a rapper from Cali, Colombia, with a song called "Rappeh". This one comes with a sound that's very related to the list, because the production was made back in Cuba with our brothers from Dos20. They are the producers whom I work the most with there, and they are also my live show musicians. Those are the only official releases confirmed so far, although there's a lot more in the pipeline, we just need to confirm the dates.

Follow Sounds and Colours: Facebook / Twitter / Instagram / Mixcloud / Soundcloud / Bandcamp

Subscribe to the Sounds and Colours Newsletter for regular updates, news and competitions bringing the best of Latin American culture direct to your Inbox.
Share: