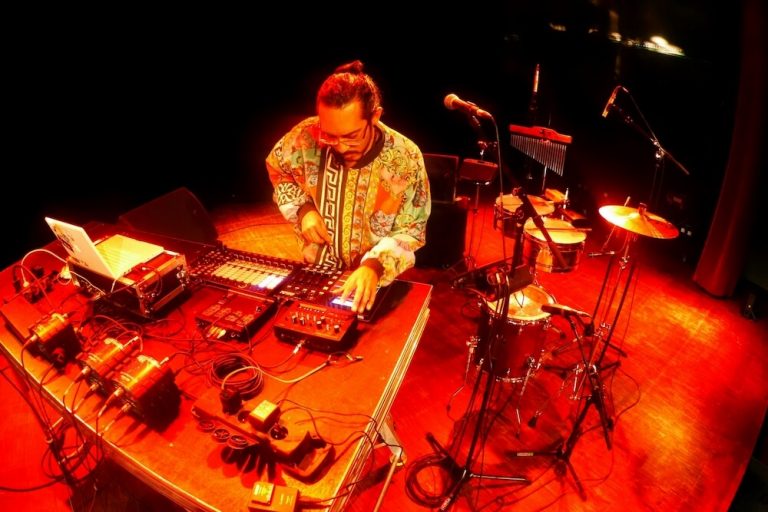 Renewable Rhythms: Electronic Music Round-Up #1 (DNGDNGDNG, Auntie Flo, Caribombo, Nirso, El Búho, San Ignacio and more)
17 June, 2020
It's been a busy few months in the world of Latin American electronic music so this is an attempt to at least give some love to music, of an electronic ilk, that I've been digging lately. As always, I could go on for ages about new music being released in Latin America, but I figured it best to stop short of 10 releases worth checking out, as well as giving some notable mentions at the bottom. Hopefully you'll discover something you love in this lot.
Caribombo – Camaleón (Galletas Calientes Records)
Venezuelan producer Caribombo, currently based in France, heads out across the tropical bass map for this one, switching regions and tempos in a flash. Guest singers from the Democratic Republic of Congo, Togo, Mauritius, Venezuela and the UK all get involved, the album switching from fiery anthems like the post-rave "Warrior" and Afro-Latin house feel on "Moral Vibe" to take in the sounds of baile funk and Andean downtempo before heading into mysterious terrain on the chugging "Bin De Dam" and downtempo trap fusion "El Loco" (which also has a great video).
Various Artists – The Savage Saints: Mexico EP (Shango Records)
Downtempo from five relatively new names from Mexico: Absentune, Antaares, Tlazohtla, Valtierra & Die Jungle, and Xaman. The vibe remains pulsing throughout with Xaman's roving bass lines and jittery vocals on the final track, and Absentune's uneasy Massive Attack dub beat, providing two of the highlights.
DNGDNGDNG – Continentes Perdidos (On The Corner Records)
Dengue Dengue Dengue have streamlined their name for a new EP which sees them dive deep into polyrhythms and varied tempos for a more complex sound than previously-heard. This one won't be out until July 17th on On The Corner Records (available as a 12″ and digital), but lead track "Lemuria" is a great introduction, layering percussion, beats, vocals and bass in overlapping formations making for a more studied but no less thrilling sound than we've become accustomed to.
El Búho – Ramas (Wonderwheel Recordings)
I'm heading back to March for this one, as El Búho had the unfortunate luck of releasing his latest album just after lockdown hit and knocked us sideways for a while there – we're still catching up in truth. This one truly deserves a mention as it's something of a labour of love and a project which we are still coming back to time and time again months later. For this one, his third solo album of original material, El Búho sought to work with a different collaborator on each of the 19 tracks, and the result is a playful and varied release. On tracks with Tremor, Klik & Frik and Barda there's no getting away from his signature style of slow pulsing beats, flowing synth sounds and dashes of traditional stringed instruments, but on "Nevar" with Didacte, there's an extra soulfulness and a whole world of melodiousness on the final track, "Salford Cumbia", with Joaquin Cornejo. His Chilean protest collab "Resilencia" with DJ Raff and Andean march "Alegría" with Rodrigo Gallardo, also need flagging up.
Auntie Flo – Auntie Flo in Cuba (Self Released)
Originally released as part of Auntie Flo and Esa Williams's Highlife World Music series these two tracks have now resurfaced on Bandcamp. "Die Bailando" is a little bit special, a loop-driven beast with the vocal interjections of Eric Alejandro disrupted by a mixture of cut-up staccato trumpets and trumpet solos across an hypnotic 13 minutes. "Mother Theresa" is a more laid-back, jazz-inflected sound with trumpets, hand drums and organ playing the lead melody. Both tracks were recorded in Cuba's Laboratorio Nacional de Música Electroacústica with local musicians in 2014.
Lainus – Juegos Electrónicos (Pirotecnia)
Santiago-based producer Alfredo Ibarra cooks up a smooth line in roving bass lines and retro landscapes on this new full-length. Starting off with the charging bass and wobbly synths of "Vecinos", the album is filled with vintage analogue synthesizers which give a strong soundtrack flavour, elements of John Carpenter's work felt in the haunting lead melodies, while at other times there is a bolder approach, a hint of Drive even on tracks like "Cleopatra".
Sergio Florez – Unreleased I (Self Released)
Two more downtempo tracks, this time from Colombian Sergio Florez, who I have to admit knowing nothing about. These veer more into ambient territory with sparse beats, woozy synths and reverberate chords that just leave enough of a footprint to guide you through the murk. Soothing and exhilarating stuff. When the beat drops on "Serendipia" around the 2-minute mark it's subtle as you like, but still doesn't stop the adrenaline from flowing, leading into a beatific passage of ligneous percussion that opens up into a gorgeous synth melody.
Nirso – Nirsopia (New Latam Beats)
Brazilian producer DJ Nirso has completed a trilogy of EPs that he started back in 2015 with this latest release on New Latam Beats. It follows earlier records, Nirsónico on Sello Regional and Nirsópolis on Sonido Trópico. It contains original tracks that reside somewhere between cumbia, house and tropical bass, but always with this playful spirit that Nirso brings to all of his tracks, felt on the heady up-front beat of "El Templo" and in the mystical strings and vocal samples that appear during "Consagración". The EP also contains remixes of the three tracks by fellow Brazilians Furmiga Dub and All is Axé, and Portugal's Cigarra.
San Ignacio – La Identidad Es Una Trampa (Fértil Discos)
Argentine San Ignacio ventures out into many different territories on a moody, downtempo release featuring a glittering cast of collaborators. Rhythms vary from the copla of "Déjenme Gozar" to a plaintive funk carioca featuring the unmistakable voice of Brazilian MPB legend Arnaldo Antunes). And there are beautiful ambient landscapes on the record too, as on the serene beat of "(Antes del gobierno popular, un sólo dueño; después del gobierno popular, muchos dueños)", featuring Rumbo Tumba, and the beatific "Cerrar los ojos y ver casitas", a much-needed dose of serenity.
VHOOR – Baile & Vibes (Self Released)
This is a pretty radical release from Minas Gerais producer VHOOR who takes baile funk as his starting point, but then takes it into some pretty surprising territory, often along the "vibes" tip that is alluded to in the title with R&B flavour on "Colombia", one grimey rhythm on "Nova Holanda" and broken beat on "Bagulho". If, like me, you get a bit tired of hearing the same baile beat every song, but love the raw energy of the sound, then this is one well worth checking out.
Notable Mentions
There is never any shortage of electronic music coming out of Latin America, or inspired by the continent, so we must also at least mention Mente Orgánica – Marinero en Chapinero (Fértil Discos), Federico Estévez – De Aquí Hasta Aquí (Shika Shika), Hankel Bellido – Chakana EP (New Latam Beats), Grupo Jejeje Rebajadas Por Sonido Dueñez (Discos Rolas), History of Color – Antumbra (Shika Shika), Populous – W (Wonderwheel Recordings), TYV – BFF (Gop Tun), Ibu Selva – Ecologia (Frente Bolivarista), Catexis – Pyro (nodo), M&S – Remixeado A Lo Bien (Self Released) and Various Artists – V.Acina Vol. 1 (Gop Tun).

Follow Sounds and Colours: Facebook / Twitter / Instagram / Mixcloud / Soundcloud / Bandcamp

Subscribe to the Sounds and Colours Newsletter for regular updates, news and competitions bringing the best of Latin American culture direct to your Inbox.
Share: