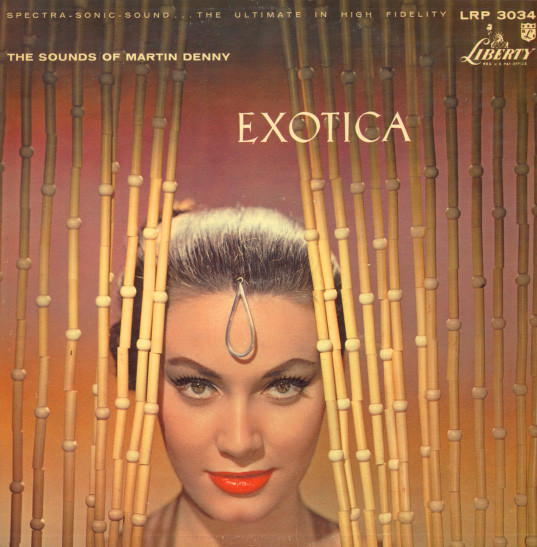 Exotica's Imagined Origins
31 August, 2018
From rum rhythms to savage sounds Erin Osmon maps the rise and fall of exotica.
By the time Martin Denny's Exotica hit shelves in 1957, the U.S. was awash in rattan and rum. Armchair safari-goers across the nation sipped fruity potions to LPs transmitting Anglo interpretations of faraway lands. These ethnographic forgeries conceived and conducted by white men, whose closest encounters with sand were from the beaches near New York and Los Angeles, swept the nation. They transported listeners to mythical, theatrical and wholly appropriated dreamscapes across the Pacific and beyond—problematically othering, yet decidedly captivating to suburbanites who'd barely left Kansas, and the myriad servicemen who'd return from Pacific islands at the war's end.
The attack on the Pearl Harbor naval base in Oahu had prompted America's entry into World War II, and legions of young men were deployed to the shores of Wake Island in Hawaii, and to the Philippines and Guam, to defend against Japanese forces. Outside of battle, soldiers gained first glimpses of the thatched roofs and totems that became touchstones of the homegrown Tiki movement they helped to popularize when the fighting was done.
Donn Beach, née Ernest Raymond Beaumont, opened his first Don the Beachcomber's Cafe in Los Angeles in 1933. The food, rote interpretations of Cantonese dishes served in wooden bowls, was unremarkable. The adult beverages, however, were divine. Just in time for the repeal of prohibition, Beach served rum with a blend of fruit juices and varied liqueurs under freaky names like Zombie and Cobra's Fang. In a gathering of spears, masks, bamboo and corrugated steel he created the first tiki bar, America's inaugural portal to "paradise"—as he marketed it—on the mainland.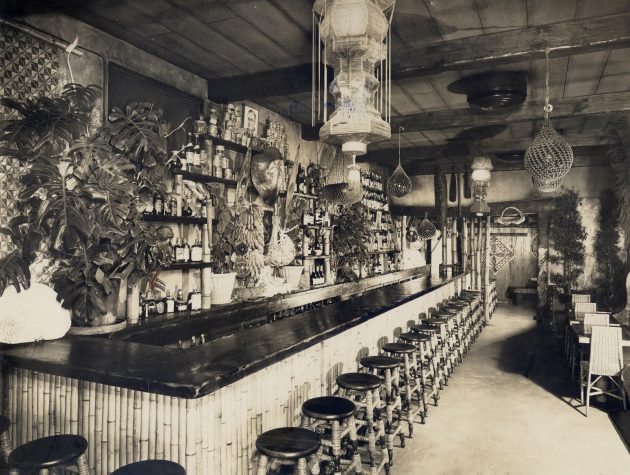 Don The Beachcomber's Cafe, Los Angeles
Beach's concept was soon followed by the bar-restaurants of Victory J. Bergeron, founder of the Trader Vic's franchise of San Francisco, who offered a similar smattering of island-inspired food and drink. Both men claimed to have invented the popular Mai Tai, a dark-rum infused concoction whose namesake stems from the Tahitian word maitai, meaning "good." By the war's end in 1945 each man had opened several outposts of their Tiki concepts in different cities, as multitudes of servicemen returned home to the suburbs with physical and mental souvenirs from their time served on the islands. The Tiki movement was heading toward full-tilt boom. The only thing it was was missing was a soundtrack.
In 1950 the composer Les Baxter was brought to Capitol Records to compose for a soprano voice that soared with the birds. Yma Sumac had arrived in New York from Peru in 1946, looking to showcase her otherworldly pipes. With her husband-manager Moisés Vivanco on guitar, and her cousin Cholita Rivero on backing vocals and dancing, the group performed as the Inka Taqui Trio. Though their interpretations of Peruvian folk music were met with little fanfare, their performance at the South American Music Festival at Carnegie Hall elicited positive reviews. A coloratura soprano with a range that has been reported as being up to six-and-a-half octaves, Sumac signed to Capitol Records in 1950.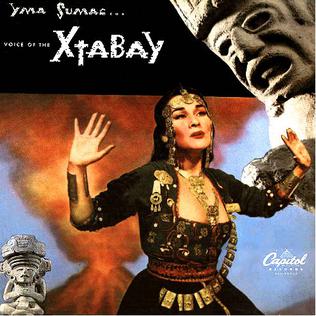 Baxter was a jazz composer and conductor who'd impressed the suits at Capitol with his arrangements for two theremin-centric works with Harry Revel, Music Out of the Moon (1947) and Perfume Set To Music (1948). Given his proven track record with higher octaves, the label paired Baxter with new signee Sumac for what would become her debut, Voice of the Xtabay (1950). Co-produced and co-composed by her husband Vivanco, the pairing of her birdlike incantations that ascended and swooped into highest and lowest registers, with rhythmic percussion, booming tom-tom drums and skittering string arrangements set the tone for what would become known as the exotica movement in music. Her intuitive, wordless singing would become a touchstone of the genre. "After [Voices of the Xtabay] came out, people were very intrigued," Sumac said in her biography, Yma Sumac: The Art Behind the Legend. "They had never heard this kind of singing before. They didn't know how to classify it; whether it was classical or mumbo-jumbo!" Baxter's next album would propel the sound with an emblem, which would soon find legions of imitators.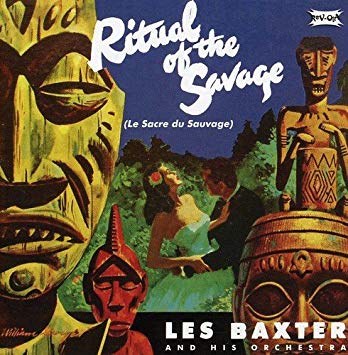 The back cover of Baxter's 1951 solo debut, The Ritual of the Savage, described the music as, "…a tone poem of the sound and the struggle of the jungle…the hue and mood of the interior…the tempo and texture of the bustling seaports and the tropics!" The front cover was an illustrated melange of South American imagery in totems, masks, rainforest greenery and a dancing couple. "I hadn't been to South America or Cuba or anyplace when I did my exotic stuff," Baxter said in a 1995 interview. "It just came out of nowhere." What the LP lacked in real-world experience, it made up for in a song that became the anthem of the entire exotica scene. B-side opener "Quiet Village" elicited numberless covers. The most famous, of course, arrived with Martin Denny's 1957 Liberty Records debut, Exotica.
Hotel, bar and casino combos formed at a sprint, performing interpretations of Baxter's popularized tune among tropical flower arrangements and rum cocktails, to audiences decked out in Hawaiian shirts and floral muumuus. Backyard pools were lined with rattan furniture and tiki torches. Walt Disney even broke ground on a million-dollar Enchanted Tiki Room at Disneyland by the turn of the decade. Though the British invasion soon killed the appropriated easy-listening movement of exotica, it lives today as both a kitschy time capsule and a sound that made stars of Les Baxter, Martin Denny and Yma Sumac. It captivated America for the better part of two decades, opened eyes to distant lands and, more directly, the Hawaiian islands that entered the union in 1959.
Erin Osmon co-wrote the liner notes for Numero Group's new exotica compilation Technicolor Paradise: Rhum Rhapsodies & Other Exotic Delights
Numero Group will be presenting Technicolor Paradise at Ace Hotel Palm Springs with a series of events from Friday August 31st until Sunday September 2. Full details of the events available here.

Follow Sounds and Colours: Facebook / Twitter / Instagram / Mixcloud / Soundcloud / Bandcamp

Subscribe to the Sounds and Colours Newsletter for regular updates, news and competitions bringing the best of Latin American culture direct to your Inbox.
Share: