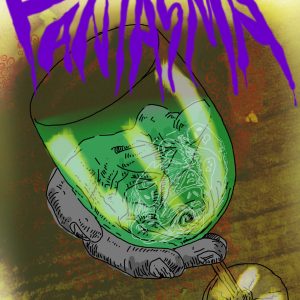 Review
Fantasma – Fantasma 1
The strings reach blackboard scraping extremes. The sax fills the cavernous vacuums left for it to jaunt. Percussion ranges from little more than a tick-tock to the sound of the whole world crashing down.
Whilst it can be easy to find yourself searching out the latest fist-pumping, party-starting classics as your sift through the most recent, Colombian releases, it is often forgotten how big of an influence on contemporary Colombian, and wider Latin, music jazz has played. Fortunately, we've stumbled upon a timely reminder. Of the supernatural kind.
Welcome to the world of Fantasma, Bogotá's latest addition to the jazz world. That is of course if aching at the seams, asylum-jazz, is even of this world.
The unnerving five-piece (Marco Fajardo – sax, Violeta Garcia – cello, Camilo Monterrosa – violin, Dani Michel – bass, Alejandro Cifuentes – drums) brings serial musicians from a number of prominent projects, as they leave alter-egos at the door. The resulting combination manifests itself in the creation of this more omnipotent being.
In a mesmerising, instrumental EP that sees six tracks span a little over 35 minutes, Fantasma 1 contrasts moments of clarity against unsettling chaos and a string section possessed.
Violin and cello dual to the death, the confines of musical realism creak as they try to contain them. Yet in a flash, the sax carves and winds, pirouetting and leading another dance altogether. A steady presence amongst disorder; authoritative though a long way from sane. Bass lines conspire alongside erratic rhythms with clock-like cohesion.
Opening track "Ganza" bowls confidently out of the blocks. Saxophone bold, sporadically plucked violins tip-toe around in the background, before descending into a more disjointed affair.
The jaunt between stability and insecurity ensues throughout. At times reaching levels of sadistic discomfort. Strings and sax pierce and scrape, expanding beyond the realms of convention. No sooner have they left, when you start craving the allurement created by their disarray once again.
"Atari" pits stabbing strings against meandering melodies. At the midway point "Duna", slows things down, opening with dulcet tones but like most things on this EP its sordid manifesto unfolds over time.
"Poliadictos" is a stand-out of freakish nature; its fury and pace lending a punkish tinge. Thrashing drums, off-kilter sax and thundering bass lines all seek to subdue the screeching strings.
"Perro Luna" and "Ayatola" see out the exorcism of sound much in a similar way to how it strode in. Clunk-dink-thud percussive/melodic combinations offer a momentary Tom Waits-like flavour in the former, before, like a shadow in the night the whole affair once again descends beyond the confines of familiarity.
Over the course of the EP, juxtaposition in instrumentation and melodic stability create a kind of cliffhanger music. You often reach a point of fragile insecurity whilst remaining transfixed by the uncertainty of where you will end up next. A fascinating display of musical richness that expands the boundaries of originality, Fantasma 1 is a vessel to the surreal for the idiosyncratic mind.
Ghosts, often depicted as whimsical, weightless entities. Unheard, rather sensed. Fantasma is less that depiction, instead the haunted and disturbed realisation; neither subtle nor apologetic for their presence. Ghosts are better this way.
Fantasma 1 is available now on Bandcamp via Mambo Negro Records.

Follow Sounds and Colours: Facebook / Twitter / Instagram / Mixcloud / Soundcloud / Bandcamp

Subscribe to the Sounds and Colours Newsletter for regular updates, news and competitions bringing the best of Latin American culture direct to your Inbox.
Share: