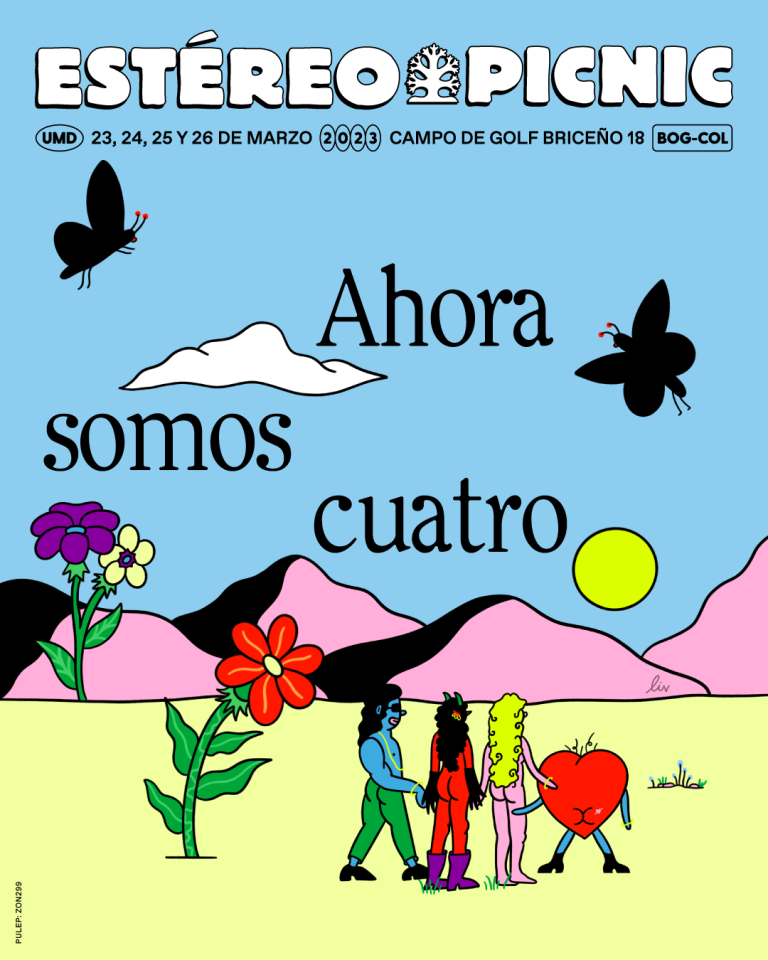 From Top to Bottom: An Honest Review of Estéreo Picnic '23
04 April, 2023
Festival Estéreo Picnic took place in the outskirts of Bogotá, Colombia, from the 23rd to the 26th of March. Due to logistical mishaps and unforeseen circumstances such as a fallen tree on Friday night cutting the power out and blocking all traffic to and from Guatavita (a nearby town where we were staying for the weekend), we were forced to miss the first couple of days of the festival. Fortunately, this delay played in our favour, as it allowed us to enjoy the jam-packed lineup of Saturday and Sunday with renewed energy and enthusiasm. As we finally made our way to the festival grounds, we were ready to dive headfirst into the world of music and entertainment that awaited us.
We finally kicked off our journey on Saturday afternoon, and had the pleasure of catching Semblanzas del Rio Guapi's set at the Johnnie Walker stage. It was truly a memorable performance. The band, known for their traditional marimba music from Colombia's south pacific coast, played the hits from their latest album Voy pa' allá, which had the crowd swaying and dancing along to their infectious rhythms.
While we couldn't help but think that their set may have been better suited for a later slot at the big tent, it was still a great start to the day. We were left wanting more, and are excited to hear that this was just a warm-up for their upcoming 2023 tour.
Felipe Orjuela & La Nueva Estudiantina Electrónica were playing simultaneously at one of the other tents, and we were able to catch the performance of their hit song "Dame Dame Dame (Un Pelado esta Noche)", which is a chicha-infused version of the ABBA hit song "Gimme, Gimme, Gimme!". While their performance was well-rehearsed and the acoustics were decent, it fell a bit short in comparison to other acts we saw at the festival. Nonetheless, their sound was enjoyable and got the crowd dancing.
Next up was a highly anticipated performance by Bogotá-based bullerengue group, La Perla. We caught a good chunk of their set, which included hit songs like "Guayabo" and their signature gaita/tambora jams. The group's catchy rhythms and soulful vocals left the audience in awe. The band's musicianship was simply astounding, as they skillfully weaved together traditional and contemporary sounds with effortless ease. The energy and passion that La Perla brought to the stage was memorable, and it was clear that they're a force to be reckoned with in the Colombian music scene.
Following up on our list was Providencia-based singer-songwriter, Elkin Robinson. As people started warming up for the evening, Elkin's uplifting melodies and contagious rhythms were just right for a beautiful Saturday afternoon. With a unique style that blends Caribbean folk and roots reggae, Elkin delivered a set that was full of energy and soul. From the moment he took to the stage, the audience was entranced by his sound and lively stage presence.
Drawing from his hit record Sun a Shine, Elkin treated the audience to some of his most beloved tunes, such as "Creole Vibration" and "Heaven on the Mountain". With his smooth vocals and expert guitar playing, he had everyone singing and dancing along. His band's percussive grooves also added quite some value to the overall excitement of the performance, with a sound that is both timeless and fresh at the same time, and which borrows from the enormous influences of calypso and Caribbean folk traditions.
Santiago Navas, one of the most current producers in Colombia, graced the festival with his presence, and his set did not disappoint. The crowd went wild when he played his hit song "No me Toques Mal", alongside La Muchacha. Santiago also incorporated elements from his theatrical performance Acto de Fuga, which added a unique touch to his already mesmerizing act. He also played a few of the expected tracks from his debut album Punto de Fuga, which showcases his mastery of electronic music production. The entire audience was hooked on every beat, and it was certainly a highlight of the journey.
Junior Zamora, the rising star from Cali's Aguablanca district, delivered a solid performance that showcased his unique blend of R&B, soul, hip hop and traditional Colombian music influences. Fully draped in red, Junior captivated the audience with his soulful voice and energetic stage presence from the get-go. Performing hits from his debut album EGO, Junior's performance was enhanced by the presence of a talented electronic band. With his unique sound and dynamic stage presence, he is definitely one to watch in the more mainstream spheres of contemporary Colombian music.
Dawer X Damper took the stage next, bringing their fusion of Afrobeat, dancehall, and hip hop to the stage. The duo from Cali delivered an energetic and heavy beat-charged performance that kept the crowd on their feet. Their futuristic soundscapes and Afro-Colombian rhythms, combined with sharp lyrics addressing social and political issues, made up one of the strongest local performances of the day. Dawer X Damper's set included hits such as "TELODÍ", "DESTRAVE", and "ESO", showcasing their undeniable talent and range as artists. It was a refreshing and inspiring show, and one that left a lasting impression on the audience.
One of the most emotional moments of the evening was granted to the public by Mr. Alci Acosta. The stage was packed before the show even started, as fans eagerly awaited the arrival of the legendary Colombian singer and composer. The atmosphere was set as Alci's distinctive voice filled the air, accompanied by the vibrant rhythms of his big band.
The performance was closed off by some of Alci's biggest hits, "La Copa Rota" and "No Renunciaré", which were met with thunderous applause from the crowd. The chemistry with his son, "El Checo" was palpable and thrilling, adding a fresh twist to the set. Alci Acosta's voice is still as powerful and emotive as ever, and his presence on stage commanded the attention of everyone in the audience. The performance was a testament to his enduring legacy as one of Colombia's most beloved musical icons. It was truly a privilege to witness such a stunning display of musical artistry, in a show that will hardly be seen again (at least in the near future).
Simultaneously the smaller tent was taken over by the Envigado-based hip hop collective No Rules Clan. The gang delivered a powerful set filled with tracks from their critically acclaimed mixtape, Pantone. Their seamless flow and razor-sharp lyricism were on full display, proving why Antioquia has become the definitive powerhouse of hip hop culture across the nation.
Trueno, the young rapper from La Boca (Buenos Aires) gave a performance that caught more than one attendee off guard. Last year he had already made waves in the local scene with his stellar performance at Hip Hop al Parque, and his debut at a premiere stage like Estéreo Picnic was nothing short of phenomenal. His high-octane set charmed the crowd, with crystalline explosive rhymes and a pretty contagious vibe. It was a remarkable display of raw talent, and a proof of Trueno's status as one of the brightest up-and-coming stars in Latin American rap.
Alex Ferreira, the talented Dominican singer-songwriter, took the stage at the tents during the festival and delivered a colorful and professional performance. Ferreira's music blends Latin American folk, rock, and pop, and his soulful voice perfectly captures the emotion and passion of his lyrics. In addition to playing some of his biggest hits like "Ven Que Te Quiero Ver" and "Hubo Algo", he also took the opportunity to debut his new single, "De Verdad," which received a rapturous response from the crowd.
Meanwhile at the main stage, the crowd was buzzing with anticipation as Bizarrap appeared for his highly-anticipated show. It was clear that this young Argentine producer had already made a huge impact in the Latin music scene, with his recent collaborations next to some of the biggest names in the industry.
As he launched into his set, Bizarrap showcased his distinctive style and masterful production skills. He effortlessly blended genres, from hip hop to reggaeton, and incorporated diverse elements like trap beats, electronic sounds and traditional Latin American rhythms.
During the performance, Bizarrap brought out some of his renowned gems, like the sessions with Villano Antillano and Nathy Pelusso, much to the delight of the audience. However, it was his session with René, the iconic rapper from Calle 13, that a lot of old school fans awaited. Despite being disappointingly short, the politically correct version of their collaboration left the audience yearning for more.
The set came to a close with the producer's rendition of his 52nd music session, alongside Quevedo. A hymn for endless nights like this one, with a crowd that was increasingly hyped and awaiting the big names of the evening, on a stacked line-up featuring acts such as The Chemical Brothers and Wu Tang Clan. 
[Unfortunately there was no video available for Bizarrap on copyright grounds. Ed.]
Back at the tents, Frente Cumbiero was the perfect act to close out our night's coverage of Estéreo Picnic. The beloved quartet, comprised of Mario Galeano, Pedro Ojeda, Marco Fajardo, and Sebastian Rozo, brought an incredible amount of energy and talent to the stage. Their performance was nothing short of spectacular, and they had the crowd on their feet from start to finish. They jammed through some of their most popular songs, including "Crema Mental", "Chucusteady", and "Cumbia del Monte Fuji". The group's signature blend of cumbia, electronic music, and psychedelia was a refreshing change of pace from the other acts that night. Their sound is ever more robust and truly unique, and it's impossible not to feel the rhythm and energy they bring to the stage. The chemistry as a band of each of its talented members is palpable.
Thanks for joining us on this journey through the Estéreo Picnic festival. We hope you enjoyed this first part of our coverage and got a taste of the incredible talent that Colombia and Latin America have to offer. Stay tuned for part 2 later this week, where we will delve into some of the festival's biggest acts, including Kali Uchis, Salt Cathedral, Fuerza Bruta, and more. Until then, keep exploring new music and supporting the incredible artists who make it all possible!
You can check out the festival's full media gallery on their Official Instagram Page.

Follow Sounds and Colours: Facebook / Twitter / Instagram / Mixcloud / Soundcloud / Bandcamp

Subscribe to the Sounds and Colours Newsletter for regular updates, news and competitions bringing the best of Latin American culture direct to your Inbox.
Share: