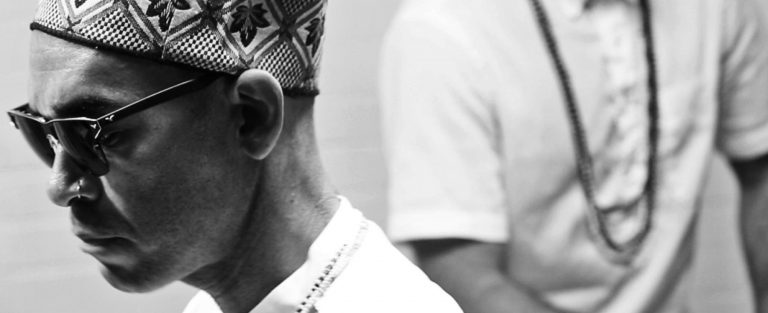 INTERVIEW: Otura Mun On Dual Identities, Puerto Rico and ÌFÉ's First World Tour
19 September, 2016
Few electronic music artists today so unabashedly embrace the realm of the sacred in their musical philosophy. But ÌFÉ, the first solo project of Puerto Rico based producer Otura Mun, has no qualms on this front. Rooted in the Yoruba faith (a religion brought to the Caribbean by African slaves) and fusing EDM and rumba with dancehall influences, his group sings in a beguiling melange of Spanish, Yoruba and English. Embarking on their first ever European tour, thanks to the efforts of Movimientos they will be headlining Rich Mix on 23rd September. Enmeshing spiritually-profound lyrics with deep electronic beats, Ìfé's sound is unflinchingly idiosyncratic. Here I spoke to Otura Mun about UK garage, language as political identity and how the enduring legacy of colonialism in Puerto Rico propels his music.
The date in London, organised by Movimientos, comes as part of your first ever tour in Europe. How are you feeling?
Really excited! I've been so curious about London subculture. Part of what I love comes out of there, so to play in that city is going be very special.
ÌFÉ has some bold aspirations. How did the music project come about?
I had been working on productions for other people in Puerto Rico for a while and I reached a place where I didn't have any records in the tank. I'd been itching to do something but I wasn't quite sure what it was going to be or how it was going to come about. I'm a producer so I was really into sampling so I would create things from bits of other things.
With this project I went to visual references first. I was digging through a folder, I constantly collect images online that I like. I saw this photo of LIFE magazine that really hit me. I do a lot of graphic design. I notice that the colours were red and white, which are the colours of the chango religion. I started thinking about the power of chango in my life, and ÌFÉ in the Yoruba language (mainly spoken in West Africa) means love, but also expansion. And I tried to think about what that might mean in 2015, which is when I started the project.
Very interesting that you were inspired by LIFE magazine. Canadian art collective General Idea also famously parodied LIFE magazine in the 1970s…
I'm 41 years old, I grew up in the magazine era. LIFE was great for covering the huge world events. If you wanted to see what things were happening looked like, you went to LIFE. The imagery and the logo itself is so iconic for me.
So you've talked about the visual inspiration there; what about musical inspiration? What music traditions have influenced the two tracks ("House of Love", "3 Mujeres") that you've released?
The main influence for ÌFÉ is Cuban rumba on one hand, and Jamaican dancehall on the other. I take my cues for modern music from the UK music mostly. I listen to a lot of BBC Radio 1 Extra, MistaJam. I love UK garage. For electronic music I always looked to the UK, and the UK is also very tied to Jamaica. My biggest love electronically is Jamaican dancehall. I fell in love in the 90s and it never stopped.
Which artists specifically?
Right now it's all about Alkaline. Alkaline everything. Also Movado, Popcaan.
Popcaan! What about Heatwave?
I'm dying to connect with those guys. I like how they are able take the UK electronic influences that I like, and fuse that so nicely with Jamaican dancehall. I love what they do. I'm dying to go to a Heatwave party and meet those guys!
In your tracks you sing in Spanish and Yoruba. How important is the lyrical interplay between different languages in your music?
I should say I'm not Puerto Rican, I'm African American. I moved to Puerto Rico in the late 90s and language was part of the reason I moved. I felt there were natural language barriers, especially in the States where I believe we live in a racial caste system. These barriers are things that culturally keep us apart. I was curious what Latin culture was about, but I felt first, that there was a language barrier… that a cultural wall existed. So I thought it would be a good opportunity to go someplace where a passport wasn't necessary (because Puerto Rico is part of the US) and somewhere I could go and learn about Latin culture.
Learning a second language was like constructing another identity from the ground up, built of language and how we talk about our world and the people in it. I literally have two personalities, one in Spanish and one in English. Words about love for example, there's so many more in Spanish. There's two different ways to approach how you look at the world.
And I'm a Babalawo too, which is a priest in the Yoruba religion so I'm working constantly with prayers and devotional songs and the spiritual work I'm doing is in the Yoruba language. I was initiated a year and a half ago at the level of Babalawo so a lot of the work I'm having to do right now is to memorise and learn prayers. So I'm constantly engaged with that language.
Can you outline the lyrical content of the songs?
"House of Love" is talking about sacrifice and exchange of love but more intercambio, or exchange in English. It began when I started thinking about the exchange I have with my ancestors. In the morning I make a cup of coffee, and water, and I have an area of my house where I commune with my ancestors.  So I started thinking of that exchange, literally "Una copa a mi/Una copa a ti", this idea of sharing.
"3 Mujeres" was written by one of our singers. It's a greeting we babalawos give to each other when meet, but its also the greeting that people who are being initiated into the religion give to us. They touch the floor and say "Iború Iboya Ibosheshé". That custom comes from a parable about three women with those names specifically. They give warnings or advice to a babalawo.
So does ÌFÉ have an expressly spiritual purpose?
I have a spiritual purpose so the music I am going to make has to reflect that. It would be impossible not to. I have basically devoted my life to helping people align themselves spiritually and to live a better life. With ÌFÉ, I wanted to communicate those very things; love and expansion.
You previously referred to a 'racial caste' system in the US. How do you engage with the legacy of colonialism and racial oppression in Puerto Rico? Does that come into your music?
Yes it does, at least in terms of political circumstances, colonialism specifically. I think there are some parallels that can be drawn between the African American experience in terms of being under the thumb of an oppressive power. Once you are released from that, in a way, you have to build your sense of self. That's something we as African Americans have struggled through.
And in heavy ways during the 1960s and 70s, during the social movements – the black is beautiful, black panther party, the 1960s civil rights struggle – it was all about upliftment. That is very relevant in Puerto Rico as well. I feel colonialism has mashed the will of the people. Oftentimes I feel there is a sentiment, that people feel like they're not in control of the world around them and that they're not in control of their lives. And not having a say in the world around you, can lead to not believing that you're worth something. Those are the ugly remnants of colonialism.
In UK and US press most media coverage of Puerto Rico concerns its colossal debt crisis and austerity measures. How does that tally with the mood in Puerto Rico now?
Yes, on the ground right now, we're suffering, we're in an economic recession, people are leaving the island in large numbers, it's grim economically. We've had two Supreme Court rulings that have basically said in no uncertain terms, 'you are a colony' and the power resides in the federal government of US. That was a real blow, that was already established in a way, but it wasn't so black and white. But in the same breath, on the ground we're here, we're doing it, there's a lot of life, so under the stress and pressure, its an exciting time. I have faith in the people I'm living with.
In what ways has the Puerto Rican cultural milieu and its music scene, fostered ÌFÉ?
I'm not sure about the Puerto Rican music scene. I feel like I live in a bubble in terms of what I'm doing musically, but the political environment is very important.
In terms of what is coming up for ÌFÉ, you're on tour in the US and Europe at the moment – what lies beyond that?
We definitely have a single that's coming out within the month, it's called "Umbo" (Come Down). It has a few surprises inside. The record itself I've been working on the songwriting since February. The full LP we're looking at the end of this year, or the beginning of next. I'm super excited. The tunes are bangers! I'm really excited to play it live.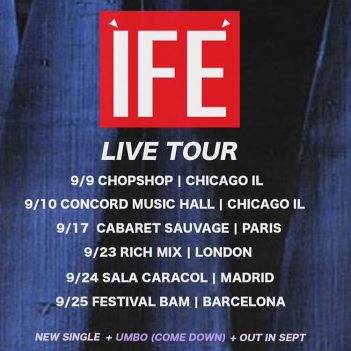 You can see ÌFÉ live at Rich Mix on 23rd September 2016. More details at richmix.org.uk/events/music/%C3%ACf%C3%A9-plus-soundspecies-djs

Follow Sounds and Colours: Facebook / Twitter / Instagram / Mixcloud / Soundcloud / Bandcamp

Subscribe to the Sounds and Colours Newsletter for regular updates, news and competitions bringing the best of Latin American culture direct to your Inbox.
Share: