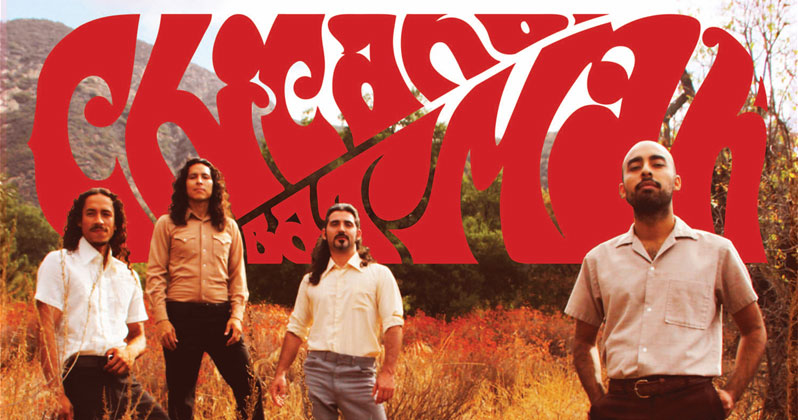 Japan, Jalapeños and Jokes: Chicano Batman's Cycles of Existential Rhyme
|

18 March, 2014

When Bardo Martinez and the rest of East Los Angeles band Chicano Batman decided to record their second full-length album, Cycles of Existential Rhyme, they didn't have some grand concept or theme that inspired them to write the songs.

It was because they wanted to go to Japan.

"We always had conversations about doing something new," Martinez said in a phone conversation. "But what really motivated us was a really good friend of ours from Tokyo, Shin Miyata."

Miyata is the owner of Barrio Gold Records, a label that features some of East LA's most prominent Chicano bands like Quetzal and Mezklah.

"[Miyata] sells that type of music to a Japanese audience," Martinez said. "Basically because there's a culture of low-riding and Japanese cholos who dig that style."

Miyata has been a big supporter of Chicano Batman, and the guys wanted to go play for the Chicano enthusiasts in Japan. But their last recording, Joven Navagante, was released in June 2012, and Chicano Batman needed some new material.

"In the summer of 2012 we talked about going to Japan, but the trip was contingent upon us producing a record," Martinez said. "He needed to have a new product in order to push us into Japan, so that's what we did."

The result was Cycles of Existential Rhyme, a 14-track album that brought Chicano Batman to Japan on a ten-day tour.

"It was a blast," Martinez said. "We were having listening parties, just playing the record everywhere, just chilling. People were amazingly and genuinely excited about the album. We even played a wedding and the bride was in tears, she was so happy that we played for them."
When you listen to Cycles of Existential Rhyme — or any of Chicano Batman's songs — their desire to go to Japan makes sense. The band's music features bits and pieces of sounds from all over the world. Between two or three songs, you hear 70s Motown, Mexican rancheras, and Brazilian tropicália, very often spliced together into one mind-bending song.
But that doesn't mean Chicano Batman's new album is muddled. In fact, Martinez and the rest of the band — Eduardo Arenas, Gabriel Villa and Carlos Arévalo — were very precise about their song-writing.
"We had many conversations about simplifying our music, in terms of creating more coherent music," Martinez said. "No long solos, no interruptions, there's no real jamming out. Everything is pretty much composed."
You can hear what Maritnez is talking about as soon as the first song, "El Frío," begins. The instrumental opening has several time changes and skips from tropical to funky to pop in less than two minutes.
"For me, that song was like a game of playing with time, you know?" Martinez said.
You can hear the fun in Cycles…. Tracks like the Lisandro Meza-inspired "Lisandreando" or "Jalapeño" have a playfulness that blends in brilliantly with the musical complexities.
"I wanted ['Jalapeño'] to sound like a super poppy 70s commercial but I wanted to make half of it super different," Martinez said. "It's like a fucking tortilla commercial, but then it kind of goes into a philosophical description of our ancestry, of the campesinos and the substance of natural living."
Despite their worldly mix of sounds, Chicano Batman has its roots firmly planted in the culture of East LA and Chicano culture. The band's symbol is a splicing of the United Farm Workers' eagle emblem with Batman ears.
Martinez said that the idea for the name and the symbol came to him "almost simultaneously."
"I was stoned at a party in college and I was just drawing a Batman with a flannel on and a little moustache and stuff, and someone was like, 'Hey, that's Chicano Batman,'" Martinez said. "I was studying all that history, that Chicano stuff, and it just came naturally as soon as I drew it."
Martinez and Chicano Batman have continued to mix humour and social reflection in Cycles of Existential Rhyme, and it doesn't disappoint. While bands always face the risk of a second-album slump, Chicano Batman have managed to create the perfect soundtrack to a summer day sprinkled with introspection.
Cycles of Existential Rhyme is available from Amazon and iTunes

Follow Sounds and Colours: Facebook / Twitter / Instagram / Mixcloud / Soundcloud / Bandcamp

Subscribe to the Sounds and Colours Newsletter for regular updates, news and competitions bringing the best of Latin American culture direct to your Inbox.
Share: