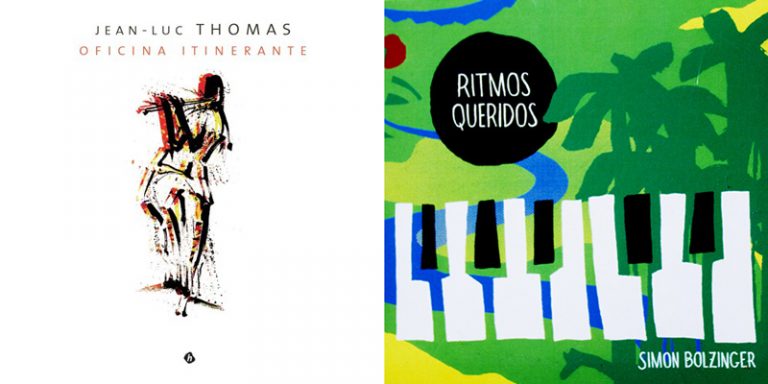 Jean-Luc Thomas – Oficina Itinerante / Simon Bolzinger – Ritmos Queridos
27 January, 2020
Two worthy South American-themed new releases arrived via a French connection recently. The two musicians in question hail from opposite corners of this big country but both explore the connection of jazz to Latin rhythms.
Jean-Luc Thomas – Oficina Itinerante
****
Monsieur Thomas is a Breton flautist (and horse whisperer!) who describes himself as a musician and traveller. He travels the world, a little like Manu Chao perhaps, in search of a good collaboration. He's done it in Africa, he's done it in India, and he's done it in Brazil. World Music Central named his Magic Flutes hook-up with Ravichandra Kulur as one of its best world music albums of 2017, so the peripatetic minstrel has gravitas and previous. On his latest disc, he works with members of his working sextet, Kerlaveo, and features two fine Brazilian musicians he has also worked with previously: percussionist Bernardo Aguiar and saxophonist Carlos Malta, who also contributes the beautiful bass clarinet and two indigenous wooden flutes, the pifano and kuluta.
Among the instrumental influences he cites are Roland Kirk, Eric Dolphy, Hermeto Pascoal and Egberto Gismonti, but it was seeing the Chieftains in concert that really inspired his love of the flute. Knowing this helps to explain the rich cross-cultural melange of styles on the album. The opening "Sete Santos", for example, mixes a hint of choro, a dash of north-eastern forró, and – particularly when Carlos Malta solos on soprano sax – a sprinkling of jazz. The following "Toni Braga", however, is much more Breton and Celtic-flavoured. On "Laranjeiras Serafim", the Breton and Brazilian traditions blend in an infectious dance that features the harmonica of Vitor Lopes, one of the album's most characteristic instrumental voices. A flurry of free jazz ushers in "Frevo de Meia Lua", a track like others here that shows the pronounced influence of Hermeto Pascoal. It's followed by "Les Cloches", which smacks of Naná Vasconcelos in Tibet. Brief spoken-word interludes help to bridge all this diversity and contribute to a richly atmospheric entity that's imaginative, questing, experimental and faultlessly performed. At almost an hour in length, it doesn't always work as cohesively as it might, but when it does, it's very good indeed.
Oficina Itinerante will be released by Hirustica on 20th February
Simon Bolzinger – Ritmos Queridos
***
While Jean-Luc Thomas' album resulted from actual travels around the world, Simon Bolzinger's pianistic voyage of discovery derived from his encounters with the South American Tambor y Canto company at the Cité de la Musique in his native Marseille. A jazz pianist, Bolzinger worked on the indigenous rhythms of South America he discovered until he felt ready to bring in his colleagues – Willy Quiko on (double) bass and Luca Scalambrino on drums – and record the nine different numbers that constitute these Ritmos Queridas. He chose them as being emblematic of "a region, a country, a people or a music": a waltz and a joropo from Venezuela, a huayno from Peru, a zamba from Argentina, a Cuban danzón, a Mexican bolero, a Uruguyan candombe, a Brazilian ijexá and a côco con salsa. Among them are a rather lovely mash-up of Debussy's "Beau Soir" and Jobim's "Dindi", and a fiery self-composed "Montuno en Olinda", which shows just what Bolzinger is capable of on the "eighty-eights". Played by turns with delicacy and brio, they add up to a fine straight-ahead piano-trio jazz, with an engaging theme and a nice new rhythmic twist. Indeed, a word for the rhythm section, sometimes overlooked in the great scheme of things, for their consistently tasteful and unobtrusive accompaniments.
Ritmos Queridos will be released by Quart de Lune/UVM/Idol on 21st February

Follow Sounds and Colours: Facebook / Twitter / Instagram / Mixcloud / Soundcloud / Bandcamp

Subscribe to the Sounds and Colours Newsletter for regular updates, news and competitions bringing the best of Latin American culture direct to your Inbox.
Share: