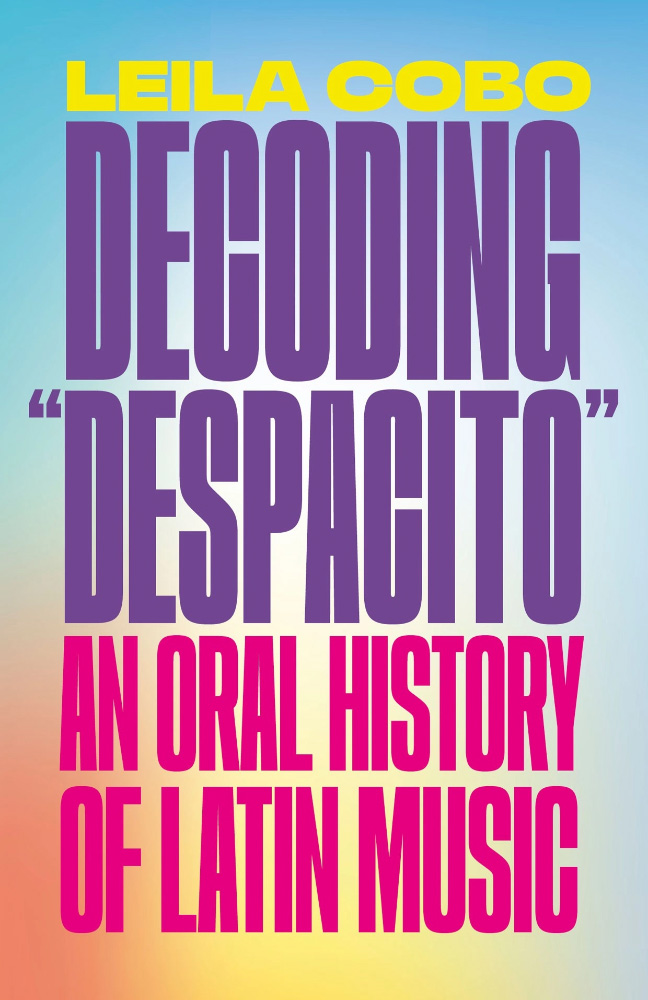 Leila Cobo's 'Decoding Despacito' Reveals Confusion and Inequality at the Heart of 'Latin Music'
18 March, 2021
I've always been a fan of oral histories, and when they're telling me stories of making music, even better. This is the format that Billboard's Vice President and doyen of Latin music Leila Cobo has chosen for her book Decoding Despacito, which takes the success of "Despacito" as her cue to look at other songs that have crossed over from Latin culture into mainstream US culture, delving back to Jose Feliciano's "Feliz Navidad" and then extending past "Despacito" itself to include Rosalía and J Balvin.
As someone who grew up in the UK much of the interest here is in hearing stories about artists like Elvis Crespo, Marc Anthony, Selena, Los Tigres del Norte, Carlos Vives, Willie Colón and Juan Luis Guerra, who had very little profile over here, if any at all. There are great stories, of how Los Tigres del Norte came to record "Contrabando y Traición" in 1974, igniting a trend in corridos to discuss drug trafficking; the way in which Carlos Vives recorded "La Tierra del Olvido", which he did by putting together a crack team of Colombian musicians in an isolated farm who would play music every evening 'til the early hours, honing a "new" Colombian sound in the process; and how Willie Colón's "El Gran Varón", which dealt with a gay Latino man who was shunned by his family and died of AIDs, went from controversy to becoming an anthem.
These are great stories, but they are also often underpinned by the same narrative, either these are artists hungry for success or they are being groomed for success by their labels and managers, and they ultimately achieved this success, hence their inclusion. Yet, this success was dependent on so many factors, from the artist and the song in the first place, but then to the management and promotion team around them, and on to whether mainstream culture was ready to embrace them. By including testimonies from the managers, promoters, DJs and label staff who helped champion the songs, the book does offer the music industry's side of the story, essentially how hype and marketing also played their part, which is a good twist on usual artist-centric stories of music-making.
Fundamentally though, Decoding Despacito reveals many of the flaws of Latin music in general, namely the malleability of the term and how it's used to describe any music with a vague "Latinidad" that happens to be popular in the US charts (and I specifically mention the US here as Decoding Despacito uses Billboard's Hot 100 and Hot Latin Songs as its barometers of success). If we talk about the term first, Cobo denotes "Latin music" as "music predominantly in Spanish", so instantly the idea of Portuguese being a Latin American language is pushed out of the question and the notion of Latinos (i.e. those of Latin American descent) and Hispanics (i.e. Spanish descent) are conflated into the same term. Clearly, this term is partly being used as a way of normalising Rosalía's inclusion in the book due to the controversy caused when she won at the Latin Grammy's, with many questioning whether she could be a Latino if she's Spanish, but then Cobo's definition is surely pulled apart by the inclusion of Willie Nelson and Julio Iglesias singing "To All The Girls I've Loved Before", Shakira's "Whenever, Wherever" and Ricky Martin's "Livin' La Vida Loca", which are all predominantly sung in English. Based on this, "Latin music" becomes music mainly sung in Spanish or sung by people who have Spanish as their first language. We can't even say that "Latin music" should be rooted in "Latin culture" as Willie Nelson and Julio Iglesias are singing a country ballad, "Macarena" is surely Euro dance (despite its Spanish origins) and what Santana's "Smooth" has to do with Latin culture, except from the odd lyric about Spanish harlem or the barrio, is beyond me.
Decoding Despacito can be viewed in two ways: firstly, as a fine collection of stories about popular songs, which are often labelled as "Latin music"; but, if we look deeper at the book and the context in which it's placing Latin music, which is as a form of expression which often percolates into the global mainstream, and is potentially becoming a mainstay (especially in the US), there are issues. There is simply no way of getting around the fact that Latin music in this instance is being used as an umbrella term for music sanctioned by the US music industry as representing Latinidad or Hispanidad in some form, and hence the success of this music is very dependent on the industry's promotion of it, and their defining of the parameters. After all, if Julio Iglesias singing a country ballad is Latin music then there are serious issues around what constitutes the term. Of course, the argument can be made that these were songs that also achieved success within Spain and Latin America, and this is true, but the important point to note is that these were the songs popular in those regions deemed worthy of promotion in the US. As, if we look closely at the songs chosen there is an even more depressing reflection we can make, which is that Latin music, when viewed through the US music industry prism, is not only monolingual but it's also very white (with the inclusion of so many Spaniards we can definitely say it's very European too). Where are Celia Cruz, Mercedes Sosa, Joe Arroyo, Benny Moré, Susana Baca, even Ozuna and Cardi B from the new reggaeton/trap scene, artists who have a strong Black or Indigenous Latino/a identity? If their success was simply not good enough for them to be included here, then questions surely need to be asked of what "Latin music" really means, and whether the term needs to be thrown into the bin.
Decoding Despacito is published by Penguin Random House and is available from Bookshop UK and Bookshop US

Follow Sounds and Colours: Facebook / Twitter / Instagram / Mixcloud / Soundcloud / Bandcamp

Subscribe to the Sounds and Colours Newsletter for regular updates, news and competitions bringing the best of Latin American culture direct to your Inbox.
Share: