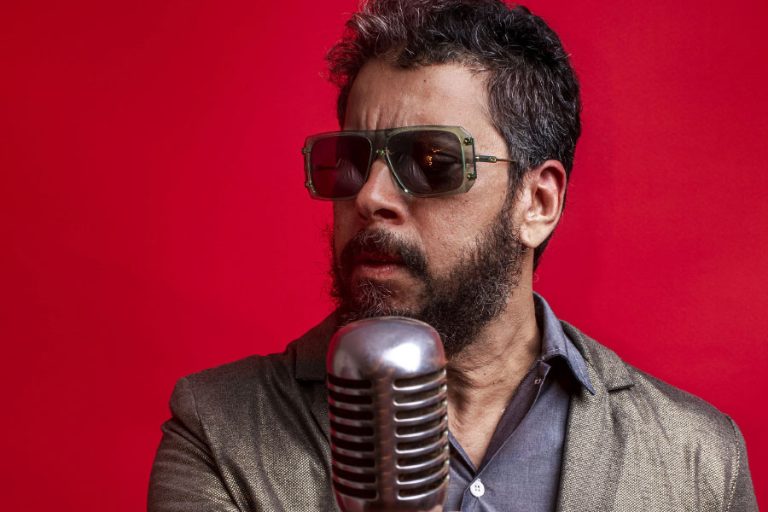 Luiz Gonzaga was the First Brazilian Pop Star: An Interview with Jorge Du Peixe
03 December, 2021
In 2017, Jorge du Peixe partnered with the legendary drummer and singer Wilson Das Neves (who died in 2017) to record the song "Manhã de Carnaval" (composed by Luiz Bonfá and Antônio Maria) for a TV program called Clubversão. "What a responsibility," he says. "It was pretty cool. I had already met Mr. Wilson in 2015 or 2016 backstage at Os Mutantes' comeback show at the Barbican Centre in London. A great guy, he told so many stories". The producer of that program was Fabio Pinczowski who was impressed by the collaboration and asked Du Peixe if he'd like to make an album.
It was only in 2020, three years later, that that initial idea began to transpire. Jorge chose to play Luiz Gonzaga, a singer and musician responsible for popularizing forró and baião throughout Brazil and exporting the styles around the world – there are versions of his songs, mainly "Asa Branca", in several languages. Even Dizzy Gillespie surrendered to the Rei do Baião (King of Baião), doing a version of "Pau de Arara".
"We made the choice thinking at this moment that Brazil needs more Brazil, at this moment of negationism in which everything is turned upside down", he observes. "Brazilians in essence have always been very festive, and the baião is one of the matrices of our music. Luiz Gonzaga was the first Brazilian pop star. If you stop and think: he is pre bossa nova and pre-Tropicália, so much so that both Tropicália and bossa nova drank from his fountain".
In fact, Gonzaga showed that the musicality of the north-eastern hinterland (which started to become popular on Brazilian radio in the 1940s) made with accordion, triangle and zabumba (bass drum) could adapt to any other genre. This possibility is well explored by Du Peixe in the 11 songs of Baião Granfino. On the album, he interprets some classics, such as "Assum Preto", "Sabiá", "O Fole Roncou" and "Cacimba Nova", and the lesser known "Acacia Amarela" and "Rei Bantu". He chose to be diverse to bring out the hidden beauties in Gonzagã's rich songbook.
"I didn't want to make a record with only b-sides [unknown ones] or just popular ones. We discovered several pearls in the middle there. And we failed to include some of the best-known ones… you'd think that "Asa Branca" would have to be included. But "Assum Preto" has a weight to it too so you can leave "Asa Branca" aside, right!? Balancing it was a very natural thing. A song like "Cacimba Nova" paints a landscape of what Luiz Gonzaga imprinted in the form of sound, talking about the man from the caatinga and all that landscape of aridity, difficulty, the weight of the drought. He speaks of the good times, and the decay, the suffering".
Despite the plurality of sound, Jorge was getting caught up trying not to deface the work of Mestre Lua (one of his nicknames). So he tried different sonic environments, but tried to retain the essence. The hoarseness of his voice – which he says is due to the variations in the weather in São Paulo, where he recorded – has a sensibility that perfectly marries with the material. Baião is part of the rhythmic base, but Du Peixe and Fabio follow other paths too, bringing in elements maracatu, rock, dub, reggae, forró and samba-canção.
"Essentially there was no need to have an accordion on every song, we could replace it with other instruments, such as a fiddle, and not be afraid to put on a guitar", he says. "Luiz Gonzaga wasn't afraid of the guitar, he wasn't afraid of anything: he sang waltzes, sang bolero, sang baião, sang maracatu. If you hear "O Fole Roncou" it's pure rock 'n' roll".
For the version of that particular song, Pinczowski had rock, with a hint of psychedelicism, as a guide. However, the excitement does not just come from their treatment, but also from the surprising presence of Cátia de França. Ostensibly 'forgotten' for a long time, 'isolated' at her home in the interior of Rio de Janeiro, it's only been in recent years that younger generations have rediscovered her and her debut album 20 Palavras Girando ao Redor do Sol, originally released in 1979.
"Coincidentally, or not, you can never say for certain, Jeferson, the older brother of Chico (Science), had shown me a cassette tape of her's. He told me that Nação Zumbi had to make a version of one of Cátia's song. That was us talking by video. After talking to him, I bought a vinyl released by 3 Selos [a limited reissue of França's debut]. Three days later, during the recordings, I was talking to Fabio about who would make the chorus of the record [and] I suggested Catia de França, because I felt some message behind these events. We sent a message to her producer, and two days later she accepted. I didn't want her to do backup vocals, I wanted her to partner with me. Pupilo [drummer] said she was the icing on the cake".
As a whole, Baião Granfino is sophisticated. Each of the songs is crafted with the care and respect that Gonzaga deserves. It is for this reason that the album was well received by the accordionist's purist fans (known as Gonzagueanos). "The album is conceptual. Not subconsciously in taking it to another level, but in a manner of being careful. It became sophisticated due to the way it was put together and the participation of all the musicians. It's a solo project, but I've got great accomplices."
Watch a live stream of the album launch below:

Follow Sounds and Colours: Facebook / Twitter / Instagram / Mixcloud / Soundcloud / Bandcamp

Subscribe to the Sounds and Colours Newsletter for regular updates, news and competitions bringing the best of Latin American culture direct to your Inbox.
Share: