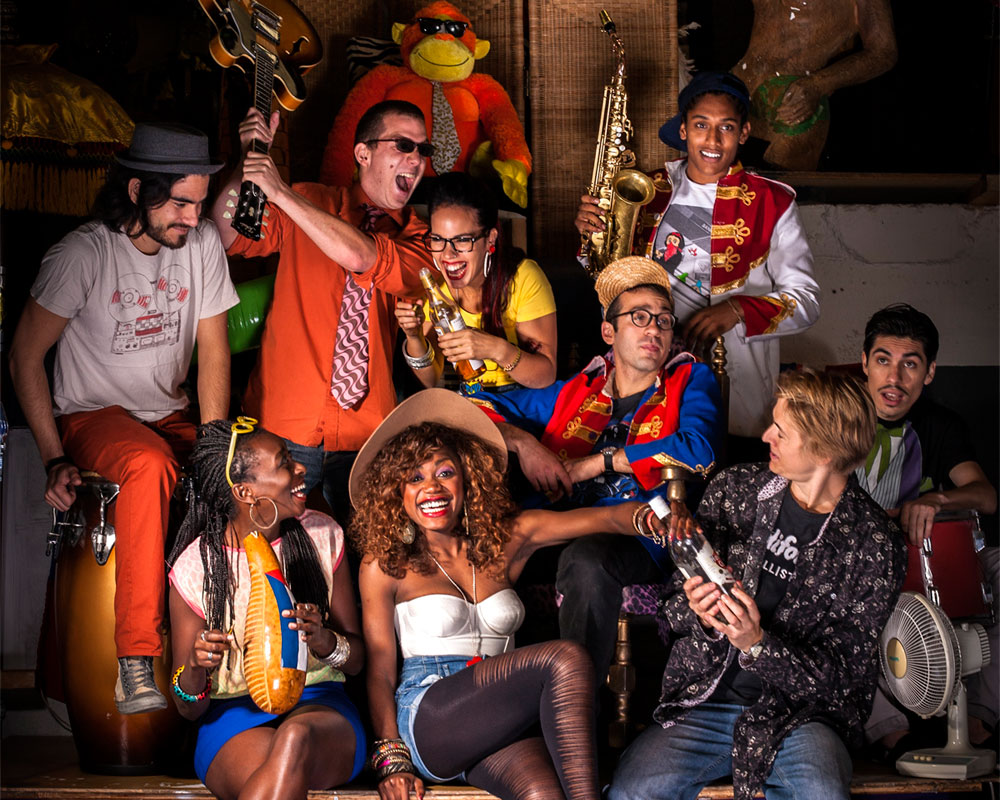 Mambo Libre! An Interview with Wara
09 December, 2013
The Latin-London nine-piece band Wara have been making waves in the London gig and club scene over the past year, releasing their debut album Leave to Remain in July and embarking on their first UK tour earlier this year.
When they opened that tour at Shoreditch's Village Underground, their unique blend of Cuban genres (songo, timba, chicha) with styles like reggae and soul had feet tapping and hips moving all over the dance floor. Since then, they have played at venues up and down the country, including Glastonbury and a more recent sell-out date at London's iconic Jazz Café for their August album launch-party.
In late October, I met up with the band's musical director, lyricist and keyboardist Eliane Correa and lead singer Juanita Euka in a quaint café in the East End of London to discuss the lyrical content of their tracks, their motivations as a band and the things that we can expect of them in the future.
When I heard Wara's début LP, the first thing that struck me was the social conscience which coursed through every one of the group's tracks. Whether the group talked about the struggles of entering and settling in this country or the arbitrary notion of immigration itself, the socially conscious tunes on their début actively sought to engage with the listener at every turn.
For Correa, Leave to Remain was far from a mere title for the band's début: it was the unifying concept for an LP dealing with the challenge of integrating into a new society, of leaving one life behind in Latin America to begin another here in London.
"It had a certain linear feel to it", Correa recalls, "because I sat down and went: how would I define this band in 7 or 8 tunes? I wanted to be heard, so I picked a selection of songs that are all in, roughly, the same discourse of migration."
Above all, the focus on this discourse stemmed from the personal experiences of the band's members. Indeed, it was announced at the band's Jazz Café concert that Venezuelan percussionist Ernesto Marichales had only just been granted his leave to remain in the country. Meanwhile, the band's lead vocalist Juanita Euka also had to deal with the trials and tribulations of starting a new life in England when she and her family moved to London from the Congo.
As she remembers, entering this country was not only a stressful experience but also one which left her feeling distinctly alienated. "It's ridiculous", she recalls, "because they don't care about the person; they're all just numbers. And now", she adds, "it's even worse if you want to live here and want to get papers, or get a job. You have to wait years and years, and it's even worse if you want to marry someone from another country. It gets worse and worse, and that issue really reflects in our music."
Correa, for her part, found inspiration in her own personal experiences when writing lyrics for the album. She recalls that "Somewhereland" was a personal plea for a space where she wouldn't feel as uprooted as she did when first arriving in London from Cuba.
[soundcloud url="https://api.soundcloud.com/tracks/112753353″ params="color=ff6600&auto_play=false&show_artwork=true" width="100%" height="166″ iframe="true" /]
"My first two years here I was depressed! Every single day I was like: I'm going back to Havana, I'm going back. And eventually, I went back for two weeks, and all my friends were gone… That's what the second half of the song is about: 'algo se perdió en las calles de la Havana; 'something's lost in the streets of Havana'. It was like all of my favourite musicians had fucked off to Europe, or to Miami, or whatever; all my friends were gone… and, you know, I had nothing to go back to either."
Other songs on the album, meanwhile, are less personal, such as the title track "Leave to Remain" [which has a brand new video released on 9th December, see below], which sees Correa reflect on the collective experiences of those who "don't have all the riches and the possibilities that we have here".
"I was sitting there [in Cuba] looking at all these people who haven't really travelled", she explains, "who have no possibility of travelling, for whom everything is so much harder than it is for us here".
With the song divided into an English and Spanish half respectively, Correa explains that she was able to get different messages across to different people. "The bit in English – "you're the 1% that has all that it needs" – is all about the people here. You're in the top 1% here; we're all in the top 1% here", she explains. "And the bit in Spanish is to the people who are in London who are immigrants and who are treated like shit. And it's like: 'don't let yourself be hammered down by all these laws and things – stand up for yourself.'"
Another song, "Pide a Yemayá", is dedicated to those who tragically failed in their pursuit of a better life during Cuba's 'Período Especial'. "In the nineties", Correa explains, "tens of thousands of people left Cuba on home-made rafts to go to Miami in search of a better life, looking for the 'American dream', and the thing is, a lot of these people died at sea." Introduced by a Yoruban prayer to the goddess of the sea Yemayá, the track considers the thought processes of one of those rafters, leaving their life behind and thrusting themselves into the unknown in search of a dream.
But as Correa notes, that leap into the unknown is still something which occurs to this day. "I've had a couple of people that I know who have disappeared as well", she remarks, "who one day were in Havana and then poof! They just turn up in Miami, and you never know how they made it there. I mean, it's really dangerous; people risked their lives for it and still today it happens."
"A lot of these are realities of what happens to people", Correa summarises. "I mean, 'Leave to Remain' is what happens to people here; 'No Se Vende' is about people who just marry the first foreigner they come across just so they can leave, and it's all rolled up in a kind of parody but it's the reality for a lot of people… Everyone has a story to tell in Cuba, and it's just very sad."
Not content with mixing styles as varied as jazz, ska and timba, Wara also incorporate rap into their sound, with London-bred Josh Solnick (MC Murmur) offering even more lyrical and vocal depth to the band's already impressive repertoire.
In songs like the ska-infused "Run for Cover" and the album's title track, Solnick's dextrous lyricism and unique delivery complement the soulful lead vocals to offer the group's tunes yet another layer. However, Correa is eager to note that Solnick is much more to the band than a mere rapper: "He's a poet", she remarks. "That's why he's there. He's there to give another literary, deeper meaning to our stuff. In 'Leave to Remain', the portrait he paints of things is beautiful, and it just adds a completely different layer to the song."
To put Solnick's insightful wordplay firmly onto centre stage, Correa even decided to make the band's EP track "Flesh and Bone" acoustic on their début record, eager to hit home the fact that the song "is about the lyrics: it's not about rocking out".
"I've seen some really good stuff by him but what he wrote for 'Flesh and Bone'? For me? It's some of the best shit I've ever heard from him". However, during live performances, the crowd were so distracted by the music that they didn't focus on Solnick's spoken-word performances. So, in a bid to give the MC a platform to rail against topics ranging from outmoded migration laws to police brutality, Correa decided to "cut off the whole band and just [leave] the drum kit so it's like: 'people, fucking listen to the man!'"
[soundcloud url="https://api.soundcloud.com/tracks/112762202″ params="color=ff6600&auto_play=false&show_artwork=true" width="100%" height="166″ iframe="true" /]
For lead-vocalist Euka, it is this kind of musical innovation which sets Wara apart from other bands: the ability to tweak their songs so that they grow as the band does, building as the group's sound develops.
"That's the magic of what she [Correa] does with a song", she remarks. "I mean… when I first heard 'Flesh and Bone' acoustic, I fell in love with it, just like I fell in love with it the first time I heard it. And people keep listening to it in a different way but it's the same song, just growing."
When talking to the band about their main motivations, one message comes across loud and clear: this is a band that wants to be heard in all senses of the word. While many of their tunes will get you moving, their lyrical content is meant to inspire critical thought and stir people into considering the difficulties that many people are faced with when leaving their lives behind to settle in a new country. For this reason, when I asked Correa and Euka what gig has lived longest in their memories, one performance at the Hay Festival during the band's first UK tour stands head and shoulders above the rest.
"We didn't know who'd booked us, or what for, or the vibe of it", Correa recalls, "and we turn up and it's sort of a literary/academic knowledge and culture festival."
Gone were the rowdy crowds of the club scene and, in their place, was a sit-down theatre atmosphere. Instead of party-goers anxious to dance the night away, the band was faced with an audience who were specifically there to listen to the content of their tracks.
Seizing the opportunity to change up their set, the group offered an acoustic rendition of hand-picked tunes and explained the meaning of the songs to the audience between tracks, offering a wider insight into their lyrics.
For Correa, this was a watershed moment for the band: "It was the first time we got a booking for our lyrics, because, usually, we're described as the 'fiery, Havana-London sound-clash'. I mean, that stuff's great as well; it's got us into the Hackney Empire and Glastonbury and whatnot. But, you know, it's good that sometimes people actually sit down and listen to us. And that's why I was really happy… we took out the album and I actually picked the songs that have the most lyrical weight."
Positive reviews followed their performance, as did an appearance on BBC Radio 3. "Everyone was talking about our lyrics and 'what do you mean about this and that?'", Correa recalls. "And Josh and I were just going 'it's working!', you know? To get booked for our lyrics, we were so happy about that."
More recently, the band has taken a break from the live circuit to focus their efforts on their second album. Entitled Mambo Libre, Correa remarks that the band's next record will see the group stretching out into new musical avenues, incorporating even more Latin sounds than they packed into their debut.
"I've got a couple of songs written", she says. "We can't make another album which sounds the same, so we're trying to make something [which stretches] a bit further out from Cuban music."
Where Leave to Remain was the group's mission statement, Mambo Libre will be their statement of intent – indeed, "the first album was more like an intro: 'this is what we're about'", explains Correa. "And the second is going to be more about: 'this is what we can do', kind of thing."
One thing is certain: the band's eclectic fusion of Latin-London styles is here to stay, and the band is eager to resolutely defy any association with a specific genre. Indeed, Correa even quips that someone once criticised the band for having a "very heterogeneous sound". Her response? "If anything, I would like to sound even more heterogeneous".
"What I like about what we're doing", she goes on to explain, "is that we advertise ourselves as partly Cuban, we have a strong element of it, but we have a genre of our own. The only way you can define us is 'Latin alternative'. That's the only thing with which I'd be like, 'okay, cool'. Undefined Latin alternative… I like the fact that people associate us with Cuban music, because it turns out that they run into something that they don't know."
In spite of the impressive year that the band has had with the release of Leave to Remain and their first UK tour, they are ready to step up to the challenge of innovating once again. After all, this is all part and parcel of the creative experience for Correa; as she remarks: "whenever you're doing something creative – writing, composing, painting, photography, things like that – you can never stop learning, otherwise your creative process stops, and you stop being an artist."
Moreover, Correa is eager to push the message of tolerance, acceptance and respect via the band's tunes, given that "when you've got a band that plays live it gives you a platform: people listen to you. It gives you the power of speech." Considering that debates surrounding immigration are currently dominating the headlines in the UK, Wara's socially conscious tunes offer an important alternative voice in the discussion, a voice which, Correa notes, continues to be the driving force for her musical direction of the band.
"Maybe I have to work really hard but then I look at people who listen to my lyrics and it's going to give them an insight into things", Correa explains. "Maybe it's going to teach them a thing or two; maybe it's not. But one person out of fifteen is going to learn something from listening to our album, and that's priceless, man. That is priceless."
Wara will be playing at The Forge in Camden on Thursday 12 December to launch their music video for "Leave to Remain", a video which you can watch below. More details and information about tickets can be found here.

Follow Sounds and Colours: Facebook / Twitter / Instagram / Mixcloud / Soundcloud / Bandcamp

Subscribe to the Sounds and Colours Newsletter for regular updates, news and competitions bringing the best of Latin American culture direct to your Inbox.
Share: