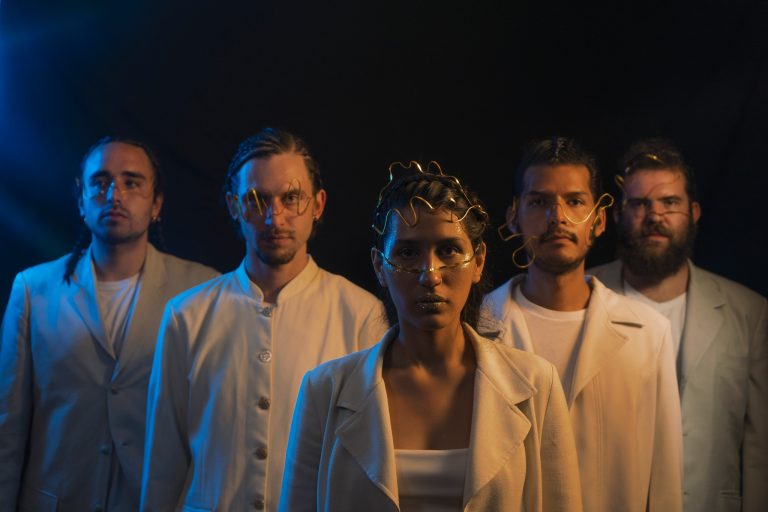 Mexicanismos 01
23 February, 2022
Hello everyone, I'm Davo Peñaloza and it's an honour for me to bring you Mexicanismos, a series of musical recommendations directly from Mexico, made especially for Sounds and Colours. Mexico is the country where I was born and where we are never surprised by the impressive number of musical projects that we find every day throughout our country. I have been years working in the music industry in Mexico for over ten years, in radio, journalism, working with music platforms, covering festivals, and so on, and in that short but rich trip I have been able to see the birth and growth of many Mexican artists and bands, and it will be an honour for me to share them with readers from other latitudes and nations. But let's stop talking about me, let's let the music speak for itself.
---
La Bruja de Texcoco "Nostalgia"
If what you are looking for is music that unite the Mexican sound and femininity, then Octavio Mendoza, aka. La Bruja de Texcoco, is just the thing. After a mysterious encounter with a shaman in Texcoco (a region near Mexico City), La Bruja embraces masculine rejection in her music to create her own style full of the most Mexican roots imaginable. Her new song "Nostalgia" is from a forthcoming album that will be called Tepari. It is a track full of feeling (a bit of fear too) and memories of the past that are accompanied by traditional Mexican harmonies. It's an ideal song to feel and reflect, but above all to free the soul.
---
Señor Marrano "Sistema" (Remix)
The Mexican hip-hop scene can remain calm since one of its best exponents is still active, and in a great way. This is Señor Marrano, an MC originally from Cancún who has enlisted Eddy Mugre to produce his most recent single, "Sistema". Throughout the song we can detect truths that hurt accompanied by fine beats to create an atmosphere that alludes to a ghetto filled with an intelligence that never stops.
---
Cuauh "Metralleta"
From Morelia, Michoacán, comes one of the most irreverent characters of the Mexican hip-hop underground; he is Cuauh, who for a couple of years has shown us his ingenuity when demonstrating his rhyme and flow. In this song the rapper tells us a little about how he repels the world and how he hates everyone except himself. One might think that Cuauh is crazy, but it can also be said that madness and genius are just one step apart.
---
Ruido "Erick"
RUIDO is one of the most outstanding lo-fi projects at the moment in Mexico. On the Mellow sub-label of Worldwide Records, he presents us his new single "Erick". RUIDO (that means "noise") is characterized by the mixing of audio from Mexican movies of the past, or other sampled voices of popular figures, with nostalgic music that, despite having a contemporary sound, takes us back to memories of other times. It's nice work that RUIDO does with their homemade beats.
---
De Osos "Cambio Mínimo Necesario"
If what you are looking for is nostalgic music then you should listen to De Osos, the project led by Arturo Luna, who since 2014 has been able to explore post-rock in a really interesting way. Fans of Sigur Ros, Mogwai or guitars with many echoes will be able to find in De Osos that sound that invites you to turn, look up at the stars and stop for a few minutes to think about life. This song, "Cambio Mínimo Necesario", will be part of a new 6-song EP that will be mastered in Japan by Kashiwa Daisuke, an important name in Japanese post-rock.
---
Carla Rivarola "La Gravedad"
Carla Rivarola is half Mexican, half Argentine and lives in Mexico City. A couple of years ago she released her second album Lucha o Fuga that showed her to be one of the most interesting indie artists in the Mexican capital. Still working independently but with the help of Casete, she now presents this melodious and moving single titled "La Gravedad", which was preceded by another track called "Flores Sobre las Piedras". It is a song full of innocence, sweetness, femininity and sincerity. In the middle of 2022 Carla will release a new studio album, in the meantime let's enjoy this taste of what's to come.
---
Tonga Conga "Mira Bien"
Raúl Sotomayor, half of Sotomayor along with his sister PAHUA, has once again shown that he is one of the most outstanding producers at the moment in Mexico City. In his history as a producer we has worked with PAUZA, Los Máster Plus, Immasoul, Sol Pereyra, the list goes on, and last year he was even involved in the production of Cabra's most recent EP. Now in 2022 he resumes a project that he started a couple of years ago, Tonga Conga, in which we can hear Afro, electronic and Latin influences. This single, "Mira Bien", has the magnificent collaboration of the Dominican group MULA, one of the finest electronic projects in all of Latin America. An album with more collaborations is forthcoming, but for now let's dance.
---
Monstruos del Mañana "Pensacola"
Self-styled as a post-apocalyptic tropical garage band, Monstruos del Mañana are a super crazy group from Mexico City. They can be cumbia, they can be psychedelia, they can be a total trip with long songs. How lucky we are to live in an era in when bands can combine so many musical genres. How lucky we are to know that Monstruos del Mañana will have an album in 2022 called Espejos that will include songs as trippy as this one entitled "Pensacola".
---
Diles Que No Me Maten "La Vida de Alguien Más"
Juan Rulfo is one of the greatest Mexican writers of the 20th century and one of his greatest works is ¡Diles que no me maten! It is from that book that this Mexico City group takes its name, an indication of their surreal music. A lot of psychedelia, a lot of krautrock and a lot of distortion. This album from last year, La Vida de Alguien Más, released by Discos Hipnosis, is a jewel of the Mexican psychedelic scene.
---
DJ Fucci "Sapo"
Pablo Ramírez is a producer from Mexico City who has based his work on ethereal sounds, electronic experimentation, house and techno. He is the founder of the WVWV label and a few days ago he released a new EP with the renowned label NAAFI. It's called Fauna and it dedicates its four tracks to animals such as the snake, the monkey, the toad and the chinchilla. Music to dance to at three in the morning while high and in a state of trance.

Follow Sounds and Colours: Facebook / Twitter / Instagram / Mixcloud / Soundcloud / Bandcamp

Subscribe to the Sounds and Colours Newsletter for regular updates, news and competitions bringing the best of Latin American culture direct to your Inbox.
Share: