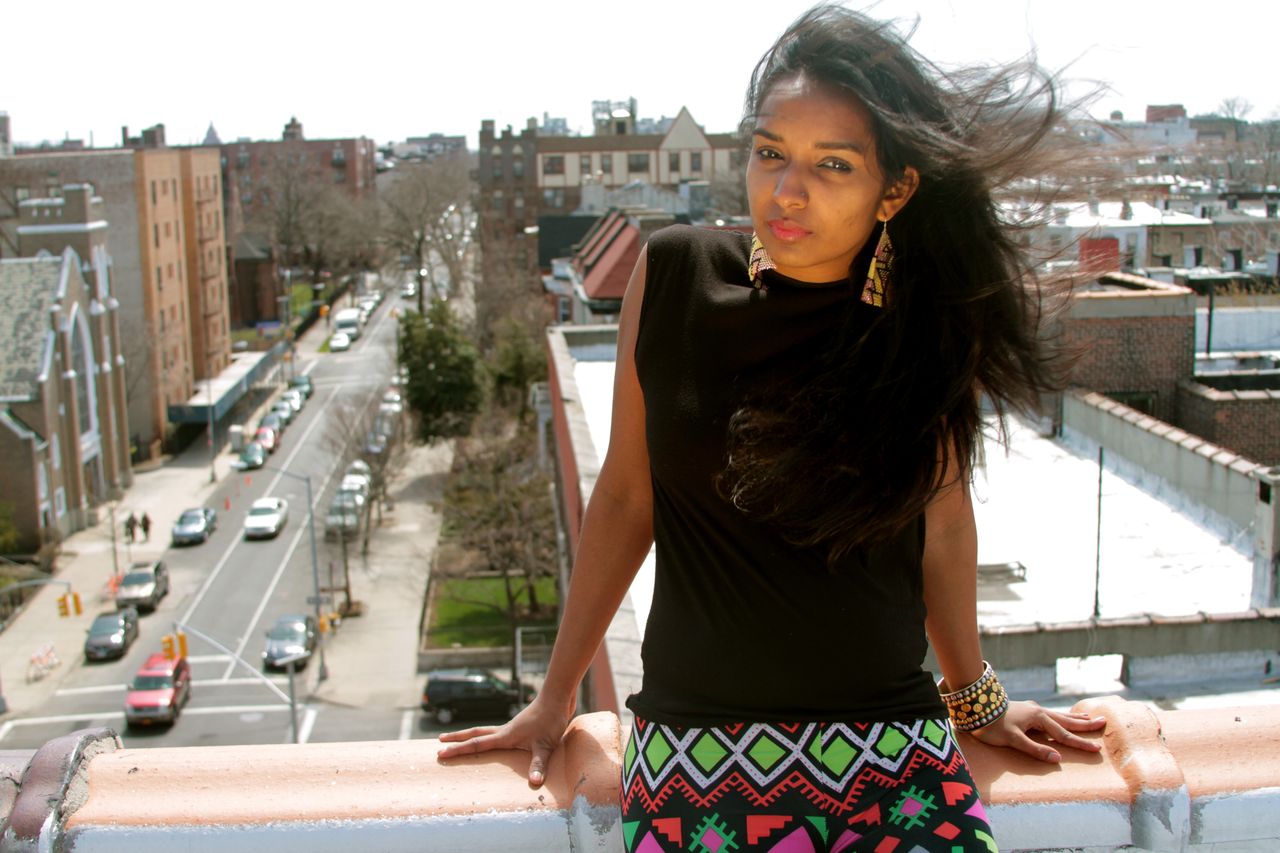 Free Download: 'Foreign Brown' by DJ Ushka
08 May, 2013
What's better than a mixtape that celebrates different sounds coming from a variety of countries? Not much, as far as I'm concerned, which is why DJ Ushka's "Foreign Brown" mixtape has been a mainstay in my music library since it's release on the Dutty Artz blog earlier this year.
The mix contains hot tracks by Los Rakas, Zuzuka Poderosa, IsaGT, Ana Tijoux, and more.
The Sri Lankan-born DJ Ushka (real name: Thanushka, which means the rhythm of music) tells me "Foreign Brown" came from a conversation with friend and fellow Dutty Artz crew member, Mariana Capriles (better known as MPeach), a visual artist and musician from Venezuela.
I asked Ushka about that conversation, the mix, DJing in general, and her global bass-filled 'iBomba' parties in New York City.
Tell me about the concept behind the 'Foreign Brown' mixtape.
As [MPeach and I] discussed feelings of disconnect and nostalgia for the places we're from and what it means to create new homes in the United States, I joked that in this country, if you are brown, it doesn't matter if you have been here for a long time, you are always seen as "foreign" and I alluded to being "foreign brown" no matter where I go. For some reason in the moment it was really funny. I named the mix that in reference to our conversation, but also as my way of connecting all the genre-blending and the intentional musical border crossing throughout the mix.
When did you start DJing?
I have always loved music and I'm very into dancing. My interest in DJing really sparked first from knowing what makes people dance. I would often post up near the deejay booth to see what the deejay was doing. I started to learn to deejay a little bit while I was in grad school as a stress outlet and then after I moved back to New York City, friends of mine who were deejays taught me – first on vinyl, then programs like Serato and Traktor. I feel like I'm still learning, really.
Who are your major musical influences?
I'm influenced by so many types of music from all over the world. I love everything from dancehall and soca to West African music to bachata and cumbia, bhangra, house music, and hip hop. Growing up, I was very influenced by reggae and like many kids who grew up in the Global South I suppose, so Bob Marley was a huge household name. I also would steal my dad's funk cassette tapes and dance around to James Brown, Rick James, and the Isley Brothers. I mainly grew up in Thailand, and spent a little time in Sri Lanka, so we had a lot of mainstream music access via MTV and a lot of what was on the radio is now too embarrassing to admit that I listened to.
The most popular Sri Lankan music, interestingly enough is called "Baila" because of Portuguese colonization. It has a lot of calypso elements and African instrumental elements as well. Even though growing up I didn't know much about the historical trajectory of Sri Lankan music, I definitely am attracted to island sounds such as calypso because of Sri Lankan music and therefore I'm really drawn to music from the Caribbean such as soca, chutney, and dancehall.
I know you're a big immigrant rights advocate. Why? Does it play a role in your music?
My involvement in immigrant rights work is two-fold: 1) I'm an immigrant and 2) I've always been interested in racial, economic and immigrant justice issues, and this has always been a  major focus of my studies. I came to the United States after September 11, 2001, and the climate for immigrants had really changed. About five ago I was doing research on post-9/11 policy and its impact on immigrant communities and also seeing first hand in New York City the minimal wage that immigrant restaurant workers were paid for extremely tough work and the fear that a lot of people had because of the inability to change their status. This is what sparked me into doing more immigrant rights activism.
I think music is an intricate part of communities and community building. What makes a city like New York so vibrant is the fact that there are people from all over the world who come here with parts of their former homes and cultures with them–often times that is most easily expressed through music. Immigrants really are the fabric of this city. And you see this in many global cities with huge immigrant communities such as London, Toronto, Paris, Los Angeles. My interest in global music or immigrant music and weaving through different kinds of global bass genres through deejaying is really also about connecting with people and giving immigrants like myself a home away from home on a dance floor.
There are so many times that I've been playing some type of music and someone excitedly comes up to the deejay booth and tells me how the music reminds them of home. It makes people feel comfortable and provides a sense of belonging and even a point of conversation. Just this past week, I was playing a song by Bunny Mack, a Sierra Leonean musician, and a Sierra Leonean woman came up to me and asked how I knew the song and she was very happy it was being played. At another place I deejayed recently, a friend told me that when I played a samba song, her Brazilian friend who was dancing in the crowd with her started to talk about when he would go back to Brazil next and memories he had of home.
Tell me about iBomba. What can people expect there?
iBomba is our super fun monthly global bass party that happens at Bembe hosted by myself and DJ Beto. Currently it is every second Monday of the month. Each month, we have a different guest DJ that helps provide a different vibe. Among the roster of guest DJs we've had are: Uproot Andy and Geko Jones, DJ Rekha, Maracuyeah, Anthology of Booty, Jubilee, DJ Ripley, Pajaritos, Chief Boima, etc. We've also hosted performances by artists like Lido Pimienta (Colombia/Canada), Titica (Angola), and Os Kuduristas (Angola).
People tell me they come to the party because the music and the space is inviting. It's also helps bring people together and for people to connect around different issues. For example, a young person originally from South Africa who was living in D.C. came to our parties a lot. When I asked him why he came all the way from D.C., he told us that it was because he was out of status and soon to be deported back to South Africa, even though he had spent formative years going to high school and college here. He said he wanted to experience the best parties that played music from everywhere while was still in the United States and he came to dance because that was his form of resistance.
***
You can connect with DJ Ushka on Twitter at @ty_ushka, on Soundcloud at soundcloud.com/djushka , and on her website at djushka.com. You can find out about the next iBomba party by following facebook.com/ibombanyc or on twitter at @ibombanyc. Listen to Ushka's "Foreign Brown" mixtape below. Download it here.
[soundcloud url="http://api.soundcloud.com/tracks/78779824″ params="" width=" 100%" height="166″ iframe="true" /]

Follow Sounds and Colours: Facebook / Twitter / Instagram / Mixcloud / Soundcloud / Bandcamp

Subscribe to the Sounds and Colours Newsletter for regular updates, news and competitions bringing the best of Latin American culture direct to your Inbox.
Share: