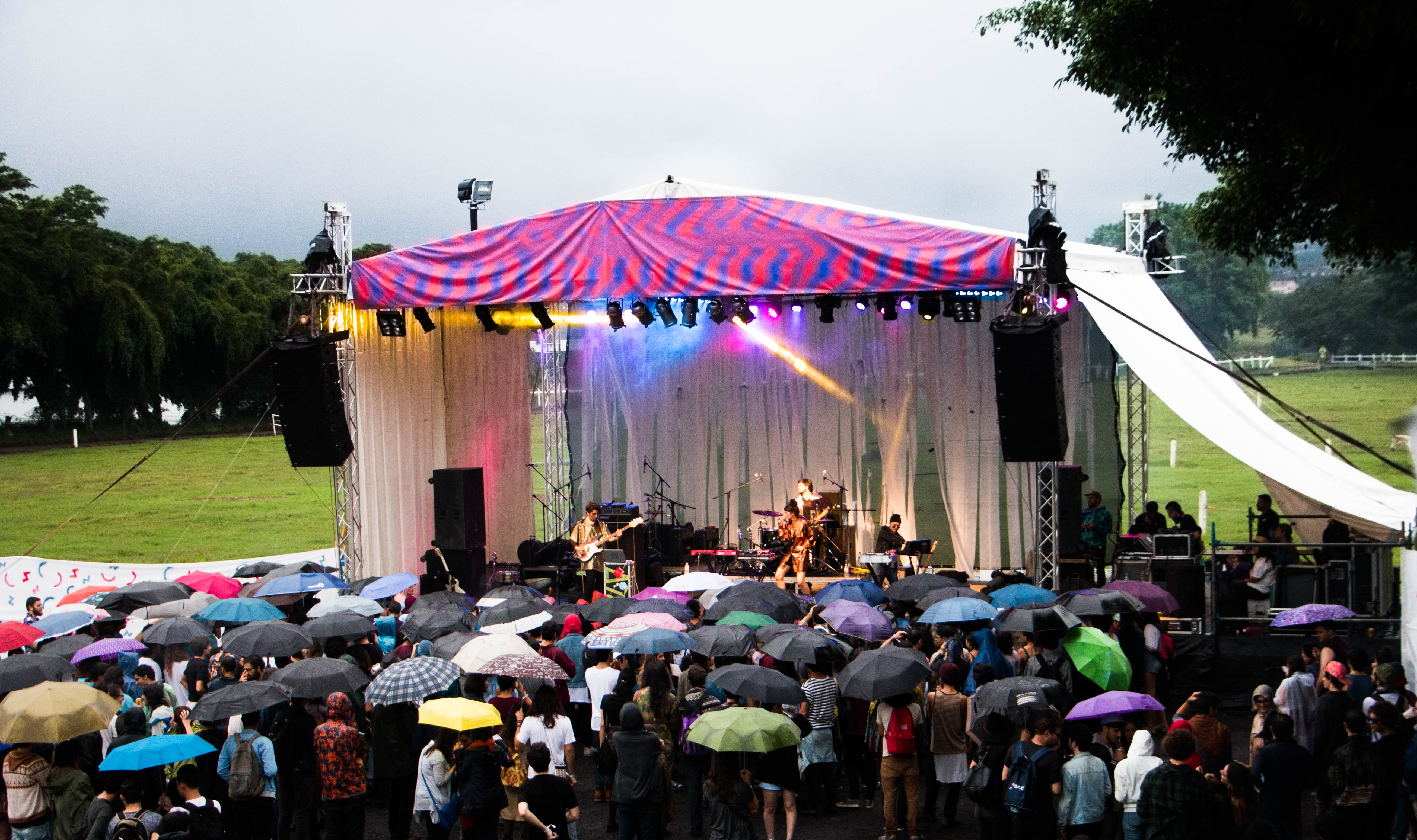 Phoebe Smolin
Nrmal Costa Rica Recap: Worth Getting Drenched For
04 December, 2015
Festival Nrmal started on a battleground. In 2010, when drug violence in Monterrey, Mexico was heightening, it wasn't exactly a vacation destination. Instead of giving into the overwhelming fear and a cacophony of gunshots, Pablo Martinez founded Festival Nrmal in hope that the world would see that Monterrey has a beauty behind the ugly headlines. That same year, legendary New York promoter and DIY space curator Todd P started a competing festival called MTY MX for similar reasons (though from a different perspective). Both festivals struggled. The two joined forces the following year, drawing in buzzy US acts and pairing them with bands from all over the Spanish-speaking world. Todd P has been quoted as saying there was a 'Special Urgency' to the festival. Then, the urgency was Monterrey-specific. Now, the urgency is broader but ever-present in a world that too frequently equates looking South with looking down. A couple of weeks ago, Nrmal met San Jose, Costa Rica in its latest incarnation and the result was electric, amazing and more insightful than ever.
The idea of an international festival in Costa Rica was initially confusing. The place is known more for its bad beachside bachata, Pura Vida lifestyle and howler monkeys than rock 'n' roll. After last Saturday at Nrma, it made total sense. After all, Nrmal began somewhere that was kicked off the cultural map for other, very different reasons. What brought Nrmal to San Jose was a just-over-a-year-old organization called Epicentro, which is a platform for creating dialogue in the Latin American music scene, and also placing Costa Rica within it. After spending the week before the festival in San Jose, it became clear that the city is electric with its own DIY music scene (some popular acts being Las Robertas, Ave Negra, Monte) and it's beautiful, strange, and as loud as the rest of them.
On Saturday November 21st 2015, nearing the end of the rainy season (though definitely still in it) Centro de Eventos Pedregal – an expansive plot of land outside of San Jose, Costa Rica – was studded in different incarnations of red, white and blue (the event's official colours, and not coincidentally, the colours of the Costa Rican flag), scattered with dancing umbrellas, bathed in sounds that varied from textural electronic to Andean pop, and scented in horse crap and pupusas. Though it felt much more like a backyard party than a festival, Nrmal Costa Rica glittered with a spectacularly varied lineup and a happy, enthusiastic and soaking-wet crowd.
The day began on the main stage with Algodon Egipcio (aka Cheky—formerly of Jovenes y Sexys, see photo below), the electronic artist from Venezuela currently based in Mexico City. The crowd was tiny at that point (1:15 is early on a Saturday), but his performance was enough to make people want to lay down and make mud-angels. His on-stage energy was luminescent, his melodies and textures impeccable, innovative, and deep, and bonus points for the adorable dance moves threaded throughout the performance. We spoke to him after and he mentioned that an album would be dropping next year — keep your ears peeled.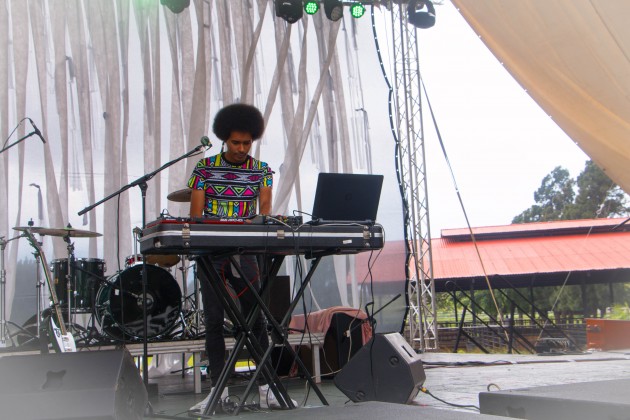 The sky grew greyer and the main stage became home to two local bands. The first was Hijos, the project of the ex-lead singer of Florian Droids. It was later revealed that it was their debut performance. The other local band to grace (well, that might not be the most appropriate word for them) the main stage was aUTOPerro, a cult band that has been around for over 30 years. Though not something to play while cooking breakfast, they were entirely captivating and accompanied the apocalyptic looking sky perfectly, playing literal machinery and dissonant guitars over laptop loops.
All the while, there were intermittent performances-turned-dance parties in what looked like a space igloo down the way. Performers included The Wiesenground Project, Raido, and AAAA, and the 'Domo' was sporadically packed with people hiding from the storm.
The ever-captivating Buscabulla graced the festival's presence from New York dressed in sparkles and played crowd-favorites and suave salsa covers as wonderfully as ever, and were also grateful for the brave crowd that withstood the rain 'Gracias por mojarse con nosotros!' they yelled, as the crowd of eager umbrella-holders only grew.
Helado Negro (see photo below), the Ecuadorian New Yorker with impressive hair was up next. The legendary Sasha Frere Jones recently described him as a "self-contained diaspora" (which is something you could also say about Nrmal itself). He played some recent favourites, including "Young Latin and Proud," which propelled the crowd into roaring cheers (it was a song that many there could relate to). His electronic-tinged crooning had the crowd entranced. He of course brought his recognizable dancing friends with him who we overheard The Sonics' tour manager describe as—'Cousin It gone disco'. Helado Negro, who started playing during yet another downpour, is emblematic of what Nrmal is all about — he is tons of things at once — borderless.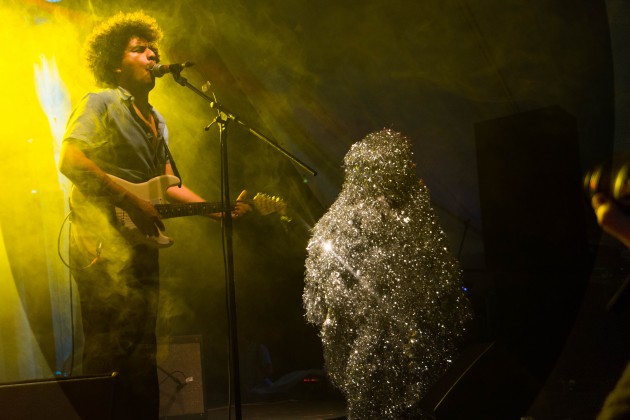 It took some patience, but when The Sonics hit the stage, the time it took to wait for them was forgotten. The energy in the crowd was at its peak — The Sonics don't mess around. Playing favourites like "Louie Louie" and "Have Love Will Travel" along with songs off of their recent release, the band made grey hair seem irrelevant. They are a punk rock time machine, and haven't lost a single beat since they started in the 1960s. Some would wonder what in the world The Sonics were doing at a festival in Costa Rica amongst a bunch of Latin acts, but if you know Nrmal, there's no confusion. It's music that has inspired Nirvana, Springsteen and tons of us still figuring out chord progressions in our garages despite the language the songs come out in. The Sonics playing was not a chance meeting of the worlds, rather, the evolution of one… and it rocked.
The night came to an early end with none other than Gepe (see photo below), the Chilean pop phenomenon that puts on one of the most intriguing live shows we've ever seen (we recently caught him in New York at the LAMC and were stunned). His signature combination of infectious pop melodies and Andean instrumentals rang true on the recently dry main stage. He played some old favorites like 'Fruta y Té' and 'Alfabeto' and some of his newer, Pop-heavy songs. Though we admittedly missed the dancers this time around, the show was equally intriguing—from his emotive drumming, to his captivating charango/guitar/everything player to his banter, Gepe proved that it's only up from here for him—and we can't wait to see where he goes.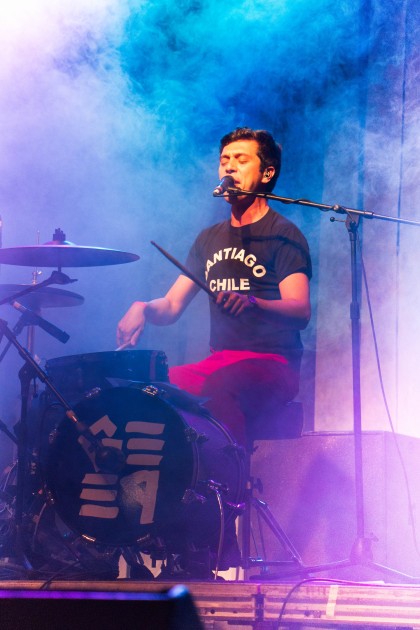 It didn't really feel like the end. It was early, we were all recently dry, and wanted there to be more, but there wasn't. This kind of hesitant uncertainty was present in other hiccups throughout the organizational process. For one, the ticketing process was strange and confusing for some. Of course, it's a free festival, which is beyond incredible, but tickets were given away on a lottery system that was a bit frustrating. Another thing that confused some of the more hardcore nerds was the fact that a few were led to believe there would be a conference-like precursor, which is what happened last year (Epicentro's first). It was also advertised online, and some were looking forward to it! We understand, it's a new partnership, and it takes time to get used to each other, and we hope that the hiccups will be smoothed out next year.
Nrmal Costa Rica felt urgent and necessary in ways we didn't anticipate. In a time when borders are spotlighted for being the floodgates of terror, it is easier to scare people away from them more than ever. Nrmal confronts these stigmas through accessible multilingual music. It emphasizes the idea of the crossover (both geographically and musically) in order to destroy it. Nrmal+Epicentro Costa Rica gathered a small (but big enough) group of people in a beautiful place not known for being a cultural hotbed, and made them dance wildly in the rain to Andean pop, obscure electronica, and 60s punk for eight hours. By the end of the day, we all felt like a soaking wet family, not quite sure what just happened, but sure that it needs to happen over and over again.
All photos by Phoebe Smolin

Follow Sounds and Colours: Facebook / Twitter / Instagram / Mixcloud / Soundcloud / Bandcamp

Subscribe to the Sounds and Colours Newsletter for regular updates, news and competitions bringing the best of Latin American culture direct to your Inbox.
Share: