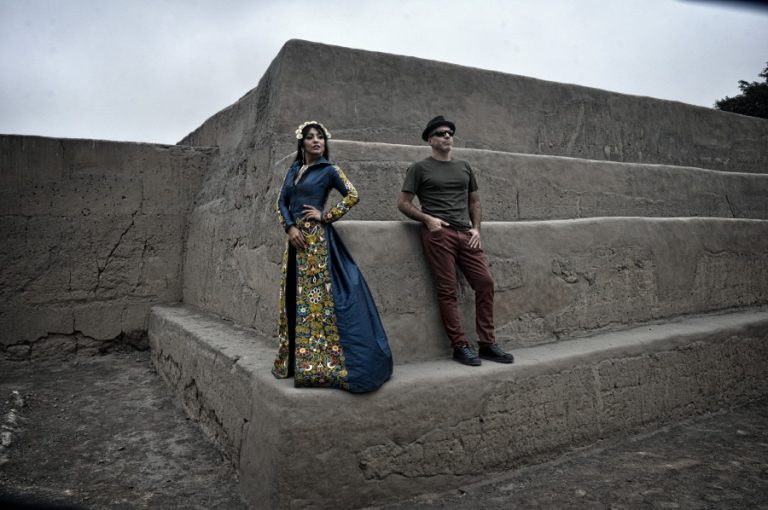 On Our Radar (Ava Rocha, Punku, Bostich, Tapioca, Buh Records, Phuyu y la Fantasma and more)
21 February, 2022
It's your usual eclectic mix of Latin American music here, starting with a new addition to the Brazilian carnival repertoire, and passing through US-Mexico border music, Yma Sumac-aping folktronica, Brazilian-Belgian smooth jazz, math rock meets Violeta Parra, alluring Peruvian electro-acoustic compositions, and much more besides.
---
Ava Rocha feat. Saskia and Iara Rennó "Papais Panacas"
If carnival hadn't been suspended it would have begun the weekend just gone, and this is Ava Rocha's contribution to the carnival canon, "Papais Panacas". In the press release's words: "the track alludes to the spirit that until some time ago dominated carnival: ironic lyrics, social contestation, loaded with jokes, debauchery and eroticism". With a title that translates as "Stupid Fathers" (or perhaps even more strongly, "Asshole Dads"), the song has as its target men who don't feel the responsibility to care for their children, leaving the mother to take care of those duties, their role in the conception seemingly being the end of their contribution. It's a stinging criticism of machismo in Brazil, and particularly male stereotypes perpetuated by President Bolsonaro. For the track, which has hints of carnival marchinhas and funk carioca, as well as hip-hop and kuduro, Rocha shares vocals with Saskia and Iara Rennó, and has Jonas Sá, Bella and Thiago Nassif on production duties.
---
Punku "Ancestral"
Novalima's Grimaldo del Solar has teamed up with fellow Peruvian Sylvia Falcón for a new project called Punku [pictured at the top], and this is their debut release. It's ephemeral stuff, led by Falcón's Yma Sumac-esque voice, with just sparse percussion and bass hits that seem to linger for an age. We can definitely put this in the Latin downtempo basket, but there's something else going on here too, Falcón's voice reaching for a higher plain. It's an hypnotic, tantalising first taster of their new creation.
---
Ramón 'Bostich' Amezcua "More Joy"
Okay, so this track was produced as part of a project called MXTX, a cross border exchange between artists on both sides of the US-Mexico border. Co-commissioned by Ballroom Marfa and Golden Hornet, there is a long story and remit to this project which I won't go into here (you can read about it here if you're interested) but essentially this track from Ramón Amezcua, better known as Bostich from the Nortec Collective's Bostich+Fussible, is a bonus track from the project. Which bodes very well for the project proper as this is an alluring beast indeed. It's a driving, dramatic sound, filmic even, with strings that stab at you, but also swoon from time to time, as well as accordion and a thumping beat. To my ears, it's akin to a Mexican Bajofondo.
---
Tapioca "Move On"
Soulful jazz here from the Belgian duo that seamlessly moves between English and Portuguese. The group's vocalist Le Tagarel is of Brazilian origin, and it's clear that the sound, and the whole ethos of this project, is informed by his Brazilian identity, as well as the many travels he's had to Brazil. That said, there's also something very different going on here too, a sound that I've personally not heard in Brazil. This one breezes by, and I just love the vocals.
---
Various – Mensajes del Agua: Nuevos Sonidos Desde Perú Vol 1
Peruvian label Buh Recordings are on fire these days, issuing countless new releases of daring Peruvian music, alongside reissues that have recently documented folk music from the Peruvian Amazon, and have ventured further afield, with them today announcing a compilation of music by the pioneering Ecuadorian composer Mesías Maiguashca. As always, they offer a look into a lesser-known corner of Latin American music, which is something they also do on this compilation. Mensajes del Agua, brings together new electro-acoustic and ambient electronica from Peru. It's a genre of music that sometimes fills me with dread (as the sound of static clicks or close mic'd plant life is certainly an acquired taste), but this one really surprised me. There are some great songs here, Ayver's "Reconciliación con la vida" fighting through a fractured rhythm until all that is left is just the sound of glorious strings and what sounds like acres of space, S O A R E R's "Causa y efecto" building through a perky synth not unlike peak FSOL chill out, and grave for amanda offering an atmospheric palette cleanser at the death. It's an excellently curated compilation of some of Peru's most adventurous composers.
---
Phuyu y la Fantasma – Anticuecas Subterráneas
There is something math rock, and also folk about Phuyu y la Fantasma's latest album, Anticuecas Subterráneas, songs like "Coloñal" that fluctuate between enthused guitar riffing and passages of tuneful guitar strumming. The group themselves describe the aim as infusing the vanguard folk spirit of Violeta Parra with the sound of a rock band, which sounds about right. It's an album I'm still getting my head around, and one that definitely invokes a reaction.
---
Jennifer Souza "Amanhecer"
I'm going to close this out with something very gentle. 180g are releasing Jennifer Souza's Pacífica Pedra Branca album on vinyl, and this is one of the first tracks they've released. It's a gentle acoustic track with guitar, piano and minimal shuffling drums, allowing Souza's voice to take free rein, especially on the wordless chorus. This was produced by Leonardo Marques at his Ilha Do Corvo studios, making this a fine accompaniment to 180g's other recent release, Leonardo Marques presents Ilha Do Corvo Sounds Volume I.
---
More New Music
Check out our Spotify Best New Music playlist for even more new music from across Latin America and its diaspora:

Follow Sounds and Colours: Facebook / Twitter / Instagram / Mixcloud / Soundcloud / Bandcamp

Subscribe to the Sounds and Colours Newsletter for regular updates, news and competitions bringing the best of Latin American culture direct to your Inbox.
Share: