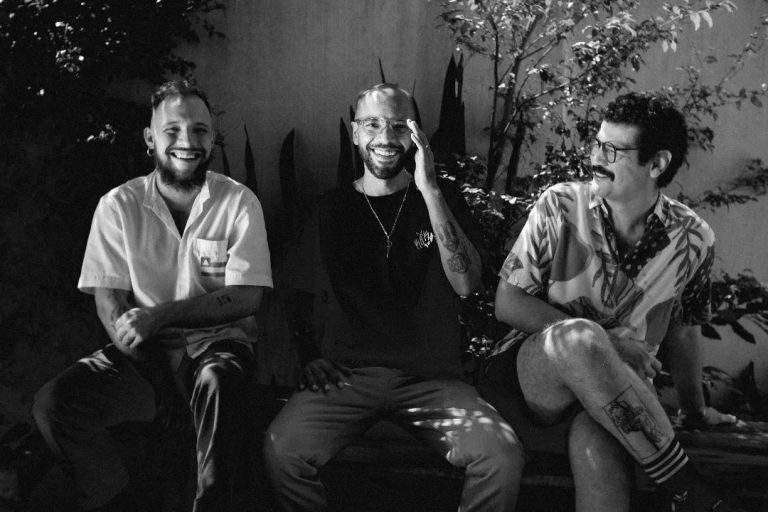 On Our Radar (Julianna & Matias Aguayo, Chicos Muy Ricos, TOB TOB, Rabo de Galo & Ubunto, and Pleura)
04 February, 2022
Time for another update I think, and it's heartening to see Cómeme come back to life with new releases to grace reawakening dance floors, as well as the results of those who have been driven underground by the pandemic, the new Colombian project TOB TOB, as well as Brazil's Rabo de Galo & Ubunto, emerging from the last two years with plenty of music to show for themselves. Remember, if you like what you hear, head to the bottom to find our regularly-updated Best New Music playlist.
---
Pleura "Pequeño Tirano"
I have to admit to feeling some trepidation when I see the words "noise rock" connected with any band. Too often it seems like it's the noise element that takes precedent, papering over the deficiencies of the band in coming up with anything compelling. Thankfully Colombia's Pleura don't fall prey to this ill, maintaining its skronky riff throughout, while the sax blows and 8-bit synths dial for assistance, but then this is the least you'd expect from a group containing stalwarts of Bogotá's jazz and experimental rock scenes.
---
Julianna & Matias Aguayo – Que Si El Mundo
The label Cómeme was born out of club music scenes in Berlin, Mexico City and other global outposts, so it seemed only right that they took some time off during the pandemic. After all, what is club music without the club? The good news is that they're back with a synthy thud and a hell of a lot of sub-bass. Their first post-lockdown release is this gem from Medellín's DJ Julianna and label co-founder Matias Aguayo. It's a shuddery delight, both unsettling and euphoric, with deep bass lines and even deeper kicks accented by misfiring synth lines. The best track is the one they've featured themselves on Bandcamp, the final salvo "Micelio", which has the intensity and dark foreboding of a John Carpenter or Moroder soundtrack. NB: Aguayo has also joined forces with Buenos Aires' DJs Pareja for a new project called MDM Factory which will release an EP on February 25, and appears to be tilted more to the floor.
---
Chicos Muy Ricos "El Principe"
Thomas Von Party, the man behind the excellent Multi Culti label, renowned Montreal club Datcha (which I've admittedly never been to), and a group that I think needs far more attention, Salsa Fingers, has got together with Guatemala's Fabio Me Llaman Soltero for a new project called Chicos Muy Ricos, and this is the first single off their debut EP, due February 18. It's the kind of production that Von Party seems to excel at, a union between repetitive European club music and the nuances and absurdities of Latin American party music, almost playing out like a pastiche but also well aware that this is damn fine music in its own right, even if you don't get the references.
---
TOB TOB – Remando EP
This is another new project, this time bringing together Dragao and Richard Arnedo, two mainstays of Colombia's neo-tropical music scene as members of Papaya Republik and La Makina del Karibe respectively. This is in-your-face dance music in the best possible way, the opening "Delirio en Caseta" highlighting those champeta guitar licks that were such a big part of the La Makina del Karibe sound, but anchoring them with one hefty kick drum, vocal interspersions giving that sense of a picó sound system at full tilt. "Oshun en Turbakistán" continues La Makina del Karibe's habit of creating fictional worlds while offering a marímbula sound that can't help but reference Konono No. 1. Final track "Palenquess" is the most subtle of the lot, giving itself more time to flex its muscles. This is Saturday night music.
---
Rabo de Galo & Ubunto – Ainda Atrás do Pôr do Sol
This is a homage to a classic of Brazilian reggae, Lazzo's 1988 album Atrás Do Por Do Sol. Re-recorded by the duo of Rabo de Galo together with Ubunto, as well as illustrious vocalists such as Anelis Assumpção, Luedji Luna, Larissa Luz and Josyara, this is a beautiful thing, one of those tributes that actually builds on the source material. It took them three years to make this record and it shows, there's a lot of care and love put in to the production, which retains those classic sunshine melodies and rhythms of the original, but gives the whole thing a deeper end, a more delicate balance between instruments and vocals, and ultimately gives the whole thing a little grit. These songs will dig their way into your soul.
---
Best New Music Playlist
Like what you hear? Tune in to our Best New Music playlist, featuring these songs as well as many more from Latin America and its diaspora, all regularly updated to make sure you're never out of the loop.

Follow Sounds and Colours: Facebook / Twitter / Instagram / Mixcloud / Soundcloud / Bandcamp

Subscribe to the Sounds and Colours Newsletter for regular updates, news and competitions bringing the best of Latin American culture direct to your Inbox.
Share: