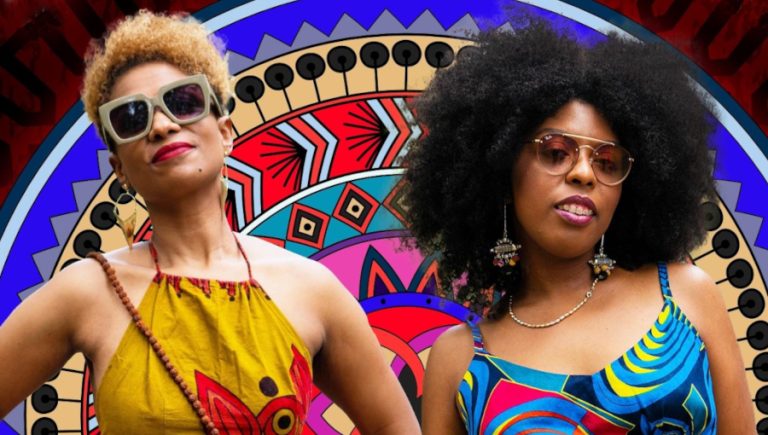 On Our Radar: Sofia Kourtesis with Manu Chao, Pamelloza, Isaac Sasson, Lenna Bahule and Hanuna
25 January, 2022
There's been a real mix of tunes released so far this year, with Isaac Sasson's gentle Venezuelan folk album Canciones de Isaac seeing the light of day, Sofia Kourtesis following an excellent 2020 EP with a new, very danceable single featuring Manu Chao, and artists like Lenna Bahule, Hanuna and Pamelloza all offering us plenty to get excited about, whether you're into Brazilian afrobeat, Peruvian downtempo or vocal and percussion-led Afro spirituals.
---
Sofia Kourtesis feat. Manu Chao "Estación Esperanza"
It's no exaggeration to say that Sofia Kourtesis' debut EP, Fresia Magdalena, was one of the releases we got most excited about last year. It was a beguiling release with club tunes filled with personality, percussive beats that seemed to build and build while Kourtesis' voice and choice of samples gave off emotion and a sense of place. This continues with her new single, "Estación Esperanza" that also happens to feature Manu Chao. Here's Sofia to give you the lowdown on this one:
"'Estación Esperanza' is all about hope. I'm hopeful my mother will get better, I'm hopeful the world will begin to heal, I'm hopeful this song will bring you light on dark days. I first wrote this song after listening to Manu Chao. To me Manu Chao has always represented hope, his lyrics were like a bible to me growing up. This song is for him, my mother and all those activists working hard to make this world better… never lose hope!"

Sofia Kourtesis
NB: Sofia is on a European tour beginning January 25th, with dates in the UK, Belgium, Luxembourg, Switzerland, Austria, Slovakia, Poland, France, Germany, Czech Republic, Netherlands and Spain.
---
Pamelloza feat. Regiane Cordeiro "Poder da Música Preta"
The energy of this is something else. It's the new single from São Paulo vocalist Pamelloza, teaming up with fellow singer Regiane Cordeiro, and its message is clear, this is a song about the power of black music ("poder da música preta"), all set to a double-speed afrobeat rhythm. Kick-ass bass, horns and those two lead vocals all transpire to take this one into orbit.
---
Isaac Sasson "Río Manzanares"
This is off Canciones de Isaac, the debut album of Venezuelan singer and multi-instrumentalist Isaac Sasson, which has just been released on vinyl and digital by Olindo Records. Following on from Pamelloza it couldn't be any different, a gentle folk song with Sasson singing over both charanga and cuatro. The album follows suit; it's a collection of quaint songs, whose melodies grow on you with every listen.
---
Lenna Bahule "Eu Quero Ser"
I first heard Lenna Bahule singing with Mateus Aleluia, and her music continues some of Aleluia's Afro-Brazilian themes, albeit in very different fashion. Originally from Mozambique but now based in São Paulo, this one is led by hand claps, Bahule's largely wordless vocals and a choir of other voices, the intricacies of their harmonies amounting to something very special indeed.
---
Hanuna – Barro EP
Hanuna appears to be the new alter ego of Hankel Bellido, an artist I know best for releasing a couple of albums of Andean field recordings a couple of years back. This new EP stems from the same sources but shows his prowess as a producer. Opening track "Caminito" is a beatific dub-lite harp and violin piece, while a remix of "Rimski" by Peruvian cumbia originals Los Siderals, made together with Lascivio Bohemia, is a fine slice of psychedelicized electronic cumbia.
---
Best New Music Playlist
Like what you hear? Tune in to our Best New Music playlist, featuring these songs as well as many more from Latin America and its diaspora, all regularly updated to make sure you're never out of the loop.

Follow Sounds and Colours: Facebook / Twitter / Instagram / Mixcloud / Soundcloud / Bandcamp

Subscribe to the Sounds and Colours Newsletter for regular updates, news and competitions bringing the best of Latin American culture direct to your Inbox.
Share: