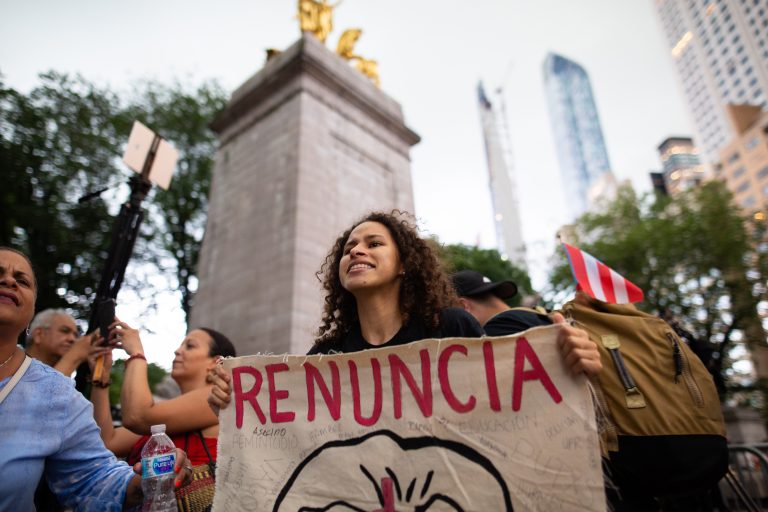 On our radar: the Boricua edition, 'Puerto Rico se levanta'
31 July, 2019
If you noticed #RickyRenuncia trending on social media platforms throughout the last couple of weeks and wondered what it was about, know that the protests behind the hashtag resulted in Puerto Rico's embattled Gov. Ricardo A. Rosselló agreeing to step down come the 2nd of August.
The nearly two weeks of vociferous protest, which you can get some context on here via the Why Is This Happening? podcast, also thrust artists and celebrities with Puerto Rican roots into the spotlight. Singers Ricky Martin and iLe, "Hamilton" playwright Lin-Manuel Miranda, and Puerto Rican rappers Bad Bunny, Residente, and Daddy Yankee, all joined the call for Rosselló's resignation at marches, and on their social media platforms.
Puerto Rican classics such as "Preciosa" by Daniel Santos were sang by the masses throughout the many marches.
A song by Bad Bunny with Residente and iLe, "Afilando Los Cuchillos," ("Sharpening the Knives"), became somewhat of an anthem during the ongoing movement.
As the future of Puerto Rico is still unclear, we wanted to put together our own list of songs by artists of Puerto Rican descent, most independent, as a dedication to all of those fighting the good fights for a better future for 'la isla de el encanto.' As they've been saying for inspiration since Hurricane Maria: Puerto Rico se levanta, and we're seeing them 'get up' in real time.
New Jersey/LA: BRBN, 'Yo soy'
Born in the Bronx, raised in Hudson County, New Jersey, and now based in Los Angeles, BRBN (pronounced bourbon) says she's inspired by classic artists such as Johnny Cash, Bob Marley, and Billie Holiday.
Her track "Yo Soy" is a Boricua anthem inspired by the aftermath of Hurricane Maria and the resilience of the Puerto Rican people, she says. It's hook, "Yo soy boricua. Yo te amo, Puerto Rico! (I'm boricua, I love you, Puerto Rico!)" fits in nicely with #RickyRenuncia as the people of the island demand new leadership.
Puerto Rico: Sebastián Otero, 'Bomba de Tiempo'
Violinist, rapper, singer-songwriter and producer Sebastián Otero landed on our radar during the Latin Alternative Music Conference (LAMC), as he performed at BMI's "Verano Alternativo" showcase.
The 23-year-old took to the stage accompanied by a full band. His performance flowed across various rhythmic elements ranging from rap to melancholic jazz beats. Otero spends most of his days in Rhode Island, but frequents his island of birth often.
The song below, which he recorded along with rapper Brandon Cores, was written specifically for #RickyRenuncia:
Es el momento, nuestro tiempo llegó
pa' ti cabrón y tó tu escuadrón
pa' la Junta de Control Fiscal
pa' los que meten el pie:
"put the finger up".
New York/Puerto Rico/Kansas City: Frankie Negron & Making Movies, 'Patria'
The song was written by Panamanian born Rubén Blades, and in this version, performed by Panamanian/Mexican-American band Making Movies, but it is vocalized beautifully by their longtime friend, Newark, NJ-born boricua salsero, Frankie Negron.
The collaboration is an ode to what binds many Latin Americans together: patria (our homelands), which Making Movies says provide us all "a sense of identity, and that is a beautiful thing."
"Patria es un sentimiento
en la mirada de un viejo
Sol de eterna primavera
risa de hermanita nueva
Te contesto, hermanito:
Patria son tantas cosas bellas"
Puerto Rico: Los Rivera Destino, 'Se llamaba Ricardo'
Puerto Rico's Los Rivera Destino, one of three "Discovery Award" winners from this year's LAMC, are known for their comical take on contemporary rock and hip hop music. Carlos Figueroa, Antonio Sanchez, and Fernando Tarrazo surely recorded a song about soon-to-be former Gov. Rosselló, with the hilarious "Se Llamaba Ricardo."
In the YouTube description, they are quite frank:
This next message is for you Mr. Ricardo Rossello. Here are a list of some things we want:
Take a vacation forever.
Hopefully you are chosen for the first expedition to Mars.
Go do a study of stem cells at the bottom of the sea.
We hope you swim in a tear gas pool, even if it's impossible.
Resign.
New York: Anthony Ramos, 'Dear Diary'
Brooklyn-born singer-songwriter and actor (he starred in the original production of the Broadway hit show, Hamilton) Anthony Ramos makes his Republic Records debut with the release of "Dear Diary." A heartening confessional, "Dear Diary" is about his journey to find and make a name for himself, addressing his family and friends with refreshingly honest and revealing verses.
"'Dear Diary' is my letter to home," he says. I'm saying, 'I love you guys, but I have to go for a second'. It was pretty painful. I'm talking about some tough moments with my dad. The bridge is going through all of the friends I had as a kid in the park. It's all of the things I love and know that have made me who I am. I'm leaving all of it behind."
NYC/Connecticut: Joata feat. Ceschi, 'Born in the City (Struve)'
Joata's "Born in the City" is a pop number with heartfelt lyrics, which is very much in line with Ramos' "Dear Diary" above.
Joata is the moniker for indie singer Jose Oyola, who blends hip hop and indie rock with Caribbean rhythms and writes anthemic bilingual songs about love, outer space and the homesickness of being part of the Puerto Rican diaspora.
The track is an ode to his city of Hartford, Connecticut, where the singer got his beginnings as a young, hard-working kid in the suburbs, bagging groceries at the local supermarket, getting music from the barbershop, and hearing "cuidado por ahí" warnings from his mother. It follows him through his move to New Haven in his early 20's and later through his move to Brooklyn to pursue his artistic career. "Born in the City (Struve)," also features rapper Ceschi, rapping and reminiscing about his own time growing up in the city as well.

Follow Sounds and Colours: Facebook / Twitter / Instagram / Mixcloud / Soundcloud / Bandcamp

Subscribe to the Sounds and Colours Newsletter for regular updates, news and competitions bringing the best of Latin American culture direct to your Inbox.
Share: