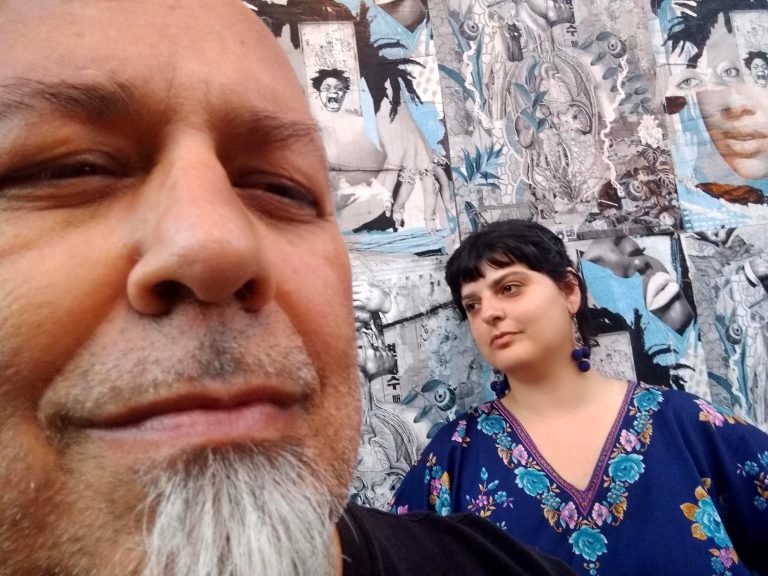 On The Margins – Brazilian Music Round-Up (Alex Antunes, VHOOR, Deekapz, Cadu Tenório, Felinto, Africanoise and more)
10 February, 2022
Hi! Welcome back to the column that separates the listenable wheat from the experimental chaff. A mixture herein of some releases that came to my attention from late last year and some brand new bits and pieces. So, how about some punk funk, cheesy brega, old school baile funk and screaming power electronics?
---
Alex Antunes & Death Disco Machine – S/T (Ultra Gash Records)
Alex Antunes is a fascinating character in São Paulo counter-culture. He was one of the leading lights in the new Brazilian rock journalism that came about in the mid-80s, much of it working for Bizz magazine, which contained the cream of musical and literary new wave talent. At the time he was also the lead singer of Akira S e as Garotas que Erraram, an idiosyncratic post-punk group with their mix of A Certain Ratio and samba, whose only album is due for re-release this year. Add to this his work as an author with his alter ego Lex Lilith, primarily the creation of ayahuascan fever dream Estrategica de Lilith. 
And now this collaboration with Death Disco Machine includes an unbelievably credible line of underground names: Fausto Fawcett, Sandra Coutinho (Mercenárias), Kodiak Bachine (Agentss), Fabio Golfetti (Gong, Violeta de Outono), Portuguese singer Ana Deus, Truus de Groot and Miguel Barella (both from Blue Beast), Jorge Pescara (Zero), and his old partner Akira S among others. 
What is served up is a cross between spoken word, fragmented electronics, post-punk, jazz and other ingredients. I see this as an updated version and continuation of Antunes' work with Akira S and their eponymous 1987 album. You get funky post punk bass, disco loops, buzzing electronics, orchestral samples and Antunes inspired and pungent lyrics. 
It's a lot to take in, a dense piece of work that has been painstakingly stitched together with all kinds of detailed sounds that tickle your ear. There's jazz fusion lounge lizardry with the florid tale that Antunes weaves in "Esse Estranho Input de Poder Estranho", the aforementioned driving disco of almost hit "Foder Gente Esquisita", and the inevitable bass-driven post punk with wailing sax of "Unfaithful M." The label has released a nicely packaged CD but a mega-luxury edition is now available with CD, T-shirt, poster, zine etc. This month's definite recommendation.
---
FBC & VHOOR – Baile
Funk from Mina Gerais, and specifically from the capital Belo Horizonte, has really come into its own in recent years. Rapper FBC, who has delved into rap, trap and drill, appeared on the Djonga album Heresia from 2017 which had a great cover cheekily referencing the Minas classic Clube de Esquina. 
Beatmaker Vhoor lays on the Miami bass, electro and freestyle to full effect so that his 80s stabs and melodies accompany the rattling 808 programmed beats, occasionally looping in the original tamborzão break of old school baile funk. There's a definite narrative arc as the tracks describe the essential elements of a good night out, the flirting, the right kind of clothes, the characters and inevitably with the periferia, the police violence. The baile is projected as a vital social space, acting as an escape valve from social pressures. Specifically, the Vilarinho baile plays an important role in the story of funk mineiro: FBC frequented the parties and Vhoor's family even worked in front of the venue. Founded in 1982, this baile in the North Zone of BH was one of the main stages of Minas Gerais funk. Located in the neighbourhood of Venda Grande, the blocks of Vilarinho, which are immortalized in the songs of rapper FBC, was a space that brought together different generations of black and peripheral music from BH. This album can be seen as a tribute to the power of those parties, its a real wave your arms in the air vibes and there's an instrumental version that's just been released if you fancy freestyling over the top, highly recommended.
---
Deekapz – Super Funk (Selva Discos)
DJ Trepanado is still keeping the Selvagem party spirit alive, even after moving to mainland Europe. Selva Discos is the party-affiliated label he runs and their latest release is an EP of super powered 80s flava baile funk, with touches of house very much in sync with the FBC & Vhoor album above. The references are from the cusp of the 80s turning into the 90s, when funk producers like Ratinho, Amazing Clay, Grand Master Raphael, Mad Zoo, and DJ Raffa were making early Brazilian electronic funk music. The duo Matheus and Paulo of Deekapz explore this fusion while also attempting to promote a revival of national freestyle. The result is an excellent, highly melodic, nostalgia fest, but also doing something new with the genre as well.
"Aquecimento Selvagem'' pays homage to Brazilian pirate radio and their classic soundsystem shoutouts. The lead single, "Lei do Baile", is the standout track, an absolute dance floor pounder with Todd Terry stabs and an irresistible superfat bassline.
"Lado B" is a gritty, stripped-down street soul track that plays with a twanging sample with some classic Brazilian comedy inserts. Closer is "Melô da Flauta", a mid-tempo late 80s electro homage both to Paul Hardcastle and DJ Amazing Clay. This is reconfiguring the past with an eye to the future.
---
Various Artists – Embrazado Hits (Portal Embrazado)
Portal Embrazado, launched in 2020 through the Petrobras Cultural Program, is an absolutely essential platform dedicated to mapping and disseminating peripheral music throughout Brazil, giving it the respect it deserves, writing about it and discussing it in an intelligent manner. The proposal is to be at once accessible and to encourage the exchange of artists and aesthetic experiences among peripheral communities throughout Brazil.
This is their first collection of the types of music they promote and brings together 10 tracks, 5 of which are unreleased remixes created from exchanges between artists from the cities of Belém (PA), Recife (PE), Belo Horizonte (MG), Salvador (BA) and Rio de Janeiro (RJ).
The collection is their way to connect artists from scenes that at first seem distant, but that really have been connected for years. This is perceived through the influence that these artists have, in the way they produce, in their aesthetics, and in their creative processes.
It's an engaging collection of short sharp tunes and worth diving into to hear current marginal musics from around Brazil. You get a lot of bang for your buck: rap from Pará with Íra MC, baile funk remixed by Iasmim Turbininha, catchy romantic brega remixed by DJ Méury, and Brazilian grime (brime) from N.I.N.A. All of it is very accessible with a clear pop sensibility, made for an all-inclusive dancefloor near you.
---
Africanoise – 4 de Dezembro (40% Foda/Maneirissimo)
Techno with Brazilian percussion and beats, a partnership absolutely waiting to happen, had a moment in the early noughties and, for example, was done to middling effect by reigning DJ king at that time DJ Mau Mau and his M4J project. The album, Folklore Nuts, was an earnest attempt to create a Brazilian electronic music using elements of folk musics such as baião and forró and dancefloor based techno. It was quite different to Mau Mau's normal pounding techno dancefloor sets and should have garnered more attention at the time.
But zip forward to the current day and Africanoise is Renato Junior, drummer, percussionist, sound engineer and producer, with years of experience in both Bahia and Rio playing in and producing axé, pop, and indie bands. This double CD is a far more successful attempt at merging the complexity of Brazilian percussion with electronics and what we can define as techno. It also works as a (very long) album. It opens with the new ageish "Orvalho", a gentle introduction to what's to come. "Cantigo" is the highlight for me, deep synth thuds start by pounding out the rhythm which gradually leads us into a candomblé session, one that's held in a sweaty basement rave, while a wailing voice leads us through the thick dry ice. As the album progresses some tracks find themselves in firm Berlin techno territory, and less interesting for it, but the album works best when the complex percussion binds perfectly with the electronic sub bass and the heritage of the iorabás people mixes with electronic modernity. The double CD is available from Bandcamp for a mere $5, so you can't lose.
---
Felinto – Não Tem Volta (Bokeh Versions)
Felinto, synths, partners up with singer, multi-instrumentalist and music producer Eddu Ferreira (Cosmogun) and drummer, music producer and multi-instrumentalist M. Takara (São Paulo Underground, Rakta, Hurtmold) for this long meditative zoned out piece.
The album is an effort to raise funds to help the Guarani indigenous people, specifically in the village located in Pico do Jaraguá in São Paulo, which has been suffering systematic attacks by the State, the police and of real estate speculation shareholders leading to the loss of a part of the reserve's territory. 
Set yourself aside half an hour with no distractions and let this play, it starts really (really) quietly and gradually enters your (un)consciousness with its drones, percussive taps and wailing voices aligning itself with a dreamlike state and then lets you down gently at the end with its chorus of treated voices.
There's a good-looking cassette available, a trippy meditative video album created by Douglas Leal (Deafkids), and a flag created by the artist Mariana Serri.
---
Various Artists – Prá Quem Sabe As Coisas (Discos Nada)
Discos Nada continue to re-release very obscure Brazilian finds, things it seems that no one was really asking for but they've managed to somehow find them anyway.
This, for example, I've never heard of before and was quite curious to what it was about, even wondering if it had been invented. It's not unknown that a mysteriously obscure record is wanted in the classified ads of collector magazines and then magically appears a few months later automatically valued at a high price tag.
Not that I'm accusing Discos Nada of this, far from it, they are mining a seam of extremely rare records that are impossible to find and releasing them in beautifully packaged luxury editions. Who knew the world needed demos of old school São Paulo punk bands, or multicoloured editions of early Ratos de Porão albums, but there you go (I'm half mocking, but these things sell out and then go for crazy prices).
So, this enigmatic object is a "mysterious acid bossa psychedelic folk masterpiece" (it sez) recorded in 1971 and released in 1973 on a small (erm… tiny) Brazilian label with a run of 500 copies. Recorded by students of the law school in São Paulo, under the influence of "Sgt. Pepper's mixed with bossa nova". 
It's mostly by amateur musicians, except for Renato Mendes on organ who was a Brazilian pioneer recording an album using a Moog synthesizer in 1974.
What you get is some pretty average (but pretty all the same) bossa nova and a bit of cheesy organ (the fromage frais of "Aldeia"). But the most interesting track for me is the opener "Coisa E Tal" by Cau, which sounds like the indie bossa nova that appeared in the early noughties, the kind of thing that you could find on the Midsummer Madness label from Rio, a scene in itself which referenced (and included members of) 80s indie giants Fellini; Os Eurosambas 1992-1998 by The Gilbertos is a minor classic of this genre and is highly recommended. Anyway, Cau offers a fine sounding piece of strange bossa which sounds timeless and modern.
It is rare, I'll give it that, and a curiosity and it's certainly cheaper on Bandcamp than the $1000 it demands in collector circles.
---
V! – Dry (Self-released)
Cadu Tenório – Lágrima (Self-released)
Power Electronics, the sound of overloaded circuits screaming in agony. The question is how much of it can you actually take? And also how much of it is context, and is that context desirable? A side of Whitehouse, for example, could be pretty hard to take, those wildly oscillating high and low frequencies made for intense listening and then you have the transgressive subject matter piled on top, foreseeing what would be found in the deepest darkest corners of the web.
Dry is a new release by column fave Cadu Tenório and is much more industrial and noise based than his past releases during the pandemic. The tracks are simply given roman numerals, there is no information about its creation and the first track goes straight into overdriven chugging noise with full on ear-splitting frequencies. The second track takes its time building up with industrial clangs and ominous noises. But by the time we're on track four it's back to full on metallic machine screaming death. The last track (yes, you can do it!) is an extremely distorted voice, screaming through some kind of hellish miasma. I'm not really selling it to you here, however, if full-on noise is your thing there's enough variation in the individual track structures to make the album extremely listenable in its own discomforting way.
"Lágrima" has just been released for the recent Bandcamp Friday and is on perhaps more familiar Ténorio territory. It's one long 43 minute piece that opens with what sound like amplified pattering raindrops, his classic long suspended celestial chords hang in the air, a slurred voice sings a refrain, and on and on it builds, the layers constantly sliding in and out. Then halfway through everything drops out and there's a minimalist masterpiece hidden away, all those yearning distant sounds creating something disarming, disturbing, yet delightful.

Follow Sounds and Colours: Facebook / Twitter / Instagram / Mixcloud / Soundcloud / Bandcamp

Subscribe to the Sounds and Colours Newsletter for regular updates, news and competitions bringing the best of Latin American culture direct to your Inbox.
Share: