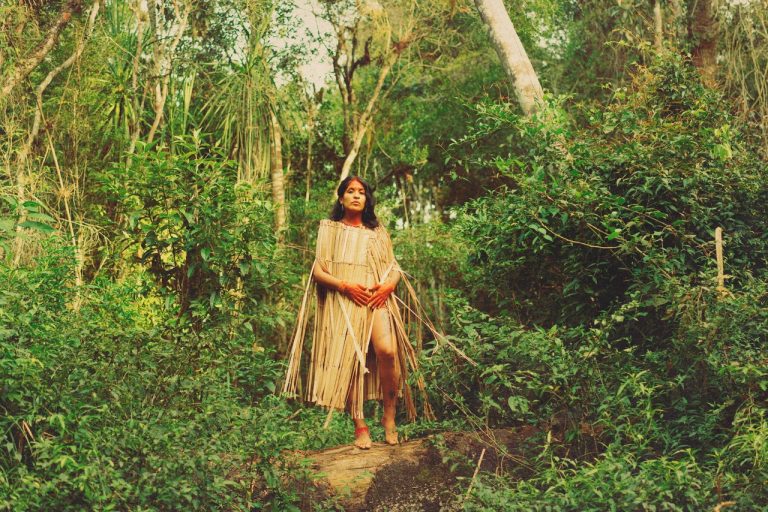 Camila Sánchez
On The Margins – Brazilian Music Round-Up (Brisa Flow, Iara Rennó, Anvil FX, Sambas do Absurdo, Fantasma do Cerrado and More)
09 September, 2022
It's been a while, so without further ado here's a selection of indigenous trap, Candomblé MPB, electro-punk, droned-out música caipira and existentialist samba for your listening pleasure.
---
Brisa Flow – Janequeo (self-released)
Brisa Flow, being Brisa de la Cordillera from São Paulo, while not as musically radical as some of the things on offer here, is worth highlighting for what she has to say about the indigenous experience.
This album is named after Janequeo, a warrior of the original Mapuche people who led four thousand men in the Arauco War to free Wallmapu, their traditional territory in Chile, from genocide. She was hunted but never captured and the legend says that she became an enchanted spirit. This multi-lingual work, inspired by the story of this indigenous woman, thus includes the themes of love, bravery, and autonomy. Directed and produced by the singer herself, the songs feature productions that mix native roots with electronic based rap, trap, drill, and R&B, with beats provided by national and international names including Ian Wapichana, Sodomite, Monna Brutal, Victor Prado and Aby Llanque.
The music on offer is highly accessible, though for the listener it can be quite jarring to go from the romantic smoochiness of a track called "Making Love" and then suddenly dive into the genocide of the indigenous peoples in "Etnocídio". However, there are a variety of themes on display, for example "Bonde das Maloks" features Monna Brutal and Sodomite, and gives space to those artists who are overcoming cisgender oppression in the music industry. "Sonhos com Serpentes" criticises those who still believe that the traditional clothes of the indigenous communities are mere costumes. In "Marrona Libre", Brisa and Abi Llanque sing for the freedom of "marronas" women without colonial borders. Rivers seem to be a common thread this month (see below) – in "Camburi", there is an analogy to the Camburi River and the natural flowing change that occurs in relationships. The title track, with beats provided by Vinicreize, is an atmospheric piece telling the tale of the Mapuche warrior.
I write this on the 5th of September, the international day of the indigenous woman, when data from Ruralometer 2022 shows that 75% of parliamentarians from the Amazon region voted for policies harmful to the environment and indigenous people. More than ever Indigenous art needs to be supported and taken seriously and not seen as a cultural curiosity.
---
Iara Rennó – Oríkì (dobra discos)
"An Oríkì is, above anything else, a prayer, an evocation. An Oríkì is a prayer that bonds not only beautiful words, but also sentiments and senses, and that sometimes don't turn out as they should, at the time we want them to, but only when they, the orikis, want."

Ana Maria Gonçalves, Um Defeito de Cor
I recommend searching out Um defeito de cor, a semi-fictionalised account of a slave's life from Africa to Salvador, Bahia, and beyond. It goes some way to explaining the racial politics of Brazil even today. The oríkì came to Brazil through slave ships, carried in the bodies of the enslaved Africans. As time passed by the afro-descendants picked up new habits in the new lands, abandoning old traditions and creating new ones, a natural process of adaptation in a new environment with new conditions of existence, and, in this process, the use of oríkì as a daily life and social rite has been, at times, abandoned. 
Ah, the national treasure that is Iara Rennó. Her new release is essential at this moment in time, a salutation to Orisha culture, a timeless influence on Brazilian music, the album Oríkì is also a highlight in her career with its refined Afro-Brazilian sound, the result of more than 13 years of research, creation and production. 
This is the first part of a body of work composed of two sibling albums, Oríkì and Ori Okàn, with the first instalment effortlessly combining traditional percussion and beautifully arranged jazzy-pop instrumentation. There is a smorgasbord of talent contributing to Iara's vision: Rob Mazurek, Curumin, Thalma de Freitas, Anelis Assumpção, Criolo, Carlinhos Brown, Lucas Santtana, Tulipa Ruiz and Kiko Dinucci, amongst many others, so maybe you now get an idea of the quality of music on this album. It's highly rhythmic and percussion led, with horns, electronics, and guitars blending into a seamless building groove. We can hear Iara's excursions into the Candomblé terreiros in the woozy drumbeat of "Ewe O", her seductive voice stands out with just the percussion backing and counter harmonies on "Saluba" which honours the age old rivers that are the veins of Brazil.
At over an hour long, it's a marathon compared to some of the brief statements reviewed here, but with this album Iara puts herself in the premier league of MPB talent and if someone asks me what is happening in Brazilian music at the moment, I'll play them this. Highly recommended.
---
Fantasma do Cerrado – Mapeamento de terras a Noroeste do São Paulo de Piratininga (Municipal K7)
Fantasma do Cerrado is Rafael Stan Molina and he has recorded a mixture of field recordings, electronics and rural country folk. It's kind of a psychogeographical journey mapping the interior of São Paulo, referencing real places, travelling through a map of hidden ruins, forgotten nature and people in constant transformation. It's a rare look at cities like Catanduva, deep in the farmlands of São Paulo, which become explored spaces, to be looked at anew. What I like about it is how it uses elements of música caipira which is the rural guitar-picking country style of the region and places it within this experimental backdrop of ominous ambient drones and heavily echoed vocals. I'm not quite sure if this is a conscious decision or not, but it is quite an unusual thing to do as this guitar style has largely been forgotten and pushed aside in favour of the more commercial country style of sertanejo duos whose music dominates the regions explored here. Mind you, the long tracks wander all over the place taking in many experimental genres, and with titles like "Visita Guiada à Coleção Paleontológica Instalada no Bar e Celeiro do China" (Guided Tour of the Paleontological Collection Installed at the Bar and Barn of China), it almost earns the right to go into an overdriven Suicide riff at its climax. Again another highly recommended release which can be purchased on cassette and comes with accompanying photos to guide the listener.
---
Anvil FX – Estado de Choque (self released)
In the mid to late eighties, before electronic music could be found in such abundance we used to get our electronic fix from labels like Illuminated Records who would offer such cult fare as Funky Alternatives. This new release by Anvil FX has a distinct whiff of this period, paying homage to the unsung synthesiser greats of the period, such as Thomas Leer and Robert Görl, or even Brazilian innovators like Harry.
The Anvils, as we call them, are currently mainstay Paulo Beto and the new wave girl gang of Bibiana Graeff and Apolónia Alexandrina, with contributions from Livia Maria and Tatiana Meyer. Beto has manoeuvred around techno, drum and bass, film soundtracks, kosmische and electroacoustic improv to this current incarnation of female-dominated 80s electronic body music. 
Musically it holds few surprises, with a firm foot in the post-punk synth attack of cold wave and minimal synth, but the album's driving angry energy relentlessly powers it along with an enthusiasm, and hearing Beto and Apolónia pounding out infectious synth riffs is always a pleasure to hear. Opening track "Enfant Sauvage", with lyrics by Marcelo Dust, is prime metal dance, with its scuzzy synth line. "Prometeu" adopts 80s sax honks that look back to the agit-prop of the Leeds post-punk scene. The android love cry of "Original Sound" is early Human League with sirens attached. "Aqui & Aqui" is positively Moroderesque, and "Caverna Moderna", in turn, is influenced by Joy Division and aims straight for the goth dance floor, rocking out with its nicely descending bass line.
For such a modular synth obsessive as Beto there could be more surprising sounds, it's like they've jumped straight from the eighties and missed out on all the innovations in between to create something authentic sounding from the period, as this is firmly set in the rolling arpeggios of DAF and other alumni of the period. With Anvil FX there's always an agreeable mixture of pretension and accessible pop licks. It's highly entertaining and it should be a gas to catch them performing this live. A vinyl copy of the LP can be found at nadanadadiscos.com.
---
Chankas & Z – EP (self-released)
The fourth release by Chankas and Z. Fernando Cappi is the guitarist in São Paulo band Hurtmold and Chankas is the name for his solo work. I became aware of the name Chankas when in 2005 he contributed to a CD released by Slag Records with M. Takara and Jonathan Gall, imaginatively entitled M Takara Com Chankas e Jon. It is well worth your time hunting down as it features some fine out-there avant jazzy playing. Also, his solo album from 2010 has a pleasing homemade demo dubby quality.
In this new work the partnership is with the artist/poet Z, who has been writing poetry since the 90s. For these recordings, he sang his poetry without musical background and then sent them to Chankas who added arrangements over the voices, editing where necessary so that everything fitted together. Surprisingly, all of Z's melodies were very close to the standard tuning, his sensitivity and memory were enough for the frequencies to fit naturally. It's a relaxing EP of chilled, delightfully arranged MPB. "Vidraças" could be a stripped-back Vangelis outtake and closing track "Valor" is a samba with expertly picked acoustic guitar.
---
Rodrigo Campos, Juçara Marçal & Gui Amabis – Sambas do Absurdo Vol. 2 (YB Music)
The first volume of this melancholy collection of sambas was inspired by The Myth of Sisyphus by Albert Camus, where the sambas sparred the absurd, presented in the book as the divorce of the individual from life itself. According to Camus, the only philosophical question that matters is suicide, and when we encounter the absurd, which is, basically, the lack of meaning in life, we have two options: either we commit suicide or we learn to live an absurd life.
This project is led by Rodrigo Campos, who in 2012 released the phenomenal Bahia Fantastica, a densely arranged take on modern Tropicália. With this production he includes the voice of Juçura Marçal, a familiar face to these pages, and the arrangements of Gui Amabis, yet another completely underrated producer. Campos already considers samba an existential genre if one considers the work of such masters as Nelson Cavaquinho, though the current situation the country is experiencing just exacerbates the angst of Brazilian life.
The aesthetic proposal of Sambas do Absurdo has at its core the breaking of the foundations of samba as a genre. And, consequently, the album consists of modernist, obscure, dissolved, vertiginous sambas. Take "Na memória vida outra" for example, all the elements of samba are there, despite its approach being opaque and disorienting. "Grão" is almost upbeat, though Campos' gravelly tone brings us crashing back to earth. Perhaps this sensation really resembles the Absurdo.
---
Antonio Sobral – Marulho (Desmonta)
Sobral opens up this EP with some doomy gloomy bossa nova, carrying on the tradition of post-punk bossa nova as developed and perfected by Fellini (not a column goes by without me mentioning them at some point, their influence being so great, but understated) in the 1980s. This is pretty good actually, the cello adding a helluva lot of atmosphere on the first track "Vista", where I can feel the crushing weight of the world coming down on singer/composer Sobral, who relocated from Berlin to the countryside of São José do Vale do Rio Preto in Rio de Janeiro. Though the mood remains sombre, there's a variety of styles from the moody bossa of the opener to experimental soundscapes of "Eu te amo". Another release from Desmonta that's well worth investigating.
---
matsuhei/arubuavua – Faina (problemas dos outros)
The problemas dos outros label released the excellent Osasco Dynamics album earlier this year where they investigated the realms of Oval-like digital glitchiness and now there is this short EP of odd collaged madness. It's pointless singling out tracks as the EP should be listened to as one long piece, all the sounds and tracks blending into each other. It starts with a distant hauntological choir being manipulated which eventually turns into overdriven tape noise. On the next track depth-charged sonar bleeps interrupt the glitched-out electronics. In "Asahi Ferry" acoustic guitar strumming is interspersed with buzzing hums and even some mumbled vocals. I took a look at Matsuhei's playlist on Spotify and there's a mixture of Huerco S., Tim Hecker, Cluster and Boards of Canada, which should give the listener a clue of what to expect.

Follow Sounds and Colours: Facebook / Twitter / Instagram / Mixcloud / Soundcloud / Bandcamp

Subscribe to the Sounds and Colours Newsletter for regular updates, news and competitions bringing the best of Latin American culture direct to your Inbox.
Share: