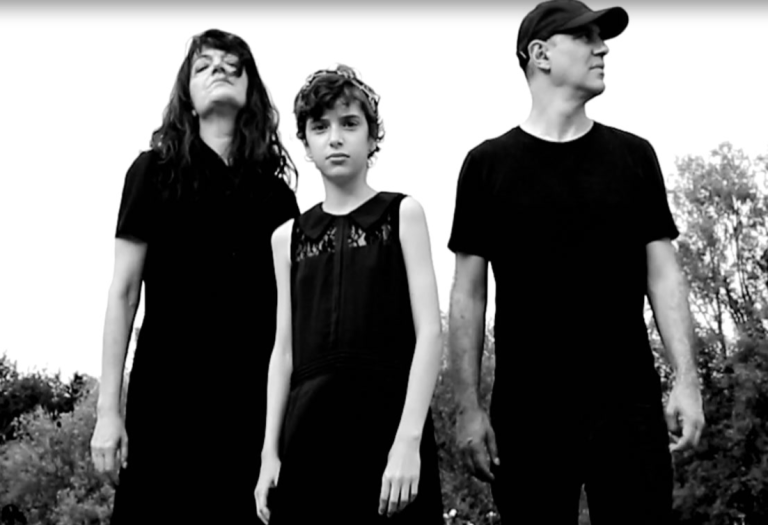 On The Margins, March 2023
08 March, 2023
And we're back into the new year with a bang presenting a selection of warm delicious ambient, indie dance from the interior, mutant chamber music, pagode from hell, and a whole lot more. Dig in!
Tetine – Music for Breathing (Slam Dunk Music)
This duo of Brazilians based in East London have always been hard to pin down. Formed from the ashes of the São Paulo and Belo Horizonte arty post-punk scenes, they work in between the hazily defined spaces of music making, academia, gender politics and performance art. Their releases have included everything from bizarre off-kilter baile funk, mutant post-punk and abstract field recordings, so defining them is nigh on impossible. I do, however, recommend starting with the simmering electronics of "Samba de Monalisa" with French artist Sophie Calle from 2002.
This vinyl release is their version of DIY chamber music, perhaps their greatest art project yet, and brings in their 12 year old daughter Yoko on cello. First track "Spaced Out in Paradise" is an excellent introduction to their sound and pretty much represents their take on Brazilian mutant music as to me it contains the DNA of sombre masterpiece "Samba do Morro" by Chance, an absolute stone cold classic of '80s São Paulo lo tech creativity. "Inverno" features beautifully played cello by Yoko with just a light tasteful touch of electronics adding atmosphere. "And still the earth" walks the line between this post-chamber music they explore and their own atmospheric electronics, almost cinematic in its scope. The title track mixes treated voice and cello to beguiling effect with its electro-acoustic textures.
This is a great taster to its sister project, the full-length After the Future, which comes out at the end of this month and looks to expand the atmospherics explored herein.
https://slumdunk.kudosrecords.co.uk/release/sdm019/tetine-music-for-breathing
Various – Construído 3 (scatterArchive)
This curious compilation came out late last year and comes as a pay what you want on Bandcamp so it's worth a punt. It's a split between Juliana R, a Brazilian sound artist and soundtrack maker for films and performances, Rio sound artist Bella, whom I have written about before, and Flora Holderbaum, a violinist, voice artist, teacher and composer. Title track "Construida" by Juliana R is the highlight with a 16-minute low humming piece that wigs out at the halfway mark. Bella offers a low-key performance soundtrack that amplifies and explores the empty spaces of pots and vessels, while Flora Holderbaum's tracks explore the intersection of poetry with sound, using voice, speech, violin and electronically manipulated everyday sounds. Her main piece is wind-based and plays around with spookily manipulated sounds while she also offers some shorter pieces that use deftly cut-up voices.
https://scatterarchive.bandcamp.com/album/constru-da-3
Brwnowave – Beats of No Nation 2 (Paunchy Cat)
I reviewed the first volume of Beats of No Nation way back in 2020. And now at the beginning of the year sound engineer Bruno de Oliveira comes up with this hidden gem, a second volume of glitchy ambient beats. Hip-Hop beats are the mainstay, used in the same cut-up way as someone like Boards of Canada, the beats are then layered with ghostly voices, echoing samples and hauntological synth washes. There's some lovingly detailed sound design going on here and the slow, stoned, head-nodding beats keep you glued.
https://paunchycatrecords.bandcamp.com/album/beats-of-no-nation-vol-2-2
Satanique Samba Trio – Cursed Brazilian Beats vol. 2 (Self Released)
Those scallywags from Brasilia are at it again, releasing this EP of four short, gothic pagodes on a tasteful yellow seven-inch vinyl. There's really no one around quite like this band, who, of course, are not a trio but a quintet. They play twisted brief deconstructed sambas, nothing is over two minutes, and it all sounds like the Grupo Fundo do Quintal are soundtracking a film by José Mojica Marins after taking a pile of mushrooms.
https://sataniquesambatrio.bandcamp.com/album/cursed-brazilian-beats-vol-2
Go – É do dentro que sai (Brava)
Ah yes, Brava releasing another set of experimental noise pieces that in another life would have been a mail-order-only cassette release from the eighties. This sounds more performative than a sit-down-and-listen experience in that various tools and metallic springs are miked up and at times sound like furniture being moved around the room. It's all in the name of Dadaism and human degradation but when found sounds creep in and you're listening on headphones it can all get quite immersive.
https://brava.bandcamp.com/album/de-dentro-que-se-sai
Grupo um – Starting Point (Far Out recordings)
I mean the '70s! What an unbelievably fertile time for Brazilian instrumental music. There was political censorship of course, these are referred to as the years of lead due to the heavy handedness of the military government. However, it is nigh on impossible to censor instrumental music, and much of this music was political at its core, "Slaves Mass by Hermeto Paschoal, for example. Brothers Lelo and Zé Eduardo Nazario along with Zeca Assumpção were part of the underground Lira Paulistana scene, with Grupo Um they fused avant garde ideals with contemporary jazz and Afro Brazilian rhythms, making radically free and expressive music. Zé Eduardo is certainly having his moment, what with Lugar Alto rereleasing his solo album Poema a Gota Serena three years ago and now Far Out have come across this great selection of unreleased jazz fusion which has been sitting on the shelf for fifty years.
Starting Point was recorded over two days at Vice-Versa Studios, and begins with Zé Eduardo Nazario's rolling snare drum solo on "Porão da Teodoro", referring to the street Teodoro Sampaio, a street still nowadays imbued with music history and music makers in the Pinheiros barrio in São Paulo. Berimbau opens "Onze Por Oito" and a popping electric bass line leads this Rhodes driven funky jam. "Organica" is a freak-out improv piece, while "Jardim Candida" is another freaky jam with all kinds of homemade instruments. The piano led "Suite Orquidea Negra" was written as the score for an imaginary movie and the album closes with "Cortejo dos Reis Negros", a funky variation on the Maracatu rhythm. Another essential archival release from Far Out, who already outdid themselves with last year's Joyce find.
https://grupoum.bandcamp.com/album/starting-point
Pandit Pam Pam – 8720923169722 (Boston Medical Group)
There's some wonderful abstract ambient coming out of Brazil at the moment, a live festival set from Cøelho that I heard late last year being a case in point. This label is a brand new discovery for me and I love the fact that it's named after a company in a bizarre TV able to cure impotency, a supposedly serious sounding name that would add gravitas to the treatment. This is a superb sounding release by producer and former DJ Eduardo Ramos that is very much inspired by the recent birth of his daughter. The opener "Thumb" has a liquid dubby pulse running through it and uses a sample from Orchestre Poly-Rythmo de Cotonou, making a connection between Benin and the northeast of Brazil where the thumb piano comes from. In fact there's a liquid (rather than water) theme throughout the release as well as an Arthur Russell influence (all that reverb and echo, I guess). It's like swimming through a thick glutinous embryonic pool of life, with a dub record playing in the far off distance. All in all, very womb-like and comforting. Highly recommended.
https://panditpampam.bandcamp.com/album/8720923169722
Niev & Fabio Kstro – Adult Swing (Gop Tun)
This duo of producers are based in Ribeirão Preto, just down the road from me, and are connected to the local party scene of Radio Diáspora, and for me demonstrate the importance of small local underground scenes that work within traditionally conservative boundaries and thus have to work twice as hard to get noticed. This is like something from Creation Records' dance label which was created after Alan McGee discovered the twin joys of raving and ecstasy in the early nineties. It's a nice line in indie-dance with the simple drum machine programming and functional bass lines demonstrating what were then limitations of technology but now are a desirable aesthetic. First track, "Guimasso", has a nice Romany east European tinge to it with the weaving violin and bouncy bassline, and "Guicast" has a tasty rolling piano line. Anyhoo, always good to see the label Gop Tun looking beyond the notorious São Paulo/ Rio axis for new talent.
https://goptun.bandcamp.com/album/adult-swing
Rodrigo Campos – Pagode Novo (YB Music)
A new disc by Rodrigo Campos is always something to celebrate and, in the same way fellow outsider Romulo Froes (who appears on this release) composes cerebral sambas, Campos too has his own take on how samba and pagode should sound in the 21st century. All the classic elements are in place but with this composer and arranger's own personal twist and turns. Inspired by the ritual and catharsis that the roda de samba offers, the continued passion for samba clearly comes through in his compositions. "I want to play samba as if I were flying," he sings as if to confirm. Campos' own baritone voice dominates proceedings but is sweetened by contributions from Mari Tavares and partner to his Sambas do Absurdo releases, Juçura Marcal, among others. A distorted guitar chord appears in the calm bossa of "Na memória vida outra" to slightly sour its sweetness. A manic drum machine desperately rushes through "Deixa a Noite", hurrying to reach its conclusion of distorted guitar. Another classy release, but will he ever reach the dizzy heights of Bahia Fantástica I wonder? – though this does come close.
Cadu Tenório – "1cc" (Self Released)
A single from late last year and a taster for the forthcoming album Cave. The initial effect is like listening to a collage, it goes from manic Carl Stalling, bouncing all over the place, to meditative moments with a choir sample coming in at regular intervals. There's a beautiful long sustained chord at the end fading out for the final few minutes. You can imagine this being the soundtrack to something visually interesting, in fact when will someone give this person a film to soundtrack?
https://cadutenorio.bandcamp.com/track/1cc
Negro Leo feat. MAY TUTI – "Rela" (QTV)
Finally, this video release from Negro Leo sounds pretty amazing. It is created from mixing the rhythm of the Bumba meu boi from Maranhão, bass from 90s baile funk, and Vapourwave-like vocals. "Rela" creates a smoky, dreamlike, hallucinogenic atmosphere and it's also the most accessible release I've heard from Leo yet.

Follow Sounds and Colours: Facebook / Twitter / Instagram / Mixcloud / Soundcloud / Bandcamp

Subscribe to the Sounds and Colours Newsletter for regular updates, news and competitions bringing the best of Latin American culture direct to your Inbox.
Share: