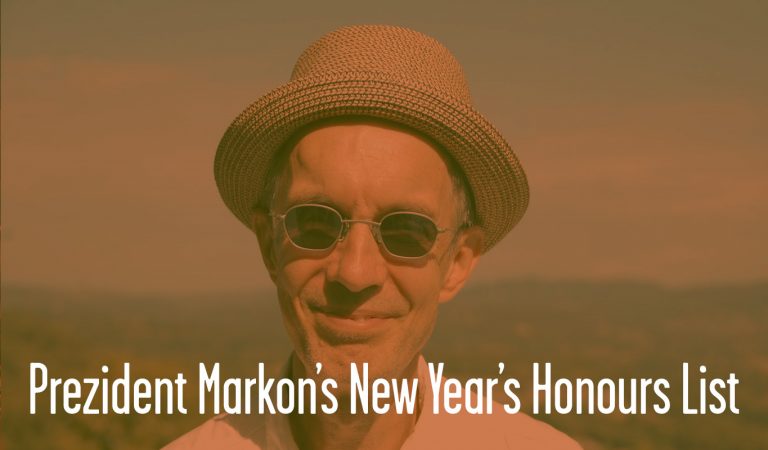 Prezident Markon's New Year's Honours List
10 January, 2020
What a dire year for France and for the world, but what a great year for music. New releases, re-releases, buried treasure unearthed… Given such bounty, it was a hard business to restrict myself to 21 of the best, but there are so many prezidential chores at this time of year and only so many hours in the day. So here we go, in no particular order other than that of a pleasing sequence [listen to the tracks via Spotify/YouTube at the bottom of the page]:
1. Milton Nascimento "Trabalhos (Essa Voz)" from Maria Maria
Far Out Recordings did us all a favour by re-releasing a ballet score from 1976 to remind us of the prime of Mr. Milton Nascimento.
2. Djavan "Meu Romance" from Vesúvio
A gorgeous track from an album that demonstrates consistently that the ageless songster still has a special way with a melody.
3. DJ Dolores "Nanquim" from Recife • 19
"Existential dance music" from north-east Brazil? The fifth album from Helder Aragão, aka DJ Dolores, is a rich, diverse and mature work that fulfils all the potential evident in the past.
4. Coladera "La Dôtu Lado" from La Dôtu Lado
Blend one Brazilian and one Portuguese singer-guitarist with a Cape Verdean percussionist, and simmer gently to make a lyrical and enchanting album, whose title track is a melancholic marvel.
5. Yapunto "Malo Viento" from Yapunto
The opening track of this 10-piece Franco-Colombian collective's debut album is just one memorable part of an unblemished and remarkably authentic-sounding whole.
6. Itiberê Orquestra Familia "De Repente" from Pedra Do Espira
Hermeto Pascoal's former bass player, Itiberê Zwarg, led a workshop with 29 of Rio's most talented young musicians. It led to a double CD and what Pascoal himself described as "a treasure chest full of harmonic, rhythmic and melodic jewels".
7. Hugo Heredia "El Beto" from Mananita Pampera
DJ Paul Murphy's initial release on his Jazz Room label delivered a lost treasure recorded by this Argentinean flautist/saxophonist in Germany. American expatriate pianist, Horace Parlan, provides heft and a deft touch.
8. Chano Pozo "Manteca" from Rumbero Mayor
Vampisoul's retrospective of the legendary conguero's short-lived but hugely influential career was the classiest re-issue of the year. Once more with Dizzy…
9. Tom Zé "Toc" from Estudando O Samba
Perhaps the most disconcerting but brilliant track from an album of de-constructed samba now re-issued by Mr. Bongo and once listed by Rolling Stone as one of the "100 Greatest Brazilian Albums of All-time".
10. Trio Mocotó "Não Adianta" from Trio Mocotó
The rousing opener by Jorge Ben's former backing band from São Paulo transports you straight up to the magnetosphere.
11. Ronald Mesquita "Balança Pema" from Brésil '72 [Reissued with album title of simply Ronald Mesquita]
Lifted from Mr. Bongo's re-issue of a spritely album by a session drummer's sub-Sergio Mendes combo, this favourite of the jazz-dance scene is still irresistible.
12. Eumir Deodato "Arranha Ceu (Skyscrapers)" from Os Catedráticos 73
The grooviest of the groovy sounds that the prolific composer and adoptive New Yorker laid down on the CTI label with Brazilian rhythms and American horns.
13. Los Revolucionarios "Salsa del Monte Adentro" from Los Revolucionarios
Toy organ a-go-go! Three and a half minutes of infectious percussive bliss from Colombia's Caribbean coast, courtesy of Vampisoul's Codiscos-label exhumation.
14. Dona Onete "Mexe Mexe" from Rebujo
Just one of many good-time cabocla dance tracks from a refreshingly cheery album by the grande dame of Brazil's Caribbean coastal region.
15. Conjunto Miramar "Cumbia Loca" from Cumbias con El Miramar
From Vampisoul's gushing stream of re-releases from the Discos Fuentes vaults in Medellín, Colombia, comes this brief, exuberant and infectious slice of classic cumbia.
16. El Comité "Alamar 23" from Y Qué!? (So What)
The seven-strong committee's commitment to "Cuban groove" is typified by this track from an album of accessible Latin jazz that swings in the vein of Ray Barretto's New World Spirit.
17. Etienne Charles "Black Echo V: Steel" from Carnival: The Sound of a People Vol 1
The Trinidadian trumpeter explores the indigenous music and carnival traditions of his native island in my jazz album of the year. Light emerges from dark roots in the celebratory form of massed steel pans in this, the final element of a brilliant five-part suite.
18. Mental Abstrato "Noite Vazia" from Uzoma
Just one of many seriously hip tracks from a dazzling second album by another exciting group from Brazil's tumultuous hotbed of creativity, São Paulo.
19. Marcos Valle "Odisséia" from Sempre
This smooth, sinuous 9-minute slice of melodic funk, driven by the mesmeric bass line of Azymuth's Alex Malheiros, typifies the dance-floor fillers of the evergreen beach bum's latest Far Out release.
20. Ivan "Mamao" Conti "Bacurau" from Poison Fruit
The great Azymuthian drummer sets out his wares on an album that includes this bewitching rhythmic killer.
21. Nomade Orquestra "Horizonte Manso" from Vox Machina
The sublime final track from Vox Populi's earlier, instrumental sibling confirms that the 10-piece outfit from São Paulo is "making music like none other in Brazil, or indeed the world".
Listen to the New Year's Honours List on Spotify/YouTube below (NB: not all tracks were available):

Follow Sounds and Colours: Facebook / Twitter / Instagram / Mixcloud / Soundcloud / Bandcamp

Subscribe to the Sounds and Colours Newsletter for regular updates, news and competitions bringing the best of Latin American culture direct to your Inbox.
Share: