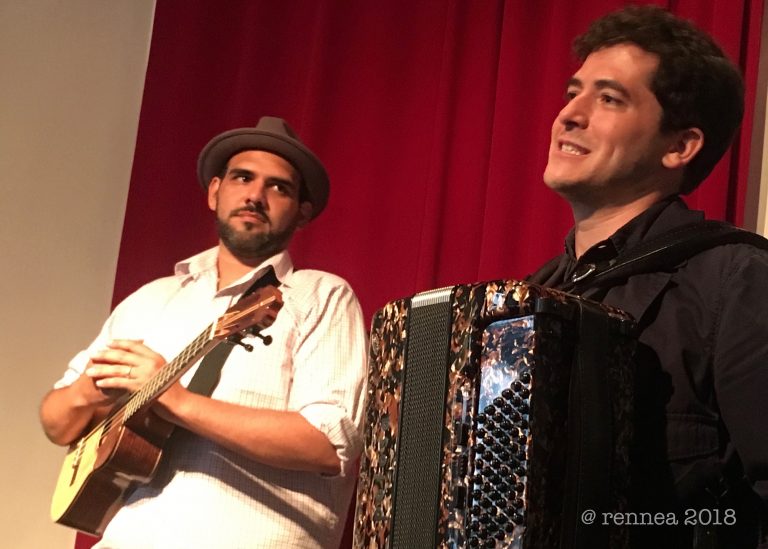 Rennea Couttenye
Sam Reider and Jorge Glem: An Unlikely Pair?
30 July, 2018
The repertoire bounced between folk Americana, to waltz, to high-speed joropo, to cha cha cha, to gypsy folk, to Venezuelan merengue. There was never a dull moment at this concert at the Red Poppy ArtHouse in San Francisco.
As the story goes, Sam had gone to a party where a bunch of loud musical-type people gathered in a tiny NY apartment. They were playing, singing and eating arepas, a casual and likely situation that happens when two or more Venezuelans are involved. Several in the group played their cuatros. A cuatro, as in number four, is a small four-stringed guitar-like instrument that is not a ukelele and it is not a Puerto Rican cuatro either. It's complicated! As Sam enjoyed their fast beat music this guy stood out from the crowd. His confidence, mastery, and versatility were impressive. Immediately Sam felt inspired to play with him, and so he introduced himself.
Jorge had been living in the US for a couple of years. His move to the Big Apple was proving an exhilarating experience. NY was (and still is) a massive playground where he would find an eclectic mixture of sound and rhythms much larger than in his former home in Caracas. Sure enough, it was likely that he'd casually meet musicians, especially since he takes his instrument everywhere he goes. Jorge, being the kind of musician that will absorb and re-interpret anything and everything with his small Venezuelan cuatro, gladly accepted the invitation to play with Sam.
Sam Reider is a composer, accordionist and pianist and singer living in Brooklyn. His debut album with his group The Human Hands, an impressive array of musicians doing bluegrass, jazz and roots music, is titled Too Hot To Sleep.
Jorge Glem is a composer, producer, cuatro and mandolin player living in NY. His group C4 Trio in conjunction with Desorden Público was nominated to the 2018 Grammy's as Best Latin Urban Rock Album with Pa'Fuera, a fusion of ska and new Venezuelan music.
Asides from their diverse background, they use distinct instrumentation and a wide choice of genres. If you look around, there may not be any folk Americana played with a cuatro, nor gypsy jazz, nor bluegrass. On the other hand, I'm almost certain that there is no Venezuelan merengue (not to be confused with the Dominican merengue) nor joropo oriental played with an accordion. It would be a good fit for a Venezuelan waltz to be played in a squeezebox instead of a mandolin, and it may then sound like a Parisian minuet. They did play "Amarilis", a beautiful waltz from Cumaná, an eastern region of Venezuela.
In July 2018, at San Francisco's Red Poppy ArtHouse, the music mix was outstanding, energizing and augmented by the polyrhythms of the percussion played by multi-instrumentalist par excellence, Jackeline Rago. She seamlessly moved between her maracas, udu drum, cajón bells and cymbals and added the very true form of folk rhythms of the Caribbean to the fusion that they have concocted.
Their debut tour took them to San Francisco's art houses, Bear Valley California, Berkeley Jazz Conservatory and Stanford Jazz. People are asking for a record.
Sam on the accordion and Jorge on the cuatro, a match has been made. Jorge's English is not that great and neither Sam's Spanish but that is a minor detail when it comes to making music. What's unlikely about these two together? You tell me. Listen!

Follow Sounds and Colours: Facebook / Twitter / Instagram / Mixcloud / Soundcloud / Bandcamp

Subscribe to the Sounds and Colours Newsletter for regular updates, news and competitions bringing the best of Latin American culture direct to your Inbox.
Share: