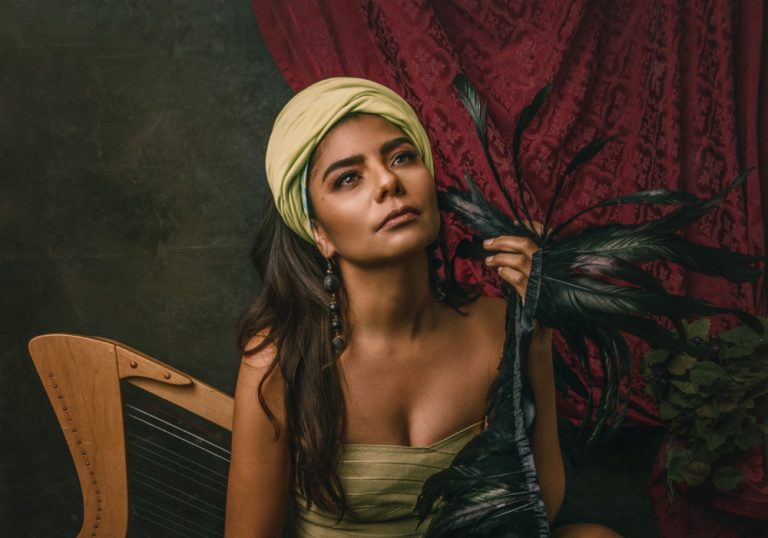 Sounds of Mexico #10
06 October, 2021
Throughout the year I have talked about the different sources of inspiration that Mexican artists draw on, and this great variety of musical styles continues to innovate and surprise.
On this occasion I would like to highlight the musical extremes that can be found in independent Mexican music, with contemporary blues, chillout reggae, folk, world music, indie rock, Latin soul, jazz and sierreño all forming part of this picture. I think it is very relevant to know how the following musical proposals have been developing and how each one has been building its audience and becoming an important referent in the national scene in their own right.
I invite you to listen to Yukun, Alaide, Veronica Valerio, Darío Abdala, Sacro Imperio Romano, Le Monque Spazzuah, Efelante, Nicole Horts, Dariell Cano and Tufic.
Yukun
With a poetic and profound discourse, Yukun, a young composer, shares a story of heartbreak through contemporary blues, adding a touch of soul, nostalgia and intensity on this sonorous journey. "Biendote-Feliz" is a song that grabs you from the very beginning, a masterful interpretation that takes you on a musical journey that you never want to end, that you feel every note, every breath, every melody.
Alaide
A mantra of love, with a reggae rhythm, but a chillout atmosphere, Alaide shares "Sol", a sensual song that flirts with your ears. Her vocal sound is ideal for this style of laidback reggae, the song passing like a fresh wave from the ocean. If you are looking for a way to transport yourself to the beach this is the one.
Verónica Valerio
Since I heard the first second of this song I knew it would be something I'd be recommending. Veronica Valerio is an independent artist from Veracruz who has joined forces with Van Dyke Parks, known for his orchestral arrangements that take psychedelia to the sublime, for "Camino a Casa", a work of art that mixes the elegance of orchestral strings with the peculiar sound of the jarocha harp. The song is full of details, nuances and new surprises that take you on an endless road. Strong phrases, metaphors and musical analogies are all ideal for a curious music lover. Listening to this work I can see colours, feel textures and perceive diverse smells. Undoubtedly Van Dyke Parks Orchestrates Veronica Valerio: Only in America is that EP that you must have in your discography.
Le Monqué Spazzuah
Among the best that contemporary Mexican jazz has to offer, Le Monqué Spazzuah explore extroverted sonorities, progressive rock, and unexplored landscapes. "Kamikaze" is a myriad of improvisations, emotions, polyrhythms and musical discourses that allow you to perceive the intensity of each of the instruments. The group already has several years of experience and performances in various national and international festivals behind them.
Sacro Imperio Romano
From the fusion of electronic music with Latin folklore, Sacro Imperio Romano present an eclectic proposal, original and full of socio-political allusions, beats and Latin psychedelia fused with soul, disco and Techno. Hypno Nacional is the name of their first EP and the song of the same name represents an urban mantra that reflects on the way we cohabit in society, and our spiritual quest. They are undoubtedly one of the most original artists in Mexico right now.
Please send new Mexican music submissions to [email protected]

Follow Sounds and Colours: Facebook / Twitter / Instagram / Mixcloud / Soundcloud / Bandcamp

Subscribe to the Sounds and Colours Newsletter for regular updates, news and competitions bringing the best of Latin American culture direct to your Inbox.
Share: