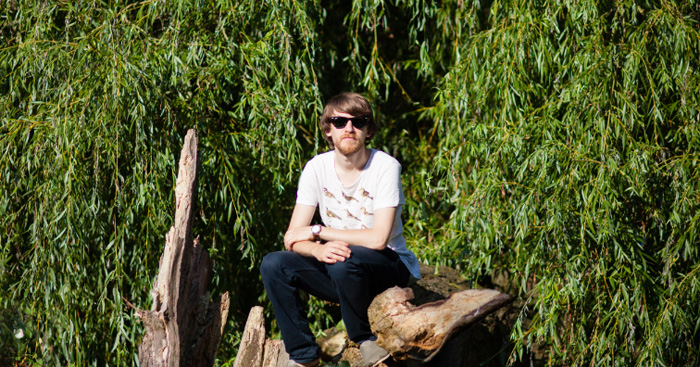 Taking Cumbia In Other Directions: An Interview with El Búho + Exclusive Mixtape
21 July, 2015
El Búho is back with a surprising new release. After collaborating with Barrio Lindo on the outstanding History Of Colour EP and putting together the transcendental A Guide To Birdsong Of South America – both of which showed his love for downtempo LatAm electronica and Andean beat – his latest release purports to be a pirated cumbia CD, featuring mash-ups and mixes of tracks from all over Latin America (and beyond) that have all been taken on a rough-and-ready cumbia trail.
Released on Frente Bolivarista, Cumbias Del Oro, features versions of tracks by Quantic, Chicha Libre, Lisandro Meza, Andrés Landero and Control Machete. It has been described by El Búho as "a disc of pirate-cumbias from the future." Suitably intrigued we had a chat with El Búho about his latest release, as well as other projects in the pipeline. Also, check out the exclusive mixtape at the bottom of the page for a taste of Cumbias Del Oro.
Can you briefly explain the concept behind Cumbias de Oro?
The idea was inspired by the markets of Latin America where you can find all sorts of cumbia, salsa, remixes, sonidero. 100 tracks on MP3-only CDs with incredibly kitsch covers for 10 pesos. This is how music has moved around Latin America, how it has been exchanged and inspired new sounds and directions, particularly in cumbia. We wanted to take this idea and unite it with my own inspiration that comes from cumbia music, taking it in other directions!
What's your appetite like for pirated cumbia comps?
The special thing about these discs is some sort of digging. Amongst the 100 tracks there might be 5 or 10 standouts and a lot to wade through, some tracks that are a mutation between two tracks cutting in and out or Beyoncé on the middle of a Cumbia Sonidera compilation. I recently bought a compilation of cumbia andina and it had some absolute gems within the 100 odd tracks! There are famous DJs with their unique vocals and I love the megamixes that put all of the tracks together in a short mix filled with these deep voices presenting "the best selection of music to move your body."
In any way do you think this idea for creating a "pirated CD" plays into your own feelings of missing buying music "physically"?
I think this is a reality here in Latin America and something we wanted to play with and explore but we are talking about giving away remixes, edits, etc., which I think is something else. I am a believer in music spreading around the world and the power of remixes, taking music and putting in a new context, introducing it to new audiences and passing it on the next generation. Having said that, I also believe in the importance of supporting artists when you can by paying for music through services like Bandcamp, supporting crowdfunding on platforms like Kickstarter or paying to go and see the artists live.
How did you choose the tracks that you remixed for the comp?
It was quite organic… while digging through these pirated CDs and trying to find the nuggets I would happen upon a track that just felt it needed a remix or suited my style. Take "Pájaro Cenzontle", one of my favourite tracks on the album, I had been listening to that track for weeks and was really immersed in it and the remix just happened in one evening. "El Cafetero" which I released quite a few months back was the same, inspired, strangely enough, by a Busy Twist concert in Amsterdam. Coming home hyped on the energy I sat down and out came this remix of "El Cafetero"! This is the first volume but I have no doubt more will come out as my digital digging continues!
Do you have any plans to print up a few CD-Rs, badly photocopy some covers and flog a few copies on the streets?
Exactly! We want to take the CD to the market sellers and see if we can get it onto the market, spread the music the way so much music moves here in Mexico and also in Brazil! A wild experiment but why not!
And finally, what else are you up to at the moment? Musically speaking that is!
I am sitting on a bunch of new, original tunes that I have been playing out live quite a lot and want to get out there as an EP so that is the next step. After that I want to work on a full project, an album inspired by Mexico with more of a collaborative spirit with vocalists and instrumentalists but that is more of a long term project. Lastly, I have been playing out live quite a bit and am really focussing on improving my live show to incorporate visuals and live musicians.
Cumbias Del Oro is available from Frente Bolivarista
[soundcloud url="https://api.soundcloud.com/tracks/215708810″ params="color=ff5500&auto_play=false&hide_related=false&show_comments=true&show_user=true&show_reposts=false" width="100%" height="166″ iframe="true" /]

Follow Sounds and Colours: Facebook / Twitter / Instagram / Mixcloud / Soundcloud / Bandcamp

Subscribe to the Sounds and Colours Newsletter for regular updates, news and competitions bringing the best of Latin American culture direct to your Inbox.
Share: