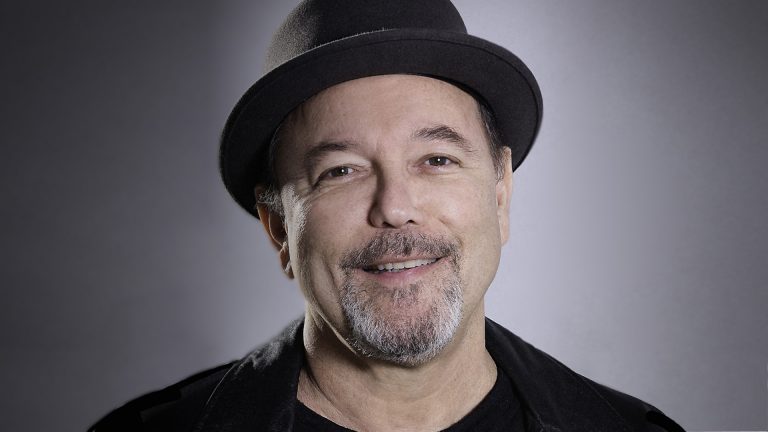 Ten Of The Best From… Rubén Blades
12 July, 2018
It is no exaggeration to say that Panamanian singer/songwriter, actor, lawyer, and politician Rubén Blades is one of the most important figures in Spanish-language music in general and certainly in the transnational Latin dance music known as salsa, a genre he helped diffuse around the world through his extraordinary artistry.
He's been on the Latin music scene since the late 1960s, gaining major fame within the world of salsa during the late 70s singing with the orchestras of Ray Barretto and Willie Colón, and really coming into his own in the 1980s with a string of popular, innovative and award-winning solo records starting with Buscando América.
He, along with the great Puerto Rican composer "Tite" Curet Alonso, has always been salsa's conscience, a poetic storyteller that showed how commercially viable and infectious dance music could also make you think and contain a message worth sharing. He appeared at just the right moment as a performer/activist who more often than not would write a song out of a sense of injustice or anger, telling truth to power, though he could also compose a tender ballad or great party tune as well.
There have been several times in his career where Blades has confessed that he is tired of being "El Cantante"* and that there are many other things he'd like to do (one of those was running for public office in his native country). A new documentary, Yo No Me Llamo Rubén Blades (Rubén Blades Is Not My Name), which I will have the pleasure of presenting this summer in my hometown theatre, focuses on this aspect of Blades being at a crossroads in his life and that he wants to end his singing career once and for all. While I feel that's a bit too extreme to believe true (and the documentary echoes this), it is a good bet that he will slow his performance and recording schedule (especially in the realm of salsa) to an all time low in order to have time for family and other pursuits, so it would be a good idea, especially if you've never seen him perform, to catch him on this "last" salsa tour.
For the uninitiated, there is a core of crucial Blades recordings that I would recommend you study up on before attending a concert, or if you want to know something about what makes Rubén tick and his historic role in raising Latinx consciousness through song. I have been listening closely to his material for the last year as I am not only prepping to present the documentary, but I also helped produce a "live on stage conversation" with Rubén at New York's Lincoln Center David Rubinstein Atrium where he discussed the stories and meanings behind 3 of his own favorite songs (50,000 people watched the live stream on Facebook).
Below I am listing a crucial top ten of Rubén Blades, as well as the three from Rubén himself. Not all are written by him, but in the case where he didn't write it, the song still represents the best version, in my opinion. I have not included his most recent releases, not because they are not up to standard, some of them are fantastic, but because any study of the man and his music must begin with the classics!
Rubén Blades will be performing in London as part of the Hola! London festival on Saturday 21st July. Details of the show here.
Rubén Blades Top Ten
"Canto Abacuá" (Barretto, with Ray Barretto, Fania, 1975)

"Pablo Pueblo" (Metiendo Mano!, with Willie Colón, Fania, 1977)

"Pedro Navaja" (Siembra, with Willie Colón, Fania, 1978)

"Plástico" (Siembra, with Willie Colón, Fania, 1978)

"Buscando Guayaba" (Siembra, with Willie Colón, Fania, 1978)

"Todos Vuelven" (Buscando América, with Seis del Solar, Elektra, 1984)

"Sorpresas" (Escenas, with Seis del Solar, Elektra, 1985)

"Good For Baby" (Crossover Dreams OST, Elektra, 1986)

"El Cantante" (Doble Filo, Fania, 1987)

"Primogenio" (Mundo, Sony Discos/Columbia, 2002)

Rubén Blades' own top three "message" songs
"Juan González" (from De Panamá a New York/From Panama To New York, Rubén Blades con/with La Orquesta de Pete Rodríguez, Alegre, 1970)

"Pedro Navaja" (Siembra, with Willie Colón, Fania, 1978)
"GDBD" (Buscando América, with Seis del Solar, Elektra, 1984)

* Translates as "The Singer" – a huge hit for Héctor Lavoe and the title of his biopic, but written by Blades about himself as much as anyone else, and arguably his most famous song aside from "Pedro Navaja".

Follow Sounds and Colours: Facebook / Twitter / Instagram / Mixcloud / Soundcloud / Bandcamp

Subscribe to the Sounds and Colours Newsletter for regular updates, news and competitions bringing the best of Latin American culture direct to your Inbox.
Share: