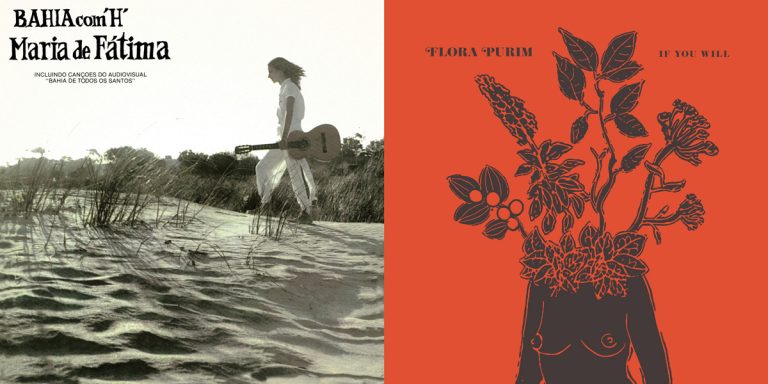 The Girls From Brazil (Maria de Fátima + Flora Purim)
29 April, 2022
It's curious that two separate German labels should release two albums by Brazilian singers on the same day, seemingly quite independently of each other. "Curiouser and curiouser" that the two singers in question – the illustrious Flora Purim and the lesser known Maria de Fátima, both of them married to celebrated musicians – should be so closely connected. It's a coincidence that's crying out for a double review, even if the two releases were recorded some 40 or so years apart. We'll start with the earlier one, since its relative obscurity hides a fascinating tale.
---
Maria de Fátima – Bahia Com 'H'
***
Originally recorded in Montevideo on the Uruguayan Sondor label, this is the latest bit of buried treasure uncovered by Altercat Records of Berlin. Since its appearance in 1981, the album has twice been re-released in Japan on CD by Brazilian music enthusiasts – who clearly knew a thing or two. Otherwise it has been left to wither on the vine. Until now.
Maria de Fátima Quinhões was born in Rio in 1953 and, strange to relate, became Arthur Verocai's voice-of-choice at his jingle production company in the early 1970s. She married Luiz Alves, a founding member of Milton Nascimento's backing band, Som Imaginário, which initiated a deep friendship with the legendary singer-songwriter. One of the high spots on Bahia Com 'H', her only solo album, is a lovely version of his "Três Pontas", in which a double bass replaces the upfront electric bass that's otherwise featured, adding heft and an extra dimension to the music.
By the second half of the 1970s, she had become something of a mythical figure in the Los Angeles and Californian music scenes. At this time – and here comes the fascinating link between these two albums under review – she was a backing vocalist in Flora Purim's backing band – which included Airto Moreira, of course, two Weather Report alumni (in Alphonso Johnson on bass and Manolo Badrena on percussion) and the Uruguayan keyboards wizard, Hugo Fattoruso. Readers, she married him – but don't ask me what happened to Luiz Alves. The couple settled in Montevideo, where Hugo worked for the Sondor label, who eventually asked Maria to record for them. Later, they moved to Rio together and worked in the local music scene. Among other notables, Maria sang with Milton Nascimento, Marcos Valle, Arthur Verocai (in a bona fide musical context this time) and Azymuth.
And so to her sole solo album. Although its cover was faked to look like a beach in Bahia rather than Uruguay, the music itself is spare, authentic, sometimes a little curious and often delightful. Curious, perhaps, because the electric bass – as I've mentioned – seems so prominent in the mix, particularly on the opener, a swaying, slowed-down version of Gilberto Gil's classic "Toda Menina Baiana". On the ensuing bossa-style "Você", the minimal percussion and understated acoustic guitar perfectly complement Maria's delicate, even fragile vocal – a tad lower than but not unlike Flora's ethereal tones. While most of the nine numbers are pitched somewhere on the cusp of bossa nova and tropicalia, the Uruguayan influence is notable in the thunderous candombe drums featured in "Candombe Brasileiro-Montivideano". Tasteful strings, flute and electric piano get a look-in on the title track, Maria duets with a male voice on the lovely "O Tabuleiro da Baiana" and double-tracks her own voice on the aforementioned "Très Pontas", and "Movimento dos Barcos" features a synthesised guitar and, oddly, the sound of running water.
The music is lent substance and context by the fascinating booklet included with the album – as per other Altercat releases – which features some vintage photos that leave an impression of Maria de Fátima as a wistful-looking slip of a woman with a face reminiscent of Gloria Estefan. She may have recorded only one album during her life, but it's one well worth investigating.
Bahia Com 'H' is released by Altercat
---
Flora Purim – If You Will
***
The legendary Flora Purim, on the other hand, has achieved her status largely due to an extensive back catalogue of albums: her own body of work, for the Milestone label and others; and collaborations with the likes of Chick Corea, George Duke, Santana, Stan Getz, Dizzy Gillespie and, inevitably, her long-time husband, Airto Moreira, who appears on the new album for the esteemed Strut label.
A grand dame now of samba funk, jazz samba, jazz-funk/fusion – or whatever you want to call it – If You Will is Flora's first album since 2005's Flora's Song. It mixes new material with some old favourites, such as the title track, which commemorates a collaboration with George Duke in 1992. To look at her and to hear her now, you would never believe that she has just become an octogenarian. That soaring, beautiful voice may have dropped a semi-octave or so, but she still sounds as light as a feather on cuts like the current single, "500 Miles High", in which she re-visits a classic track with her dearly-departed former Return To Forever boss, Chick Corea; or "Zahuroo", which features her trademark wordless vocals along with some coruscating but very tasteful percussion from Mr. Moreira. There's enough gravitas, too, for the delicious "Dois + Dois = Tres", which is taken at a rather slower pace than many of the nine numbers to create a nice bluesy, after-hours feel that conjures up J.J. Cale or Clarence 'Gatemouth' Brown, and gives a chance for the married couple's erstwhile sideman, José Neto, to shine on guitar.
According to a recent interview published by The New York Times, the singer was breast-feeding her baby when she was recording the song "Light As A Feather" in 1972. That baby, Diana, makes an appearance as guest vocalist on the album's opener, "If You Will", an update of Airto Moreira Band's "I Don't Wanna Be Myself Again". It's an airy groove in a kind of Marcos Valle vein and the whole album, recorded with a classic line-up of keyboards, bass, drums and percussion, achieves that kind of seductive blend of rhythm and melody. It probably belies the work that went into it, but the result feels every bit as effortless as it is polished. It's reassuring to know that Flora Purim is still going strong – and it's great to have her back.
If You Will is released by Strut

Follow Sounds and Colours: Facebook / Twitter / Instagram / Mixcloud / Soundcloud / Bandcamp

Subscribe to the Sounds and Colours Newsletter for regular updates, news and competitions bringing the best of Latin American culture direct to your Inbox.
Share: