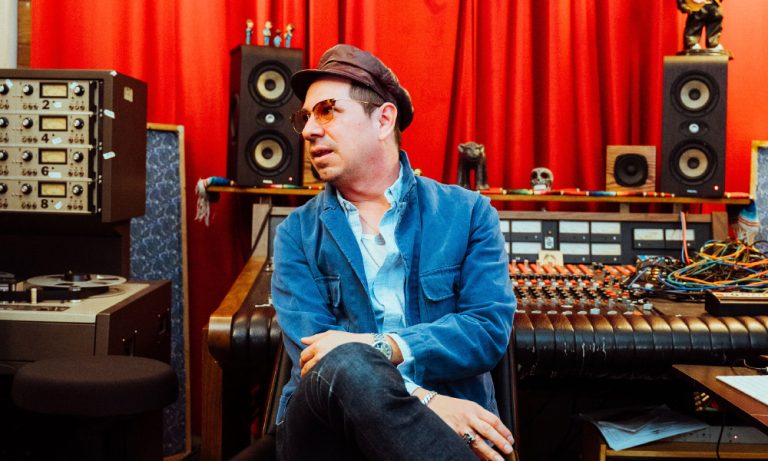 Jackie Lee Young
Under The Influence: Adrian Quesada
09 June, 2022
Adrian Quesada grew up in Laredo, Texas on the border with Mexico, and his music has always had the duality that comes from existing between two places, as can be heard on the US-Latin fusion of so many of the projects he's been involved with: Ocote Soul Sounds, Grupo Fantasma, Money Chicha, Brownout, they've all alternated freely between US and Latin languages. Though he's become best known recently for his work in soul group Black Pumas, whose debut landed in 2019, he has opted for a more overt Latin influence on his latest solo album, Boleros Psicodélicos, an updating of the balada (Latin ballad) sound that emerged in the 60s, and created a crossover genre uniting bolero, bossa nova and other romanticised sounds. For the album, he has recruited an enviable list of collaborators, including iLe, Girl Ultra, Gabriel Garzón-Montano, Gaby Moreno, Money Mark and Marc Ribot. Quite simply, it's the best thing that's happened to balada for 50 years. Discussing the significance of the music, Quesada says: "Balada changed the face of Latin music forever. As someone who grew up speaking two languages and living on both sides of the border, I love how much music can transcend barriers and boundaries. It really is a universal language, especially back then."
Here's Quesada to pick and discuss nine songs that influenced his new album, including a couple of surprising choices.
---
Los Pasteles Verdes "Esclavo Y Amo"
The song that started it all for me. There are a few different versions out there and they all have their own charm to them but this one is just too perfect. So haunting, sad, and beautiful…. and it just goes hard as hell. This is in the top five songs I've listened to the most in my life.
---
Joseles "Te Vas Y Yo Te Dejo"
Discovered this amazing track during the pandemic via my friend Cristian who is Joseles' son. He had previously mentioned his father used to be a singer and then casually dropped this song on me which I couldn't stop listening to. The wah-wah guitar intro directly inspired a couple of moments on my album.
---
The Beatnuts "Watch Out Now"
I always loved this flute sample and how funky it was. It inspired a couple of instrumental moments on "Mentiras Con Cariño." Honorable mention to J.Lo's "Jenny from the Block" which uses this same sample, but I first came to it via The Beatnuts.
---
Sola "Soy Rebelde"
I love the palette for this song and it definitely inspired parts of my album. Its subtle piano and string arrangement is kind of understated and works perfectly for her vocals and a Harpsichord on top to establish the melody. Harpsichord can be a very abrasive sound but it sits just right on this one.
---
La Lupe "Puedes Decir De Mi"
I discovered this one in 2019 and had it on repeat for what seemed like two years. I had to cover it for the album to recognize it as a cornerstone inspiration. It's just amazing – La Lupe is a powerhouse vocalist and the arrangement adds just the right mood.
---
Los Angeles Negros "Tantos Adios"
Los Angeles Negros always have the best melodic intros with the jazzy guitar melody and a slowly creeping organ. They set just the right mood and it instantly feels like dimming the lights and lighting a candle with a glass of wine.
---
Sandro "Trigal"
I was stuck in a rut while trying to finish this album and one of my collaborators, iLe, turned me on to Sandro, who I had never heard of. I'm still playing catch up on his catalog but I love his sense of interpretation and singing. He brings so much drama to everything and the production and arrangement complement him so nicely.
---
Jay Z "My 1st Song"
I always loved that they sampled Los Angeles Negros for this as you can see the correlation between the funk in a hip hop beat and their music. Their music is so head-nod-inducing that when you add hip hop drums and Jay Z rapping it pushes it into neck-breaking material.
---
José José "Solo Amor"
José José was one of those artists I remember on TV as a kid and hearing people talk about him, even though I had no interest at that age. Appreciating his artistry and voice didn't come until later in life and streaming services have made it easier to peruse his early albums from the late 60s and early 70s and they are just masterful, from the musicians to the grandiose arrangements to his performances. You can hear so many influences and it all sounds effortless.
---
Boleros Psicodélicos is out now. Listen to Quesada's collaboration with iLe below:
Adrian Quesada, iLe "Mentiras Con Cariño"

Follow Sounds and Colours: Facebook / Twitter / Instagram / Mixcloud / Soundcloud / Bandcamp

Subscribe to the Sounds and Colours Newsletter for regular updates, news and competitions bringing the best of Latin American culture direct to your Inbox.
Share: