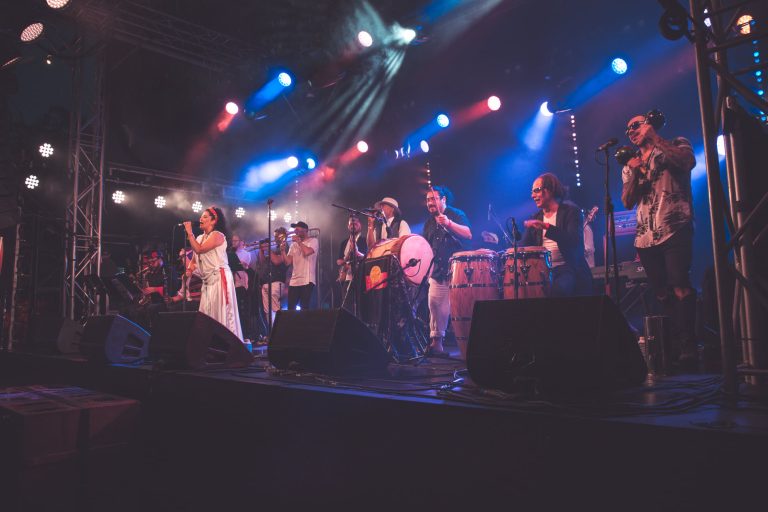 Under The Influence: Cumbiamuffin
30 September, 2022
Cumbiamuffin are no strangers to Australia, where their particular cumbia big band sound is well-known on the live circuit, but now the world is catching up. Their debut album, released simultaneously by ourselves, Peace & Rhythm and Hyperopia Records, is a burst of energy, the group riffing on the old school tropical orchestra sound of Lucho Bermudez, albeit with added jerk sauce and the odd body pop thrown in for good measure. These lot know how to steamroller a groove, and they're happy to demonstrate.
With core members hailing from Colombia and Australia, and many travels and migrations to their name, they were an obvious choice for our Under The Influence series, where they get to chat about all the diverse inspirations that have conspired to create this colossal curveball of dopamine; whatever route they take, the end result is the same: this feels good.
Here's our chat with Carlos from the group below.
Cumbiamuffin's self-titled debut LP is available directly from us at Sounds and Colours, our European distributor Guerssen, Peace & Rhythm (USA), Hyperopia (Canada), and record shops across the world.
---
Charles Mingus – Cumbia & Jazz Fusion
Cumbiamuffin consists of such an eclectic group of people and nationalities, and when it comes to exploring our different influences, we always meet at a collision of multiple worlds. A number of our musicians have studied at an Australian music conservatorium with an emphasis in jazz. In fact, still for many of our musicians, jazz is their primary gig and they regularly perform in different jazz ensembles around Australia. So, it comes as no surprise that when they stumbled upon this album by Charles Mingus, Cumbia & Jazz Fusion, they were blown away by such a combination. A 28-minute journey starting with sounds that resemble a tropical cumbia atmosphere joined by a double bass and piano, which then lead to a more regular jazz piece with beautiful sax melody and hints of cumbia.
---
Lucho Bermudez "Carmen de Bolivar"
Lucho Bermudez is the undisputed king of orchestrated cumbia, the man responsible for bringing two worlds together, the Colombian upper class with the Indigenous groups where cumbia was born. Replacing the original gaita flute with clarinet and creating stunning arrangements for large bands inspired by the sounds of the time, orchestras like Dizzy Gillespie, swing and the bebop sound of that era. Lucho Bermudez's orchestra toured the world, spreading this sound and creating the phenomenon that cumbia is today. It is hard not to perform Lucho Bermudez and we play a number of his masterpieces in our repertoire. This particular one is inspired by Lucho's hometown and it's one of Colombia's most important songs of all time.
---
Petrona Martinez "La Vida Vale La Pena"
When asked to put this article together, I asked some of the members about their personal inspiration for the band. Aside from styles, rhythms and instrumentation, lyrics are sometimes undermined. Petrona Martinez is known as "the queen of bullerengue", an ancestral music tradition that goes back to the time of slavery in Colombia. This song not only makes you want to dance uncontrollably but also comes with a great message, "Life is worth living"!
---
Bomba Estereo "Ahora"
Bomba Estereo, Colombian pioneers of electronic exploration with traditional and folkloric sounds from Latin America have always been at the forefront. Our musical director Mike Raper is really fond of this track, its simplicity, yet its effectiveness to make you groove with the characteristic pitch from lead singer Li Saumet and an international sound.
---
Frente Cumbiero + Mad Professor "La Bocachico"
Talking about sounds exploration and fusion of styles, no one does it better than Frente Cumbiero. They are masters of the psychedelic, no one of their tracks resembles the other, their originality is unique, they have reshaped the sound of cumbia combining analogue hardware with original instruments like the bombardino (euphonium) characteristic of festive orchestras in remote Colombian towns. This song in collaboration with Mad Professor has it all, including that essential sound of the clarinet with a gypsy feel. This album in particular has become a collectors item, a sought-after item and sells for crazy prices in record stores. It's a simple groove with fire for the dance floor.
---
Los Miticos del Ritmo "Fabiola"
Similar in a way to Buena Vista Social Club, where an outsider from a specific culture came in and rediscovered the music, reshaped it and revitalized it for new generations, Los Miticos del Ritmo is the tale of an English producer/musician who came to Colombia, assembled a 7-piece studio power-band using vallenato and cumbia musicians living in Cali. The group does not distort the original sound of cumbia and vallenato, keeping the traditional analogue sound and its overall feel good factor. There are probably too many musicians in Cumbiamuffin at the minute for us to add an accordion as well, but we embrace the idea of sharing the stage with accordionists and possibly write a song with one. Many Latin American countries use the accordion as lead instrument in their music, replacing the job of the gaita or brass section. This song is a great example of the power of traditional cumbia and we admire these projects where production, quality, musicianship and tradition are paramount to their success.
---
Tribu Baharu "El Besito"
It wouldn't be Cumbiamuffin without the "muffin". We stole the term from the Raggamuffin movement in Jamaica, where their music combined elements from reggae, Caribbean soukous, soca, soweto, etc. This particular song is not necessarily a Raggamuffin style song, but it derives from it. These rhythms landed in the Colombian Caribbean coast and were combined with local elements and embraced by local communities and musicians. The result is champeta, an African-influenced rhythm engrained in Colombian Caribbean coast culture with Afrique-style guitars, some serious sensual dancing, catchy songs and dance floor machines. We like this track because we respect what Tribu Baharu has done in Colombia with this style of music. They represent the new/old sounds of champeta, holding strong to their roots and still calling it their own. It's a different yet important influence for Cumbiamuffin when writing songs for our MC Altafari with dance floors in mind, letting the guitar riffs shine.
---
Systema Solar "Ya Veras"
I lost track of how many times I've played this track as a DJ/selector for our shows and festivals. It was one of the first tracks that I came across that had such a strong, consistent, dry cumbia pattern with a sharp guacharaca throughout. Yet, it is not cumbia at heart. Hip hop, beats, fantastic MC'ing, rhyming, scratching. It's a global track, It's a track that can start a party anywhere in the world, It can be UK hip hop, it can be Mexican cumbia, it can be a banger at a club in Berlin, it can be everything and still this track was one of the early fusions of these styles released a few years back already. It's no wonder that Systema Solar are such an institution of flavour and a major player in the world festival circuits. 
---
Jungle Fire "Tropicoso"
One of the things that we enjoy with Cumbiamuffin is the level of musicianship, talent, backgrounds and cultures. Everyone brings something different to the plate, creating an array of colours to our music. This opens windows for exploration. This track from Jungle Fire starts with a solid, traditional cumbia riff that is quickly joined by a funky electric guitar leading to one serious funk jam with really cool breaks and an afrobeat vibe to the horn lines. This track proves again that all these rhythms can meet harmoniously and we can explore this in some of our jams especially on stage where the energy is at its max. A great inspiration for one of our original tracks "La Cabezona", an instrumental descarga of funk, afrobeat and cuuuuuumbia!, utilizing all the tools at our disposal within the talent of our musicians. Jungle Fire is a killer band that knows how to funk.
---
Bob Marley "Could You Be Loved"
This song needs no explanation. If you haven't heard of it, you are not from this planet. It's a personal favourite from our MC Altafari and one massive influence to his roots and Rastafarian culture.
---
And as is customary here's a little something from Cumbiamuffin themselves, a behind-the-scenes glimpse at how they bottle their energy:
---
Cumbiamuffin's self-titled debut LP is available directly from us at Sounds and Colours, our European distributor Guerssen, Peace & Rhythm (USA), Hyperopia (Canada), and record shops across the world.

Follow Sounds and Colours: Facebook / Twitter / Instagram / Mixcloud / Soundcloud / Bandcamp

Subscribe to the Sounds and Colours Newsletter for regular updates, news and competitions bringing the best of Latin American culture direct to your Inbox.
Share: